Tucker Carlson was dismissed from his job with Fox News just yesterday, but it took no time at all for him to get a job offer from Vladimir Solovyov (Владимир Соловьёв)—a Russian propagandist.
The U.S. Department of State describes Solovyov as:
"Vladimir Solovyov may be the most energetic Kremlin propagandist around today."
He has been an anchor on the television show Evening with Vladimir Solovyov on Russia-1 since 2012.
Solovyov was banned from YouTube for incitement to violence for content that encouraged bombing of civilian targets in Kyiv. He was also sanctioned by both the United Kingdom and the European Union for his statements related to the invasion of Ukraine.
Solovyov offered Tucker Carlson a job.
In a Telegram social media post, Solovyov first suggested Carlson run for President of the United States or create his own media project.
Then he wrote he would happily offer Carlson a job if he didn't want to do those things.
"You have our admiration and support in any endeavor you choose for yourself next, be it running for president of the United States (which you should totally do, by the way) or making an independent media project."
"We'll happily offer you a job if you wish to carry on as a presenter and host!"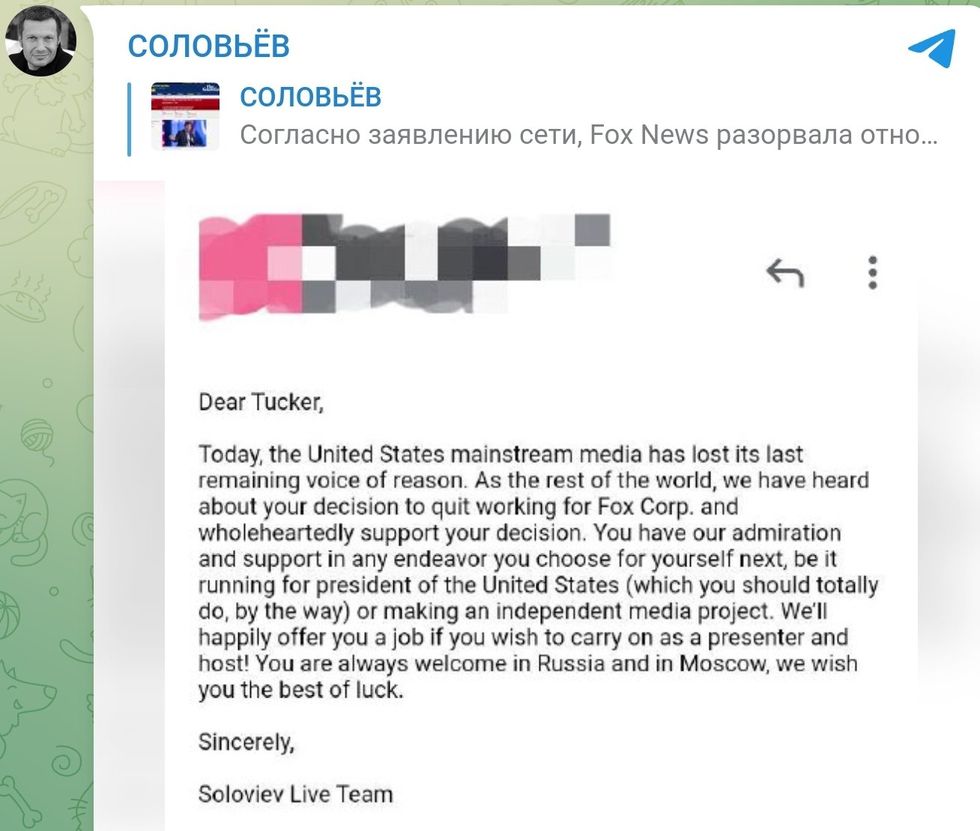 @Solovyov/Telegram
It seems that Russia really, really likes Carlson.
Solovyov wasn't the only one associated with Russian state media who reached out to him after his parting ways with Fox News was announced.
In addition to Solovyov's Telegram post, Russian state television network RT also offered Carlson a job via Twitter.
Carlson is likely so popular with Russian propagandists because he was known for sharing messaging very similar to their own propaganda about the invasion of Ukraine during his show on Fox News.
He made baseless claims last year that the United States' involvement in the war in Ukraine—a war which began with Russia illegally invading the neighboring sovereign nation—was "payback for the 2016 election." Carlson directly parroted a Kremlin talking point that "the war in Ukraine is designed to cause regime change in Moscow."
He told Fox viewers:
"We don't arm Ukraine so we can help the Ukrainians. They are merely unfortunate pawns in all of this. We arm Ukraine so that we can punish Russia. Why? For stealing Hillary Clinton's coronation."
"They want to topple the Russian government. That would be payback for the 2016 election. So, this is the logical, maybe the inevitable, end-stage of Russiagate."
Mother Jones obtained a leaked memo from the Kremlin to Russian media that directed them to integrate clips from US shows that criticize the US and NATO, specifically mentioning Tucker Carlson's show, into broadcasts.
The memo said:
"It is essential to use as much as possible fragments of broadcasts of the popular Fox News host Tucker Carlson, who sharply criticizes the actions of the United States [and] NATO, their negative role in unleashing the conflict in Ukraine, [and] the defiantly provocative behavior from the leadership of the Western countries and NATO towards the Russian Federation and towards President Putin, personally."
The Russian government aren't the only ones who hope Carlson ends up back on the air soon.
Many of his fans are heavily criticizing Fox News for letting him go and saying they hope he moves to an even more extreme right-wing network like OAN or Newsmax.
Others suggested he has a few choices, including TASS—Russia's leading news agency.
His fans posted criticism of Fox with screenshots of them cancelling their subscriptions to Fox's' online streaming service Fox Nation.
For a group that loudly complains about so-called "cancel culture," they sure are quick to cancel things they suddenly don't like or disagree with.
Maybe Carlson's fans will be happy if he starts working for the authoritarian Russian government instead.