A TikToker has been arrested for crashing a protest in his boxer shorts.
Prolific TikToker Aunt Karen (@auntkaren0), known online for her call-out videos exposing racists, posted a TikTok recently where she called out a fellow TikToker for streaking into the Minneapolis Women's March.
The Women's March occurred on Saturday, October 2 in major cities across all 50 states in the U.S. The march served to protest against the recent Texas abortion law.
The law bans all abortions after six weeks of pregnancy and has no exceptions for cases of rape or incest.
Since the majority of women don't even know that they are pregnant until after the six week mark, this law effectively outlaws abortion almost completely.
At Loring Park, the Minneapolis location of the Women's March, chaos ensued when a man ran into the protest wearing nothing but boxers and an animal print cap.
Sean Paul Garrett, also known as @puppy_kult on TikTok, was arrested last week for streaking through the march in an attempt to derail the protest.
The incident was caught on camera and then anonymously sent to Aunt Karen, who exposed the footage to her followers.
Watch it here:
@auntkaren0

#greenscreen #greenscreenvideo #NissanShowUp #prochoice #prolife #liberal #conservative #biden #trump #SoFiMoneyMoves
In the TikTok, Aunt Karen shows Garrett's TikTok profile, which claims that he is a "fearless leader," "social justice worker," "mental health expert," and "director." She then shows the footage of Garrett at the protest.
We see Garrett, already stripped down to his boxer shorts, running through the crowd with a grin. Protesters attempt to block and restrain him, to no avail.
At one point, we see Garrett rush onto the stage, grabbing the mic and addressing the crowd, saying:
"(I'm) Here to support your rights."
As march organizers grabbed the microphone from him, Garrett was forced off of the stage and restrained by two male protesters.
As the men attempt to escort Garrett out of the crowd, he became violent and hit one of the men in the face.
Another protester emerged from the crowd and pepper-sprayed Garrett. We also see what seems to be a security guard restraining Garrett around the waist and guiding him out of the protest.
When another male protester says something inaudible to Garrett, Garrett shrugs and harshly elbows the security guard in the face.
The TikTok ends with Aunt Karen claiming that Garrett has since been arrested for the incident and that 17 protesters are now pressing charges against Garrett.
When asked how she obtained the footage from the TikTok, Aunt Karen said:
"The video was sent to me anonymously. I wanted to share it and get the story out as soon as possible. I believe that the person who sent it to me attended the rally. I haven't heard from any of the attendees."
"I'm glad that someone felt comfortable enough to send me the video and to know that I would spread the message."
Many protesters were confused by the nature of Garrett's attendance to the rally.
While he claimed he was there to support the march, other protesters, such as TikToker Jade (@eyededaj), claimed to see Garrett trolling the protest by holding a pro-life sign and mocking pro-choice slogans before stripping off his clothes.
She said:
"(Garrett) Showed up with a pro-life sign and was calling us murderers."
Other protesters also reported that when confronted about his nudity, Garrett was heard sarcastically responding with the common pro-choice slogan:
"My body, my choice."
Since the incident, Garrett has spoken vaguely about his experiences at the Women's March, claiming that he was, in fact, the victim.
In one video, Garrett asks his followers:
"What… the actual… F*CK… just happened to me?"
Despite eyewitness reports to the contrary, Garrett claims:
"(I was) Assaulted, beaten, intimidated, forced to strip, maced, and dragged out on charges of 'police assault.'"
"(I) Showed up to voice my support for a cause I really believe in, and I think that the crowd turned on me because they assumed that I was a Trump supporter… right wing… pro-life. All of which are VERY untrue."
Aunt Karen's TikTok has gone viral, garnering over 75,000 views in less than 24 hours.
Thousands of her followers left scathing comments about Garrett on the video.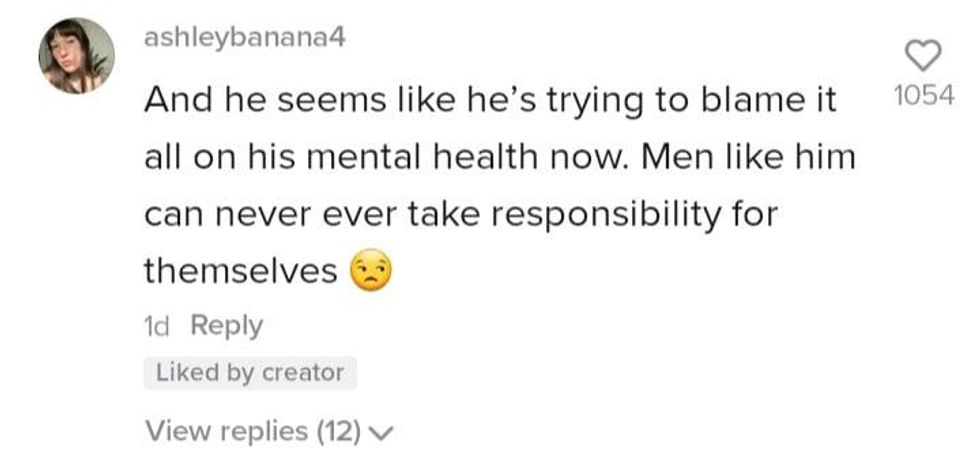 Garrett has reportedly set up a GoFundMe--which raised a whopping $0 within the first 19 hours--to raise $10,000 for an attorney to defend his case. Good luck with that.