Republican Senator Kelly Loeffler of Georgia was appointed by Republican Governor Brian Kemp late last year to replace former Senator Johnny Isakson.
She is currently running to keep her seat in a 2020 special election.
But a recent campaign ad may be generating more trouble than support for Loeffler.
---
The ad touts Loeffler's support of the Second Amendment, featuring her in a bright orange vest with a rifle resting on her shoulder.
Watch below.
The video was posted to her Instagram over a week ago, but it wasn't until recently that eagle-eyed viewers confirmed that Loeffler doesn't have a hunting permit.

At no point in the video does Loeffler fire her rifle, begging the question:
Was Loeffler breaking the law by hunting without a permit was she lying to her constituents by pretending to be an avid hunter?
Neither is a good look.
Fellow Republican, Congressman Doug Collins, another Trump supporter looking to ascend from the House to the Senate, seized upon the criticisms of Loeffler.
You know what puts Georgia's Senate seat at risk in 2020? Kelly Loeffler's fake campaign. Look at this liberal outl… https://t.co/w3ReXcGXJf

— Doug Collins (@Doug Collins)1582031507.0
He was far from the only one to call out the inconsistency.
Sen. Kelly Loeffler (R-GA) loaned her campaign $5M. A Georgia hunting license costs $15. Yet Loeffler didn't pu… https://t.co/BfnXEn4VmZ

— Dan Desai Martin (@Dan Desai Martin)1582036867.0
@kloeffler @FOX5Atlanta @BrianKempGA @marjoriesba Oh please everything about you is FAKE. Just like all of the curr… https://t.co/30Fn46SZuN

— misterian (@misterian)1581971429.0
Fake, fake, and more fake...but the GOP eats it up and votes for them. #VOTEBLUE #GOPCorruptionOverCountry Kelly L… https://t.co/x4kJm7Sdas

— SBisallTesla (@SBisallTesla)1582119448.0
The criticisms carried over to Instagram as well.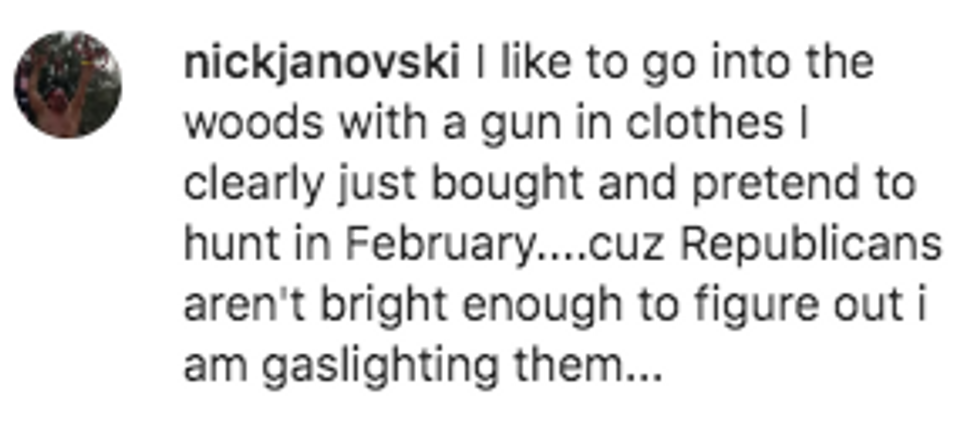 nickjanovski/Instagram

matute030/Instagram

asente1/Instagram

wperry4892/Instagram

nickolasketch/Instagram
We'll see if Loeffler's pretend hunting is enough to keep her Senate seat in November or if she'll get past the primaries against Collins.