In a viral video with nearly seven million views, a plus-size TikToker, Bethy Red, shared a woman mocking her at the gym.
Now, she's speaking out about the incident.
Red posts workout and fashion videos to her TikTok, some of them filmed at the gym.
On this particular day, she had the camera pointed at her in the same place she usually puts it, and a woman decided to ask her some questions.
The woman started with:
"Girl, what are you doing? Are you taking videos of yourself?"
Red responded she is taking videos and the woman seemed shocked.
She asked:
"You are? Well why? For your own documentation or what?"
Red told her it's for her blog. Then the woman started laughing at her to her face.
Then the woman said before leaving:
"Well, have fun."
Red didn't seem affected by the woman's rudeness but people in the comments were very upset.

@bethyred/TikTok
The woman's face was censored for the video but many asked for her identity to be exposed.

@its.jordans.loss/TikTok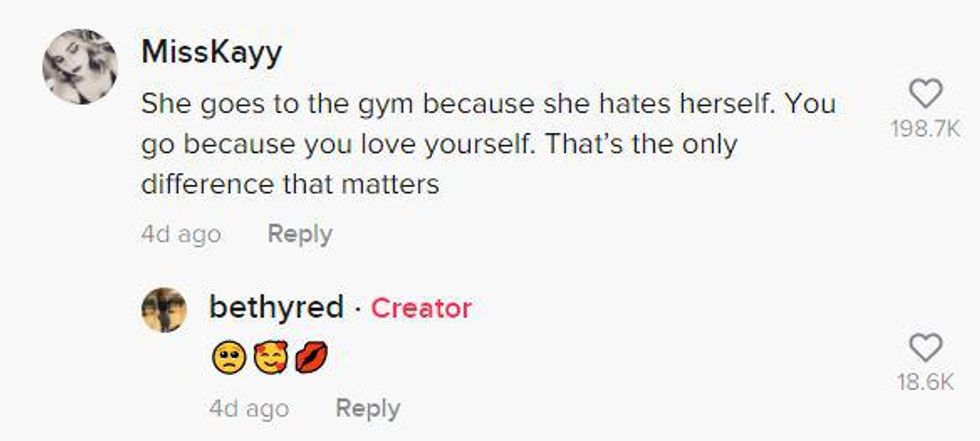 @misstayyy/TikTok; @bethyred/TikTok

@sh_nece/TikTok

@leeziebee_/TikTok

@scorpiusology/TikTok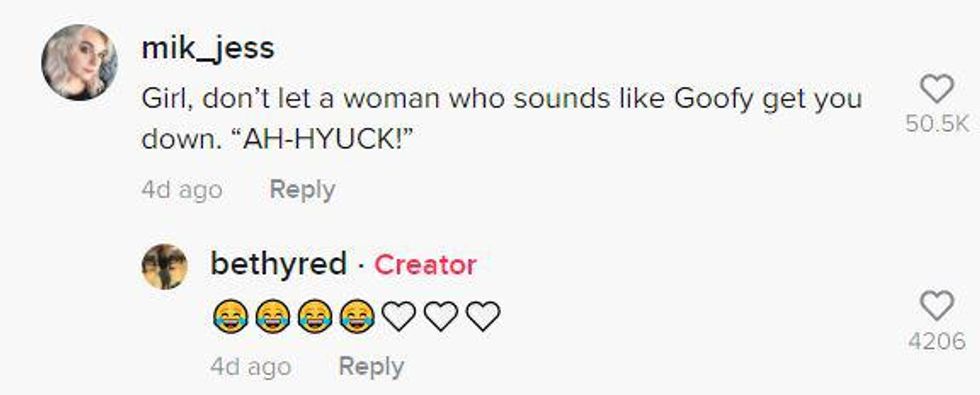 @mik_jess/TikTok; @bethyred/TikTok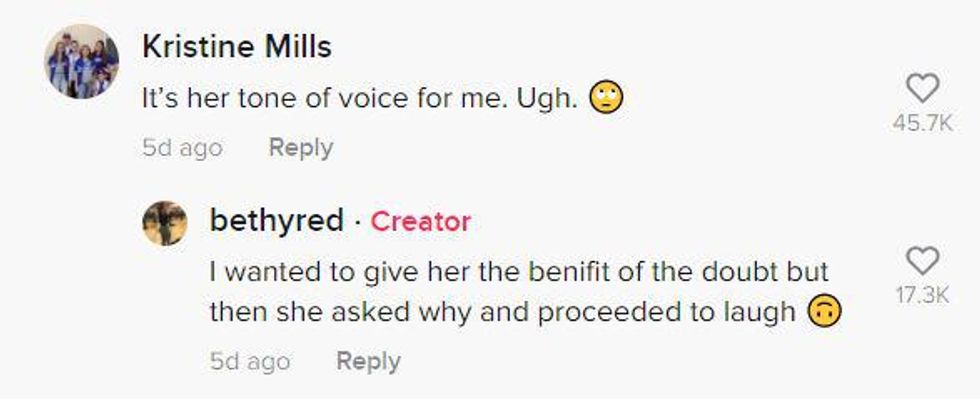 @krissy_kris212/TikTok; @bethyred/TikTok

@scarlett.999/TikTok

@alexandrairenerodriguez/TikTok @bethyred/TikTok

@karenlovebug3/TikTok

@mya5/TikTok

@crodarte1109/TikTok
Red eventually released a video showing the woman's face, however it ended up backfiring.
People misidentified the woman and began harassing innocent people.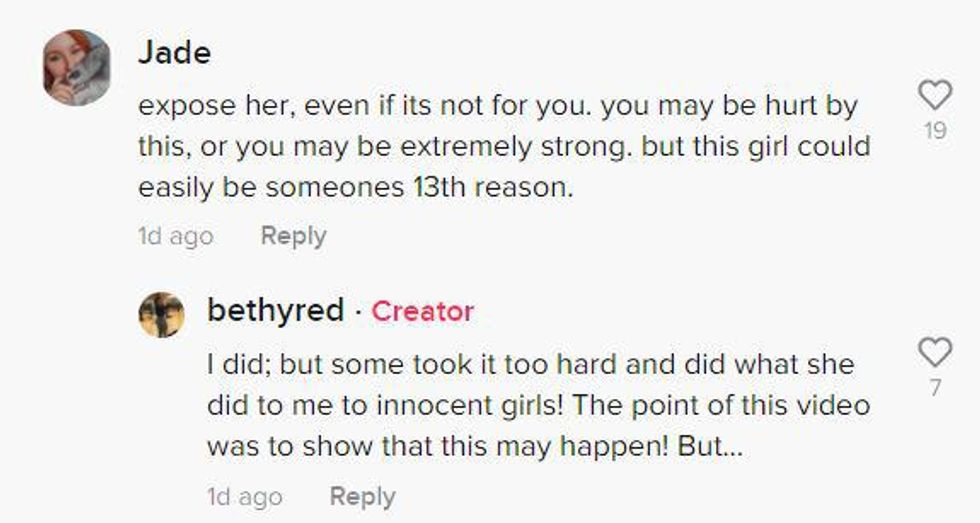 @jade_and_the_animals/TikTok; @bethyred/TikTok
Red posted an update video saying she was "freaking out" and is so thankful for all the support she's received.
However, things took a turn for the worse:
"I did reveal the person—which was a mistake—but I got a direct message from Claudia and Alison that they're getting death threats and hate messages."
"First of all, those are not the girls. Second off [sic], I didn't reveal her to make justice for myself."
"I did it because I didn't know TikTok was this intense, and when people said 'pull up' and 'beat her up,' I thought people were joking."
@bethyred

PLEASE!!Stop looking for the person!! A lot of innocent people are getting death treats and hate message for nothing! Thank you for the support&love🤍
She continued:
"The point of the video was if someone is mean to you, no matter the reason, show empathy and show kindness."
Red replied to a comment asking if the woman had apologized but she still doesn't know her identity. She hadn't seen her again.
She captioned the video:
"PLEASE!! Stop looking for the person!! A lot of innocent people are getting death threats and hate messages for nothing!"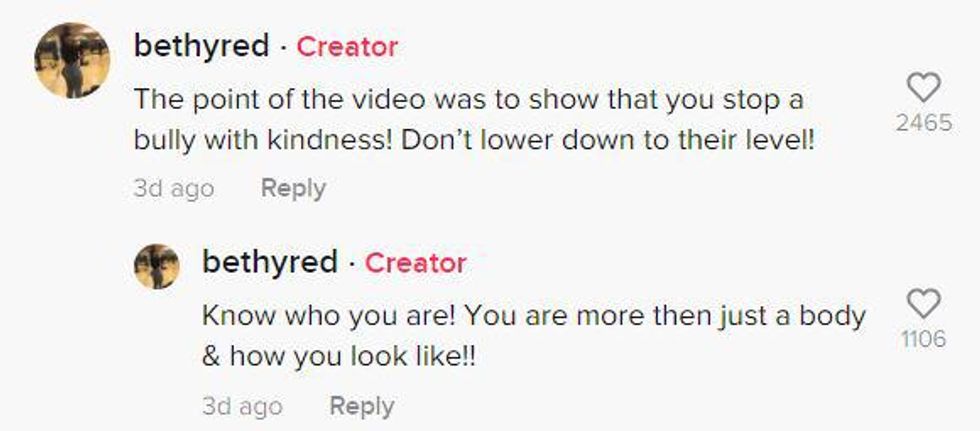 @bethred/TikTok
Many people applauded Red for her kindness in this situation.

@desadams3/TikTok

@omgmayastop/TikTok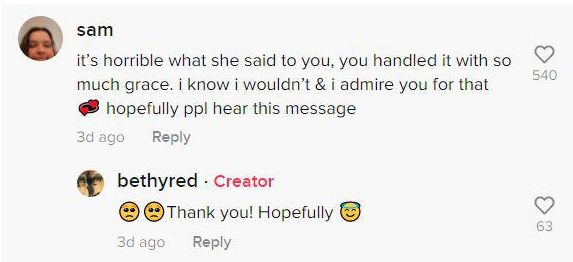 @smaskates/TikTok

@mattoxfitness_/TikTok
Hopefully, more people will see her video and take her words to heart.