In an effort to stay relevant on social media, Paris Hilton took to Twitter and asked followers to validate her by answering a simple and very general question.
---
Tell me something I don't know.... https://t.co/bxmzLFekrX

— Paris Hilton (@Paris Hilton)1530198031.0
Was she having a slow day? Maybe she needed a reason for tweeting this very flattering portrait of herself in thought.
There's no doubt the socialite, model, and great-granddaughter of Conrad Hilton––founder of the Hilton Hotels––is still as attractive as ever. But whatever she was fishing for, Twitter gave her more than their share of random answers.
She got a lesson in geometry.
Any right-angled triangle, the square of the length of the hypotenuse equals the sum of the squares of the lengths… https://t.co/gpr4ETvXJ8

— Corin Nemec (@Corin Nemec)1530335401.0
Do most people know this medical fact?
@imcorinnemec When you receive a heart transplant, MD's don't reconnect nerve endings. Therefore, if u experience a… https://t.co/Ib072ogkc8

— Bobbie Jo (@Bobbie Jo)1530337370.0
This may have overshot the request a little.
Given N shapes in N-dimensional Euclidean space, it is possible to divide all of them in half with a single (N − 1)… https://t.co/Bx4ydwZ5Ie

— Adrian Bowyer (@Adrian Bowyer)1530360346.0
Interesting.
Hippos have pink sweat https://t.co/FEJfT8Dot5

— Liz Finnegan (@Liz Finnegan)1530411100.0
She was reminded of a past interaction, with proof.
@ParisHilton We met once https://t.co/fjJyMYtWyr

— Jesse Heiman (@Jesse Heiman)1530201425.0
Parlez-vous francais?
The word chef literally means "head", the full proper title is "Chef de cuisine" which means "head of the kitchen". https://t.co/egpKAkbIyI

— Lesego Semenya (@Lesego Semenya)1530417819.0
Another animal fact.
Sloths don't fart https://t.co/Ccbtx5IFz2

— Dani Rabaiotti (@Dani Rabaiotti)1530400105.0
Because she's not a jazz enthusiast.
A new John Coltrane album came out on Friday. https://t.co/VwKbqKFmHt

— Ted Gioia (@Ted Gioia)1530368696.0
Consider this.
Every odd number that exists has the letter "e" in it. https://t.co/afeo843tF1

— Jack Mull (@Jack Mull)1530315320.0
Whether she's actually omniscient or not, we'll never know. But she made it possible for us to expand our mind with all sorts of trivia we can impress our friends with at cocktail parties. Thanks, Paris Hilton! You're a genius. But you already knew that.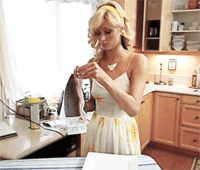 See? Genius.
H/T - Twitter