In an open letter, more than 6,000 Catholic nuns stated trans and non-binary people are "beloved and cherished by God," joining the fight for trans rights.
On Trans Day of Visibility, the Sisters of Saint Joseph Federation and a number of other Catholic organizations sent an open statement supporting the LGBTQ+ community and denouncing the recent wave of oppressive and discriminatory legislation that has been sweeping the US.
The Sisters wrote:
"We mark March 31, International Day of Transgender Visibility, as a time to celebrate, acknowledge and uplift folks who identify as transgender, nonbinary and/or gender-expansive."
"We know our actions and commitments must extend beyond this day's observance."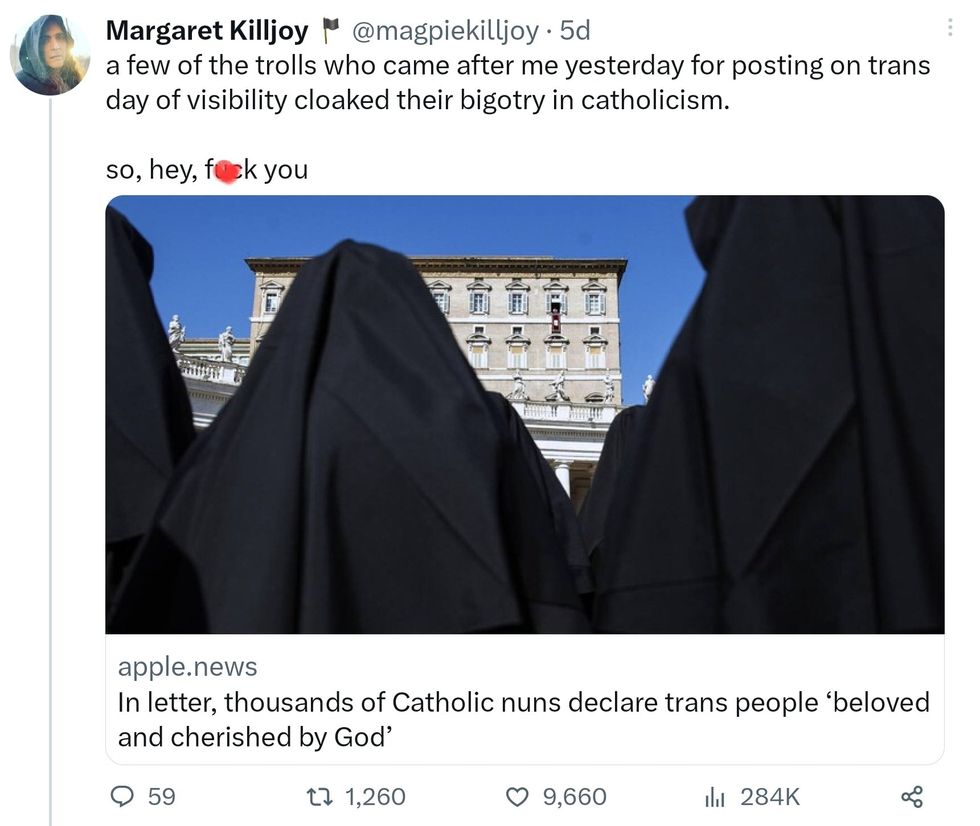 @magpiekilljoy/Twitter
Recognizing Christian organizations are often behind the discriminatory legislation, the letter addressed that.
"The Gospel call of unifying love compels us to actively interrupt harmful interactions in daily life and dismantle the systems that reinforce this rhetoric and violence in society..."
"We will remain oppressors until we—as vowed Catholic religious—acknowledge the existence of LGBTQ+ people in our own congregations."
Changes in the Catholic Church's acceptance of the LGBTQ+ community are happening.
Pope Francis commented recently the Roman Catholic Church still views homosexuality as a sin in the context any sexual activity outside of marriage is a sin, but not that homosexual sex is a different category.
Going further and in defiance of church authority, priests in Belgium recently began blessing same-sex unions, not in the same way as a marriage sacrament, but a blessing nevertheless.
People's reactions to the nuns declaration were mostly positive.
Some people shared personal stories of the good nuns can do.

Others commented on this statement in contrast with the larger official Catholic Church.

Some went so far as to suggest different leadership for the Catholic Church.
After all, some said, they often are better at it.
Others talked about other movements in Catholicism that are different from the main Catholic doctrine.
One person noted the complexity of religion.
Another said experiences with individual nuns don't change other people's bad experiences with the Catholic church as an institution.
Maybe this is a new direction for the Catholic Church.
It certainly can be a comfort for many Catholics who are or love someone who is transgender.