A teacher at Southwest High School in Jacksonville, North Carolina resigned after a student captured a video of him cursing and making racially-biased comments during a classroom rant.
The video, taken by student Cimayiah Josey who said she was "scared" during the outburst, went viral after she posted it on Instagram.
See the video below:
The teacher grew agitated because another student would not cooperate with his demands. From there, things escalated.

He said to the students:
"I am f**king done playing with you idiots."
"I am here because I want to be here."
"I somewhat enjoy this job."
"You need something from me, I need nothing from you."
He continued:
"You can go through life and live on the f**king system, draw your paycheck on the first and the fifteenth from my taxes and live just an absolute horrible life, I don't care."
"You can be another statistic, I don't care. That's on you."
"And if you think it's funny, I can take you down to the county office and we'll pull the f**king numbers."
"If you don't like my language I don't give a s**t."
He then told Josey to leave the classroom when he noticed she was taking a video.
The volume of his voice notably raised right before she stopped recording. Josey told her mother that for an instant, she feared for her life because the teacher was so aggressive with the class and then directed his temper at her.
She said about the tone of his comments:
"I felt like what he was saying was wrong, I felt like it was racially motivated."
"It was disrespectful."
"Your job is to encourage me and push me to be the best I can be."
"Even though it wasn't said directly to me, dang, that's how you really think about us?"
Nicky Josey, the student's mother, expressed her disapproval in a Facebook post.
She wrote:
"On 17th of March 2022 my daughter was verbally assaulted by her teacher."
"Her and the other students were in imminent danger, this was embarrassing, belittling, and a very traumatizing experience for her and the other students."
"There are underlining racist tones."
"My heart goes out to all of the children in the class. This is not ok!!!"
"I understand as an educator stuff can be challenging at times, it can get difficult, but you should never berate and belittle children in this manner."
Some viewers condemned the outburst.
Former NBA player Ray Allen commented:
"He should not be a teacher!"
"Being a teacher requires patience with these kids."
"No matter what they put you through you have to stay the course and save them from themselves."
"I hope this man was fired."

@trayfour/Instagram
Another person wrote:
"I understand a teacher trying to take back the classroom, but in this case what was said was derogatory and racist."
"That's not helping a teen or encouraging them to continue school & better themselves, it's the exact opposite ... "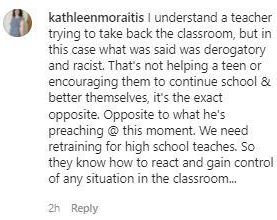 @kathleenmoraitis/Instagram
One viewer acknowledged the thinly veiled racism in the teacher's meltdown.
They captioned their post:
"Racist rant by teacher at Southwest Highschool Jacksonville, NC. #racism #blm #nc ... "
Another viewer captioned their post:
"Abusive Teacher."
But some came to the teacher's defense, arguing some students can bring teachers to their breaking point.
One person said:
"We need cameras in classrooms."
"The mayhem teachers and students deal with every day is insane and it's no surprise when they snap."
Another mentioned the difficulties of being a teacher.
They wrote:
"As a teacher ... he shouldn't have busted out like that but also kids these days don't respect authority and I blame it on the parents and social media ... "
"Our education system sucks and teachers get the low end of the stick but kids have no respect these days. "

Anthony Wood/Facebook
No matter the pressures or conditions, however, many agreed teachers need to leave their personal frustrations and racial biases at the door before entering the classroom.
If they can't, then it probably is best for everyone they resign or take a leave of absence.