The feud between Twitter owner and CTO Elon Musk and Meta Platforms CEO Mark Zuckerberg continues as the two tech titans battle it out over whose social media platform reigns supreme.
On July 5, Meta debuted its new app, Threads–which gained over 80 million users in its first two days, making it potentially the best contender as a Twitter swatter.
But not so fast.
On Monday, Twitter's new CEO Linda Yaccarino–who stepped into Musk's CEO shoes in May–proclaimed:
"Don't want to leave you hanging by a thread… but Twitter, you really outdid yourselves!"
"Last week we had our largest usage day since February."
"There's only ONE Twitter. You know it. I know it."
To continue his attempt at one-upping Zuckerberg, Musk piggybacked off of Yaccarino's announcement and boasted:
"Cumulative user-seconds per day of phone screentime, as reported by iOS & Android, is hardest to game."
"I think we may hit an all-time record this week."
But Musk's statements were unfounded, according to Matthew Prince–the CEO and co-founder of web performance and cybersecurity company Cloudflare.
To demonstrate this, Prince shared a chart showing the traffic on Twitter was plummeting south, indicating users might be migrating away from the platform.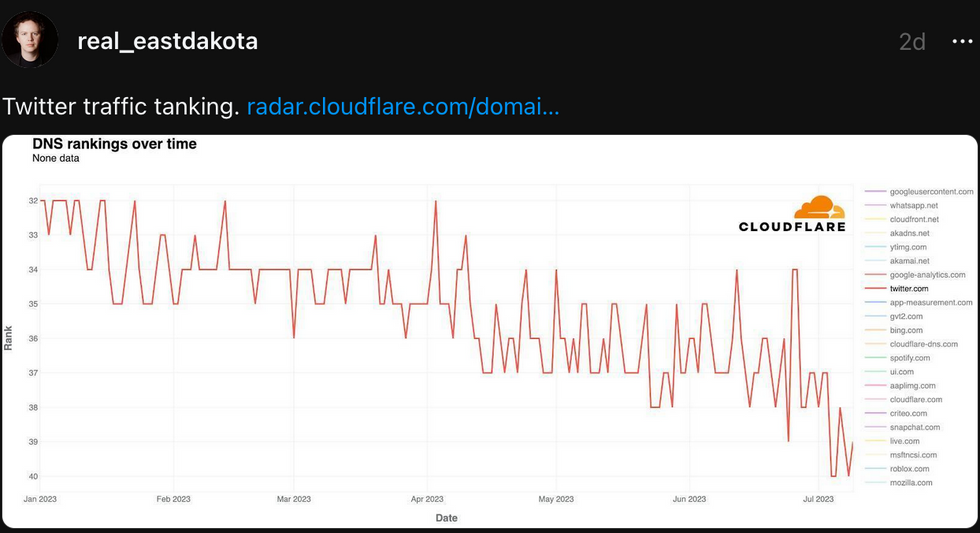 @real_eastdakota/Threads
Social media users were here for Musk being fact-checked.


@real_eastdakota/Threads

@real_eastdakota/Threads

@real_eastdakota/Threads
And fans of Threads were basking in a victory glow.

@zuck/Threads

@zuck/Threads

@zuck/Threads
Digital data company Similarweb shared Threads' quick ascent having an impact on Twitter's performance.
They wrote:

"The Threads effect? Traffic to Twitter's website was down 5% compared with the same days of the previous week, and 11% compared to the same days last year."
Meanwhile, Zuck touted Threads' strong performance with over "100 million sign-ups over the weekend."
"That's mostly organic demand and we haven't even turned on many promotions yet."
"Can't believe it's only been 5 days!"
The impressive statistic also means Threads is poised to surpass ChatGPT's impressive record.
According to a UBS study, the popular chatbot app became the fastest-growing consumer application in history in January after it registered 100 million monthly active users two months after launching.