A woman who was diagnosed with aggressive breast cancer just two weeks before giving birth, has bravely revealed how she struggled to bond with her baby, fearing she may have to say goodbye.
Personal assistant Emmeline Allison, 37, started nine grueling months of treatment just a week after 5 lb 11 oz Zosia was born, leaving her PE teacher husband Steven, 35, to tend to their newborn.
Unsure of her prognosis, Emmeline, of Leeds, West Yorkshire, says she kept their firstborn at "arm's length", admitting:
"I didn't bond with her for a few weeks, I couldn't let myself as I didn't know if I was going to get over the cancer. I didn't want to have to say goodbye."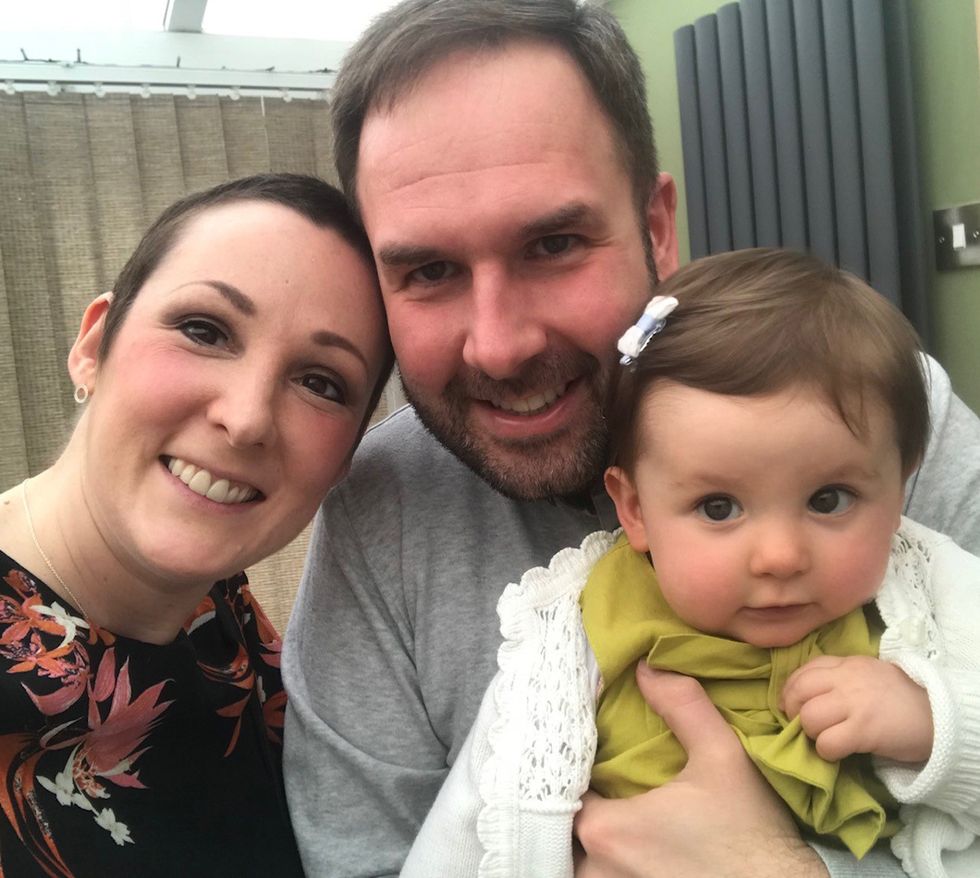 Emmeline, Steven and Zosia now (Collect/PA Real Life)
Diagnosed with triple negative breast cancer, a rare form of the disease without hormone receptors which can be harder to treat, at 33 weeks pregnant, Emmeline was terrified.
"We were both so scared, but I knew we just had to get her out," she said.
Over-the-moon when they discovered Emmeline was pregnant in November 2016, after 18 months of trying, the couple, who married in 2015, were also delighted that her pregnancy seemed to be problem-free.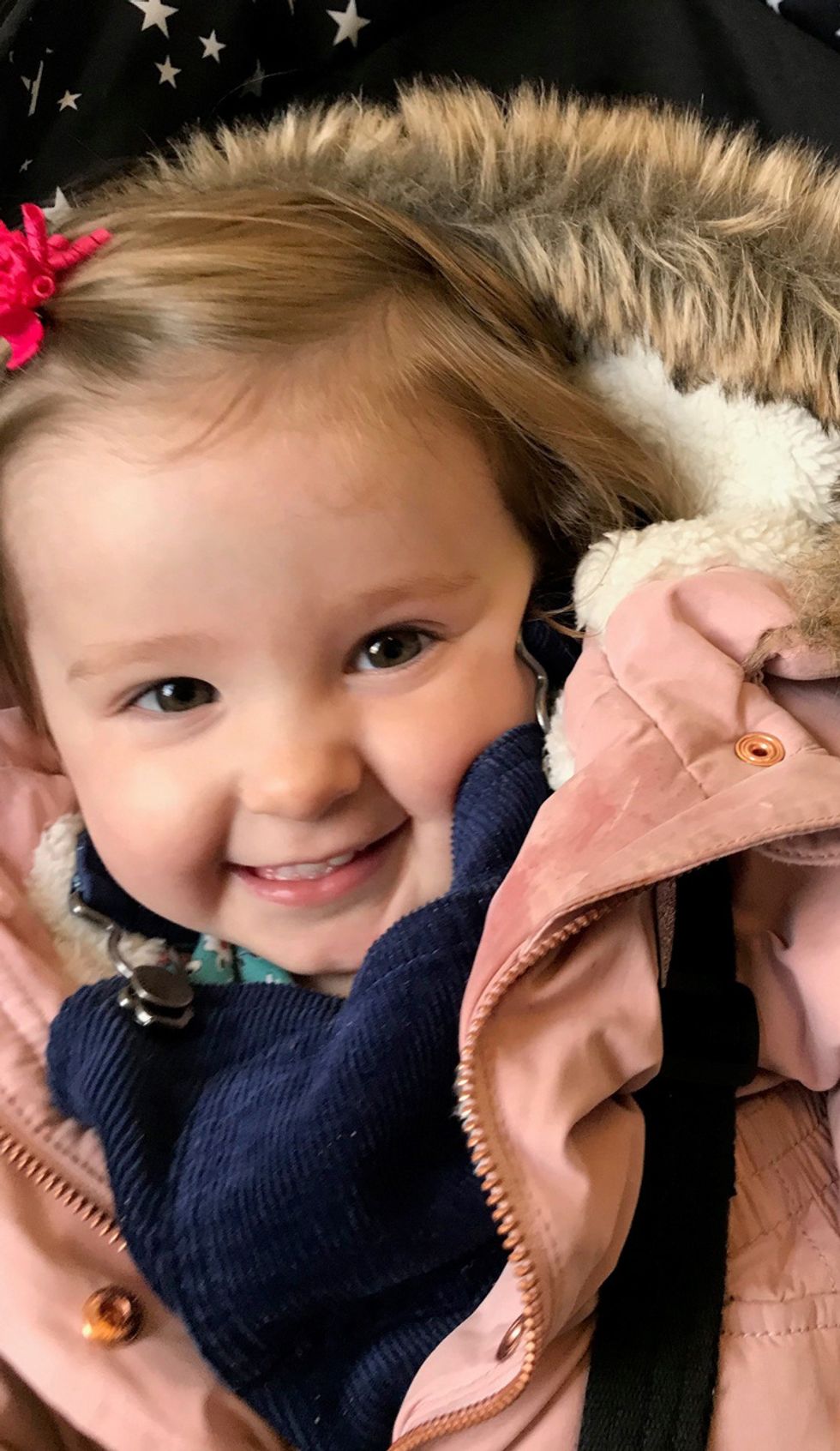 Zosia (Collect/PA Real Life)
Then, at 30 weeks everything changed, after Emmeline noticed some swelling in her left armpit, as she applied deodorant.
With a history of breast cancer in her family – her mum Janet Bulmer, 65, was diagnosed 15 years ago – she had always been vigilant about checking for lumps.
And, despite not being able to find one, she was keen to be checked out because of her family's medical history.
Visiting her doctor, Emmeline assumed she just had a swollen milk duct, but was referred to Leeds General Infirmary for an ultrasound scan.
Confident it would be nothing, when she was then urgently referred to St James's Hospital in Leeds for a biopsy, she and Steve started to worry.
"In that time I had also found a lump on the side of my left boob, so my appointment was fast-tracked," she said.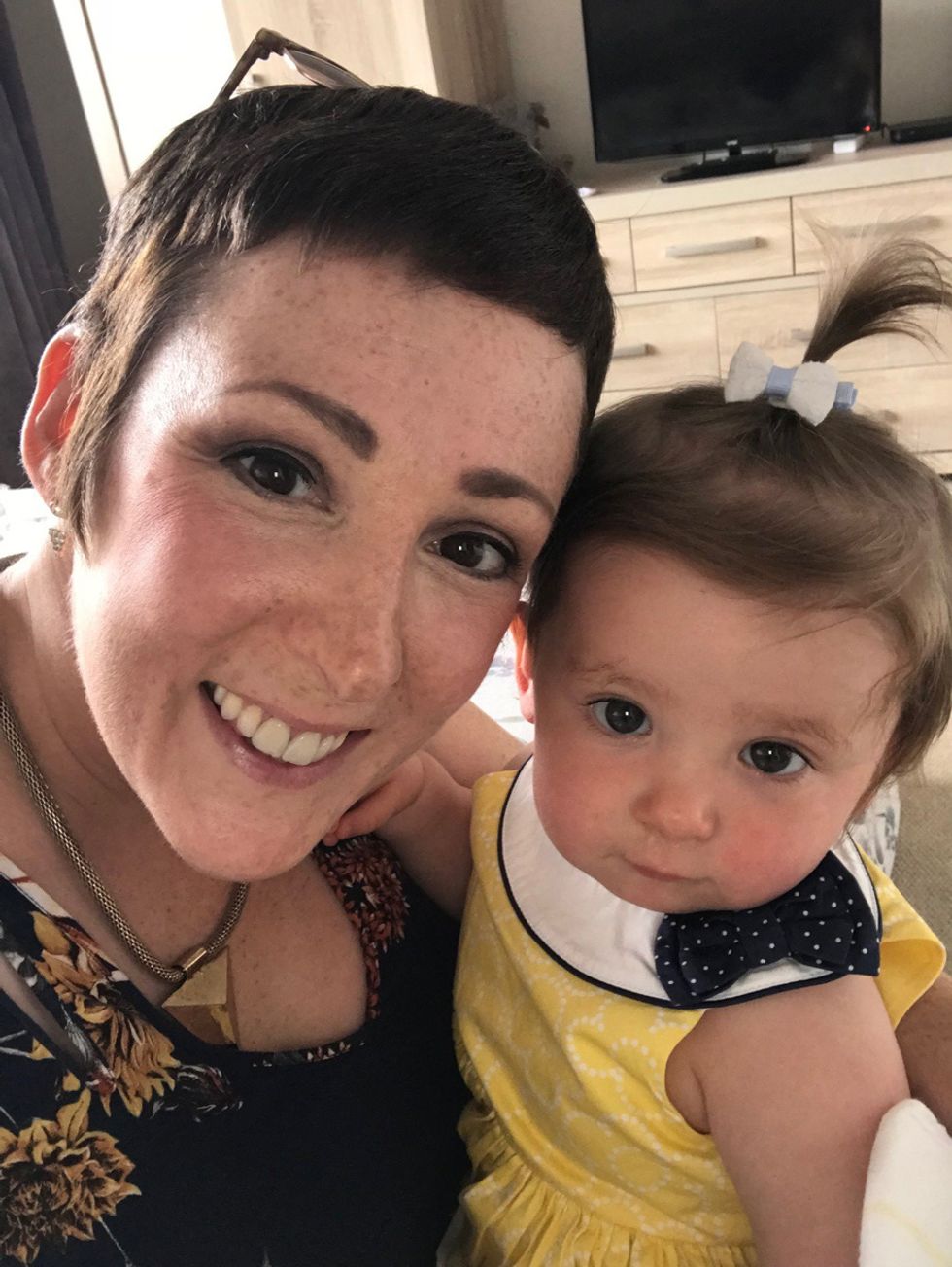 Emmeline and Zosia now (Collect/PA Real Life)
She added:
"I kept thinking about our baby, at our 20 week scan we'd discovered we were having a little girl and we wanted her so badly. I just hoped it wouldn't be cancer."
Heart-breakingly, on June 12, 2017, just six weeks before her due date, Emmeline was told she had breast cancer.
She continued:
"I just remember asking the doctor, 'Is it going to hurt the baby?' That's all I seemed to care about at that time. I wasn't asking about myself, it was all about our girl."
Told she had three treatment options – to wait until the baby was born and then have chemotherapy; to start chemotherapy straight away, during her pregnancy or to be induced, have the baby early and start treatment right away – she chose the latter.
"I refused all treatment while I was still carrying Zosia," Emmeline recalled.
"The best option for me was to have her early, to keep her safe, and then look after myself and have the treatment. I told them, 'We need to get her out'."
Zosia (Collect/PA Real Life)
Even having made this bold decision, Emmeline's prognosis was uncertain.
Unable to have a CT scan, as the X-ray could be harmful to her unborn baby, her doctors were in the dark about how much the cancer had spread, if at all.
With a plan in place to induce her at 35 weeks and start treatment straight away, just one day beforehand, Emmeline's waters broke naturally and little Zosia was delivered by emergency C-section at Leeds General Infirmary, on June 27 last year.
She smiled:
"I really feel she came early to help her mum. She needed to come out when she did, and she knew just that."
Yet, holding her daughter for the first time was a bittersweet moment for Emmeline, as she knew grueling treatment was about to begin.
And she now bravely admits that all the uncertainty, regarding her future, made her "switch off" from her new baby girl.
She said:
"I knew I would be starting chemotherapy one week later and wouldn't be able to have the CT scan for another month, meaning we still had no idea how bad the cancer was or what my prognosis was."
"I feel that made me hold her at arm's length, I couldn't cope with it, there was just so much to deal with and once she was born I had to put myself first."
"It wasn't until my CT scan that I fel t myself relax. It felt like things were going to be ok."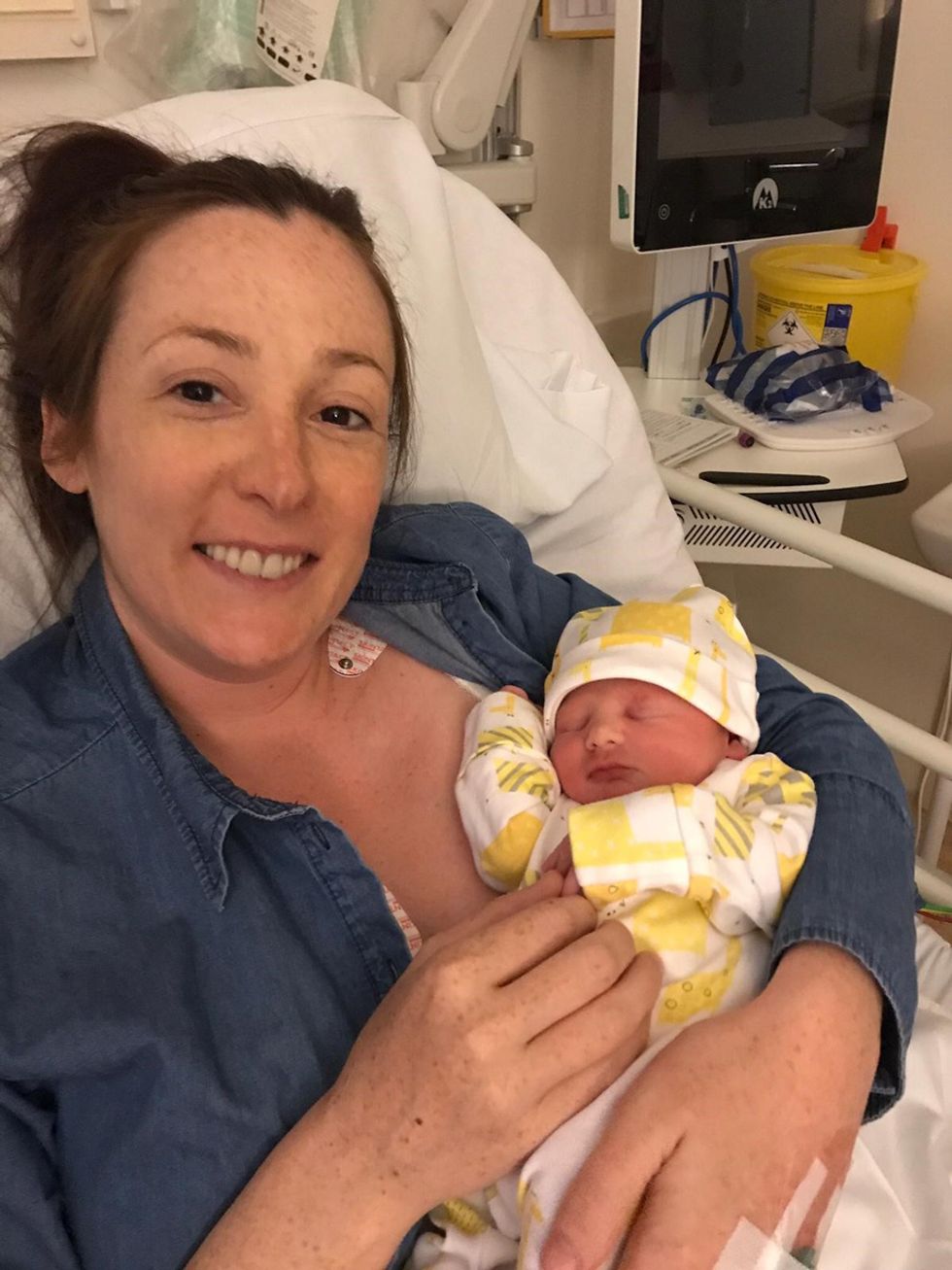 Emmeline in hospital after the birth of her baby girl (Collect/PA Real Life)
Starting five grueling months of chemotherapy, over eight cycles, exactly a week after her daughter was born, Steven stepped in to take care of Zosia, a name the pair heard on TV and loved, even bottle feeding her, as Emmeline's treatment meant she could not breastfeed.
Recalling the toll it all took on Steven, she said:
"When I was diagnosed, he was devastated by the whole thing."
"His wife and his unborn baby were his world, so it was terrifying for him when I was pregnant to think that one, or both of us, could be at risk. Then, during my treatment, not knowing what would happen was awful for him."
Emmeline pregnant at her baby shower (Collect/PA Real Life)
There were even times when Steven now admits, he used to look at their daughter and wonder how he would cope alone, if Emmeline died.
But, after the CT scan a month later, medics said that while her cancer was grade three, meaning it was aggressive, it had not spread anywhere else.
After having chemotherapy, funded by health insurance at the private Spire Leeds Hospital, she then had a lumpectomy, to remove the tumor in her left breast, followed by four weeks of radiotherapy.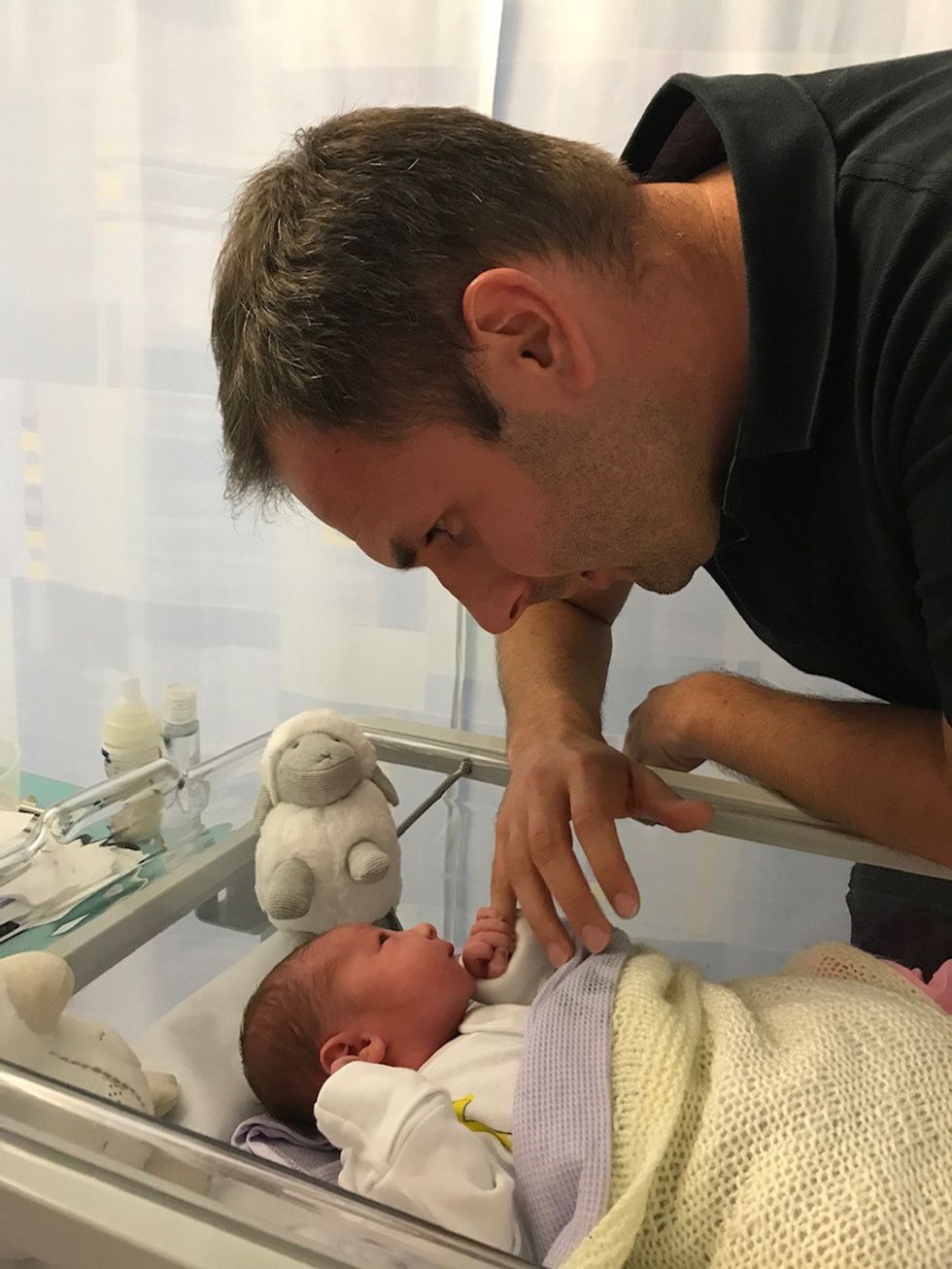 Steven and Zosia (Collect/PA Real Life)
She also had tests for the BRCA1 and 2 faulty genes, which cause breast cancer, which came back negative.
Then, in March this year, Emmeline was told the harrowing treatment, which had made her lose her hair, had worked and she was cancer-free.
"It was the most amazing feeling, knowing I had beaten it and could get on with being a mum," she beamed.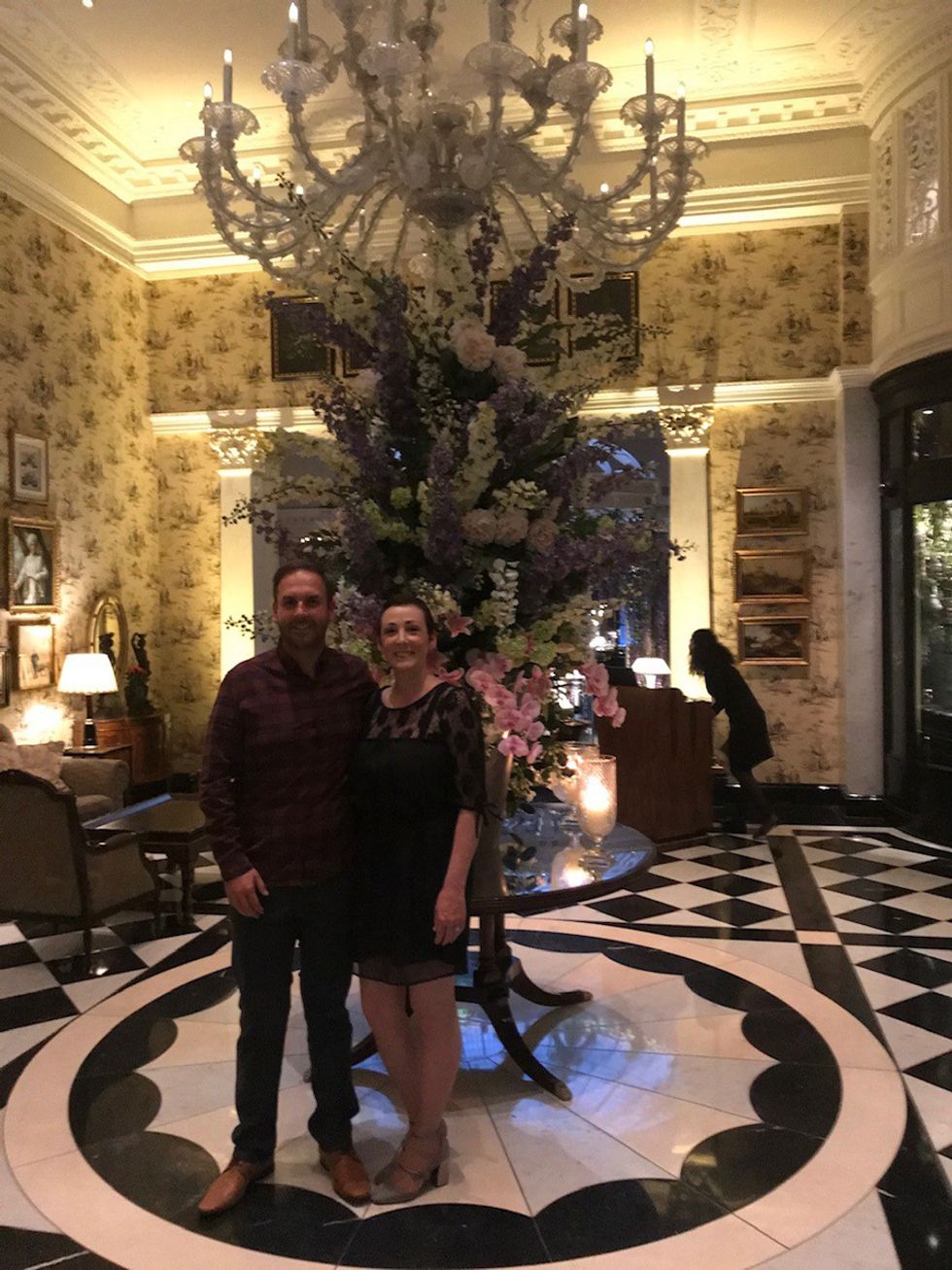 Steven and Emmeline during her treatment (Collect/PA Real Life)
Emmeline continued:
"I've got to have regular check-ups and I've had some amazing support. A friend told me about Breast Cancer Haven, a national charity with a center in Yorkshire, and they have been amazing."
"It supports women through their breast cancer treatment by providing, completely free of charge, a tailored package of emotional, physical and practical support."
"Throughout my chemotherapy, I really looked forward to my regular visits there and cannot thank them enough."
Emmeline and Zosia now (Collect/PA Real Life)
Now fully-bonded with 16-month-old Zosia, who is a healthy, happy toddler, she loves being a mum.
She added:
"We will tell Zosia what happened to Mummy when she was born, when she's a bit older and how she helped me by coming early."
A version of this article originally appeared on Press Association.