There's a very vocal opinion about private property and people who mess with it. Something along the lines of "Don't do that."
So when Andy DeLisi put out a Black Lives Matter sign that was stolen, he didn't take it lying down. Instead, he put out a camera to try and catch whoever did it.
DeLisi made another sign and pointed a security camera at it.
Soon enough they had footage of the perpetrators.
The stills from the video showed a man and a woman getting out of their car to take the sign. DeLisi eventually found it thrown in a ditch.

He shared the video and stills with the county sheriff and asked that if found, the couple shouldn't face legal consequence. He just wanted them educated on the legality of going on someone else's property and taking things that aren't theirs.
The sheriff's office wasn't sure if they could find the couple, but accepted the report.
However, the stills showed the car was branded "Mary Kay", a multilevel marketing company that has people sell the company products directly to their community. Between this and the power of the internet, the couple was identified.
Say hello to Tom and Linda Bergerson, a couple from out of state who were staying nearby.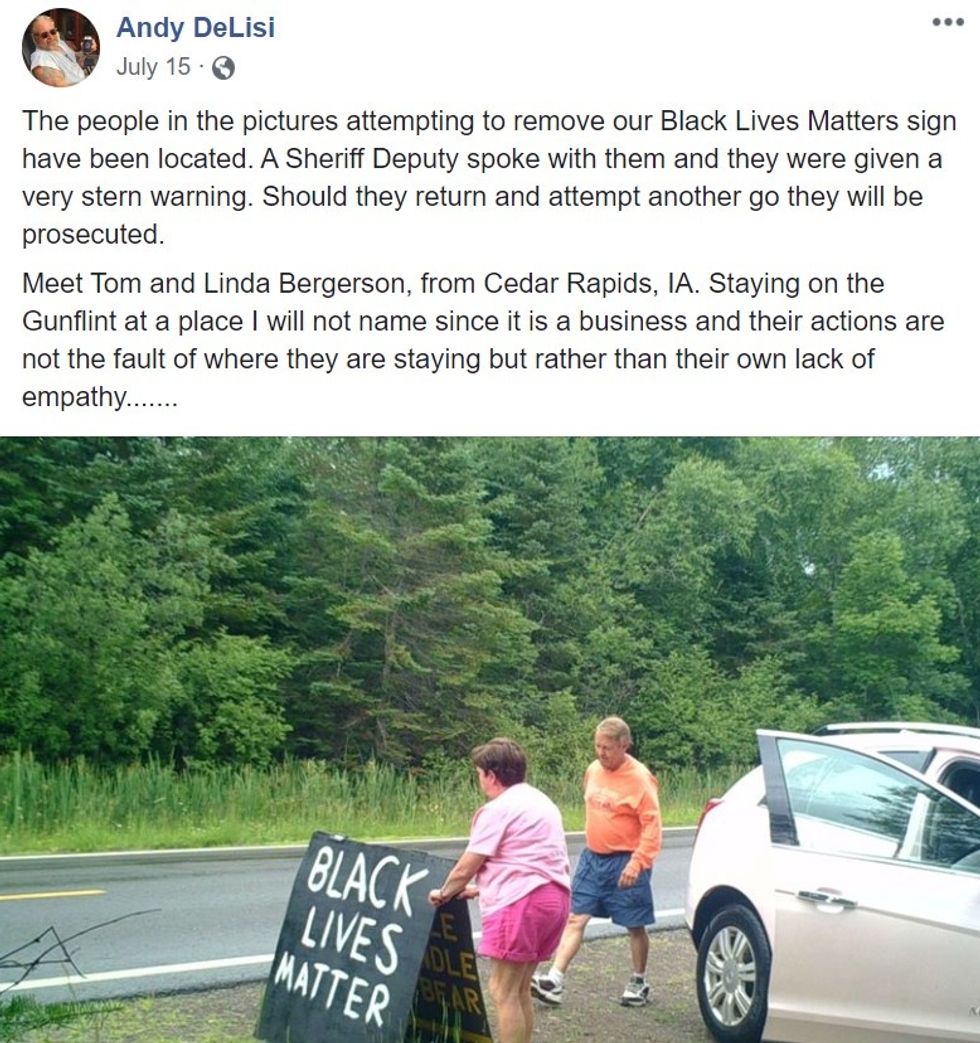 Andy DeLisi / Facebook
DeLisi shared the news on Facebook.
"The people in the pictures attempting to remove our Black Lives Matters sign have been located."
"A Sheriff Deputy spoke with them and they were given a very stern warning. Should they return and attempt another go they will be prosecuted."
"Meet Tom and Linda Bergerson, from Cedar Rapids, IA.
"Staying on the Gunflint at a place I will not name since it is a business and their actions are not the fault of where they are staying but rather than their own lack of empathy..."
People quickly asked Mary Kay to weigh in.
Once the Bergersons' were identified, the internet got to work asking Mary Kay what they thought of one of their sales people, effectively the face of their company, messing with private property.
It didn't go well for Mrs. Bergerson.
The company cut ties with her shortly after.

Mary Kay put out a statement saying:
"The Golden Rule, respect, and making others feel important are founding values here at Mary Kay and are expected from every independent beauty consultant that represents our brand."
"After looking into this situation, we will be severing our relationship with this individual."
Bergerson told deputies she wanted to "send a message" when she took the sign down. The only message that came across was people wouldn't tolerate her bigotry.
Many online weren't sad to see her go.
Bergerson didn't clarify what message she thought she was sending.