Martha Stewart went on Twitter to call out the New York Post on a fake news story—but it wasn't about politics, the economy, or any of the other things you might expect a major publication to be called out on.
Instead, she called them out for an article entitled "Why Peacocks? An Unlikely Search for Meaning in the World's Most Magnificent Bird," in which they referred to Stewart as having 16 peacocks on her upstate NY property.
Martha Stewart would like you to know that she has 21. And not a peacock less.
But Stewart wanted to make clear the target of her criticism was the New York Post, not fellow peacock enthusiast Sean Flynn, whose book Why Peacocks? was the subject of the article.
Fans weren't totally sure what to make of this information—whether it was Stewart having so many peacocks or that she knew so much about them.
Perhaps the best part is the New York Post has since added an editorial note, updating Stewart indeed has 21 instead of 16 peacocks that are impeccable.
Stewart has been outspoken about her love for peacocks both on her blog and in interviews.
We're uncertain if hers are accomplished squirrel herders.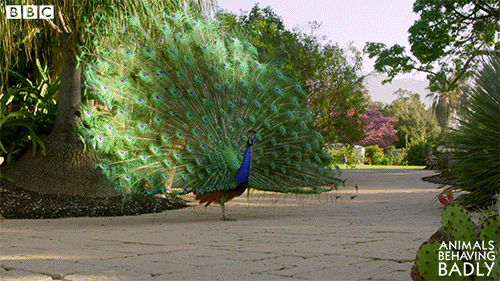 Giphy
In fact, she has a number of animals on her property, including Friesian horses, canaries, geese, dogs, cats, donkeys and chickens. She told Town & Country they "all take a tremendous amount of care because you have to keep them clean, and fed, and happy."

"I don't think I'm going to get too many animals in the near future."
With a muster of peacocks and her hands full with other animal care, Stewart seems to have her work cut out for her.
But lord help you if you miscount the number of animals and insult them in your publication—you may just find yourself the subject of a scathing tweet.