If you were anywhere near social media over the weekend, you likely heard about a harrowing incident in which Lady Gaga's dog walker, Ryan Fischer, was shot during a robbery that resulted in her dogs being stolen.
Now Fischer, who thankfully survived, has penned a series of deeply emotional posts on Instagram about the incident, after the dogs were returned by a good Samaritan.
In his posts, Fischer gives a harrowing account of the disturbing incident that very nearly claimed his life.
The incident occurred last Wednesday while Fischer was walking Gaga's three French bulldogs, Gustav, Koji and Miss Asia.
In his first post, Fischer described the moments in the immediate aftermath of the shooting.
"[I]t registered that the blood pooling around [Miss Asia's] tiny body was my own."
"I cradled Asia as best I could, thanked her for all the incredible adventures we'd been on together, apologized that I couldn't defend her brothers, and then resolved that I would still try to save them… and myself."
Sure enough, as Fischer lay recovering in the hospital, the dogs were found two days later.
A good Samaritan noticed the dogs tied up outside miles away from where two men jumped out of a Nissan Altima and shot Fischer in the chest before stealing the dogs.
In his second post, Fischer expressed his gratitude that the dogs were safely returned and for the outpouring of support he has received from all over the world.
In his second post, Fischer wrote:

"I am still in recovery from a very close call with death...but the gratitude for all the love I feel from around this planet is immense and intense. I felt your healing support! Thank you."

Fischer had some heartfelt words of thanks for Gaga herself, as well:
"...your support as a friend, despite your own traumatic loss from your kids, was unwavering. I love you and thank you."
Other Instagrammers were definitely feeling the love, and showered support on Fischer as he recovers.

@roniifish/Instagram

@wyattmacg/Instagram

@kfailla/Instagram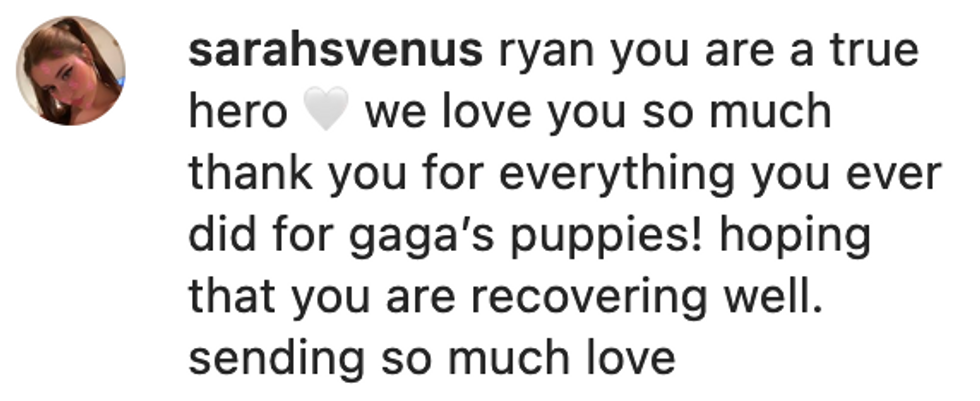 @sarahsvenus/Instagram

@iamevavee2013/Instagram

@mywickedvintage/Instagram

@emmagar95/Instagram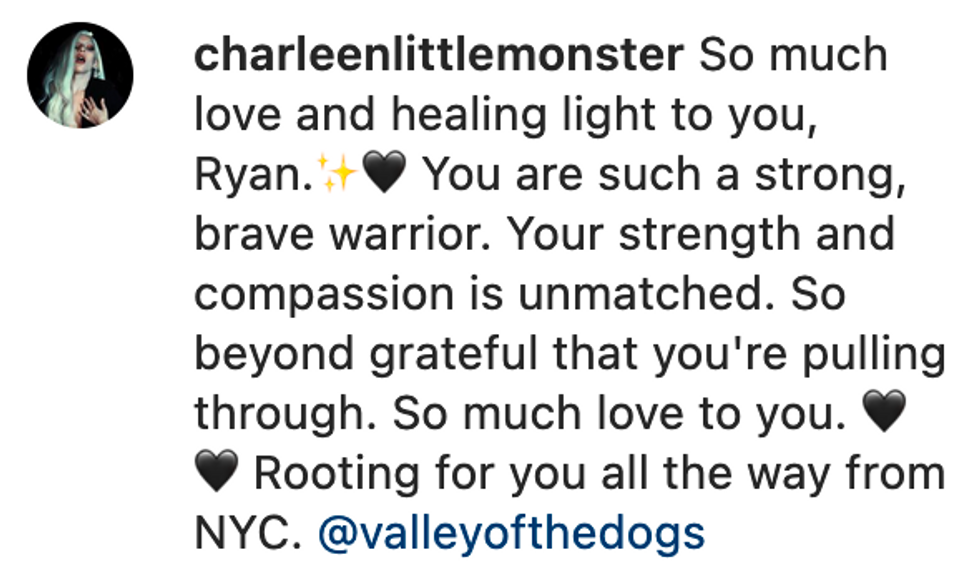 @charleenlittlemonster/Instagram

@kristen.rae/Instagram

@cinzzz_/Instagram
Fischer also said in his posts that the police in the area are "committed to bringing these criminals and attempted murderers to justice."