Saturday's "UFC Fight Night" in Norfolk, Virginia, saw some intense, testosterone-fueled bouts featuring fighters at the top of their games. But when it was time for the heavyweight fight between Andrei Arlovski and Junior "Baby" Albini, heads were turning over Albini's fashion choices instead of his moves in the cage.
---
For you see, Albini's shorts seemed to live up to his nickname, as all anyone could see when looking at the white short shorts was a diaper:
For many, it looked like a giant, aggressive baby lumbering around:
And, try as they might, they just couldn't focus on the bout at hand:
Inevitably, the meme comparisons started rolling in:
Perhaps Reebok needs to rethink their line of UFC athletic wear:
After all, think of all the confused babies and concerned parents out there who were watching:
In the end, the diaper didn't work in Albini's favor, as Arlovski defeated him after a unanimous decision at the end of round 3.
Arlovski had a total of 106 strikes, 92 of which were considered significant, compared to 74 strikes and 48 significant strikes by Albini.
Perhaps Albini needed a nap at the end, or the judges could see that he was ready to take his bottle. Whatever their reasoning, it meant heartbreak for Albini and his fans.
After the Twitter attention, it'll be interesting to see what Albini chooses to wear the next time he fights. Does he don a pair of extra-long, "definitely not a diaper" shorts, or does he return to his "Baby" roots and rock the fashion choice that made him a social media sensation overnight? Time will tell.
In the meantime, don't ask anyone who was watching UFC on Saturday night to tell you who won, because they won't be able to: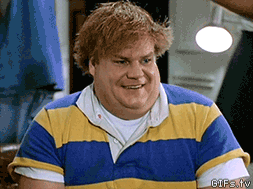 Please SHARE this with your friends and family.