As part of his continued effort to urge those who haven't to get vaccinated, President Joe Biden received a booster shot on live television this past Monday.
The President did so after the CDC approved third doses of the Pfizer vaccine for those ages 65 and older.
"I know it doesn't look like it, but I am over 65 - way over. And that's why I'm getting my booster shot today."
President Biden also took another opportunity to call out those who haven't received at least one dose of the vaccine, which remains roughly 23% of the US population.
This has resulted in a surge of cases nationwide, owing to the Delta variant.
"And that distinct minority is causing an awful lot of damage for the rest of the country, this is a pandemic of the unvaccinated."
Among those who were less than moved by President Biden's words and actions was controversial podcast host Joe Rogan, who posited the booster the President received wasn't real.
Rogan made his baseless claim with his guest—former CIA officer Mark Baker—on Thursday's episode of The Joe Rogan Experience.
After Baker mocked the President for wearing a mask, Rogan asked his guest if he thought President Biden got a "real booster" which Baker wasn't sure of.
"But you know what, when I watched it on TV, when I watched him getting his shot, his mask on all I could think of, was this was performance art. So the next step of performance art would be like not giving him the booster but just giving him a shot."
Rogan tried to justify his bogus theory by claiming there were far too many risks involved in giving the President a shot on live TV.
"What if he dies? What if he blacks out? What if he like gets it and faints? Like, because people have had very bad reactions like in the moment for whatever reason?"
The CDC has confirmed the only known immediate side effects of receiving the vaccine are soreness and redness at the injection site.
And while temporary mild flu-like symptoms were experienced by some after receiving the second dose of vaccine, only 0.6% of people over 18 suffered serious symptoms which required hospitalization.
Rogan even suggested the idea the only way the vaccine could have been real was if it was the idea of Vice President Kamala Harris, in hopes President Biden might have a negative reaction resulting in her promotion to commander in chief.
"Unless Kamala Harris talked him into it."
"She's like go, take it — take a double, give him a double. Fill him up."
Baker thankfully shot down Rogan's assassination theory, though not without taking a tasteless jab at America's first female, first Asian and first Black Vice President.
"I don't know, I don't think she wants the job anymore."
"She seems very quiet. I'm not sure, she may have left the country."
Spreading misinformation is nothing new to the former Fear Factor host.
Rogan had previously bragged about how Ivermectin, an anti parasite medication, cured him when he contracted Covid 19, in spite of urgent warnings from the CDC about the dangers of ingesting it, and no credible evidence it can fight the deadly virus.
People on Twitter expressed their exhaustion and frustration at Rogan's continued spread of dangerous misinformation.
Several pointed out how someone who touted Ivermectin is in no position to have an opinion on anything related to health and medicine.
Others who qualified for and received a booster stepped forward to make it clear the vaccines were safe and effective.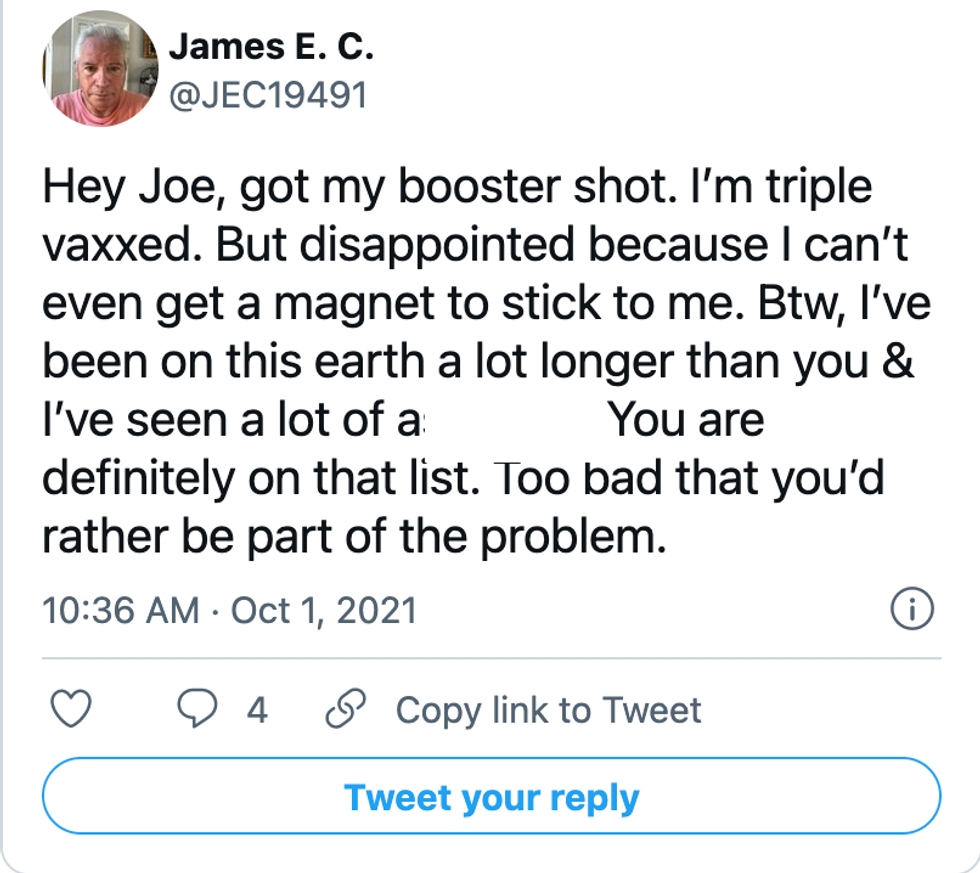 @JEC19491/Twitter
Others expressed their outright exhaustion at Rogan's rightwing propaganda, both through humor and flat out anger.
One of the most biting attacks on the ill-informed podcaster came from one astute Twitter user, who pointed out the painful irony the audience of Rogan's upcoming appearance at Madison Square Garden will have to show proof of vaccination in order to enter.
And no, proof of Ivermectin will not suffice.