Halloween is hauntingly good for one seaside jewelry maker's business – as her creepy creations made from blinking dolls' eyes are snapped up by fans of the macabre.
Mesmerized by a pair of disembodied doll's eyes, which opened and closed, in an antique shop near her home in Brighton, East Sussex, England, four years ago, India Moore, 30, felt inspired to turn them into a necklace.
When the visual treat which took half an hour to make sold within 48 hours of adding it to an online sales site, India, who also works in sales and marketing for a skincare company, put her eye for quirky kitsch to good use by launching Jawline Jewellery.
With horror movies like Annabelle and Child's Play already whetting the public appetite for ghoulish dolly goods, she was soon selling everything from hand-crafted bath bombs containing dolls' body parts, to blinking eye jewelry, from £11 to £195 (~$14 to $253).
She said:
"I like the fact that the blinking dolls' eyes would once have been part of a cute toy that a child really loved, but have become these weird disembodied things that nobody wants."
"Being separated from their bodies gives them a new twist. They are the same objects, but changed into something weird and creepy."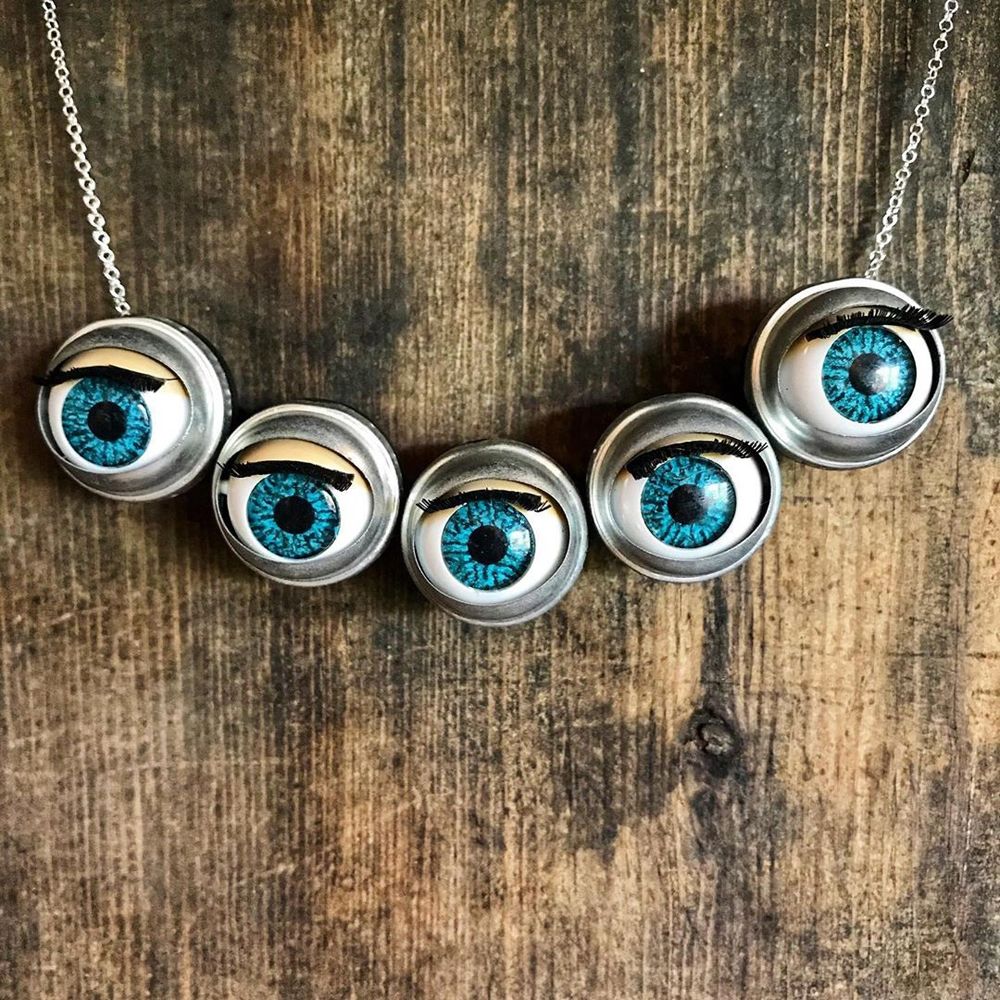 Eyeball jewelry (PA Real Life and Jawline Jewellery)
She continued:
"I love seeing people's reaction to my jewelry. I know my stuff is weird and not for everybody, but that's what makes it work."
"If it appeals to people, their eyes light up. They're fascinated and can't keep their hands off it – or they are horrified. It's such a strong reaction."
A self-taught jewelry maker, India, who lives with her graphic designer boyfriend but does not want to name him, has thousands of dolls' parts stored in jars around her home studio.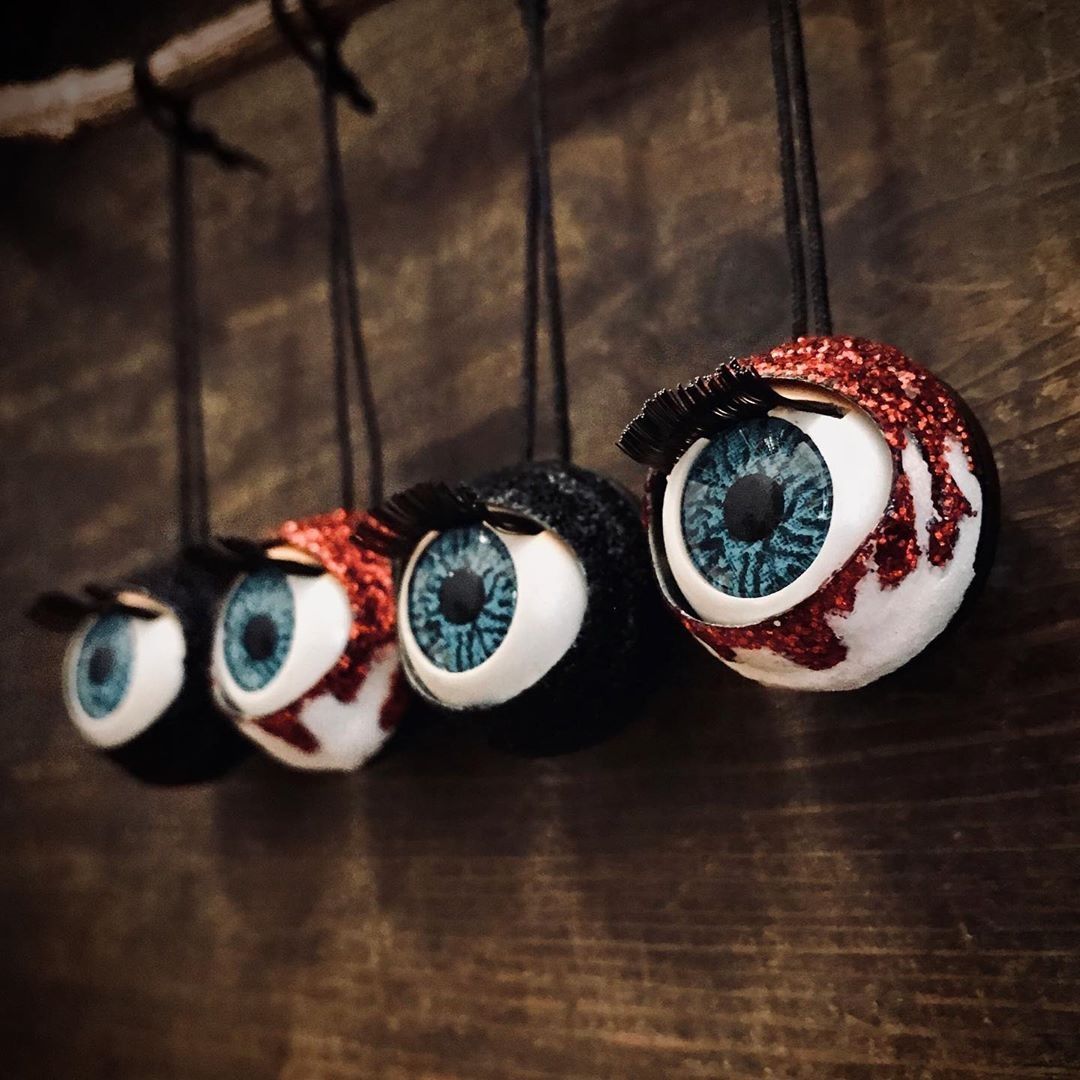 Eyeball baubles (PA Real Life and Jawline Jewellery)
She says her jewelry making is a natural progression, as she has always been drawn to vintage toys, as well as to strange and macabre objects or art works.
She said:
"I've always had little collections of both."
"I have some quite conflicting tastes, for example, in music, as I flit between happy eighties pop and metal. It's either super cute or dark and creepy."
"I started making jewelry after finding these blinking dolls' eyes in a Brighton junk shop four years ago," India added.
"I took them home and was playing with them non-stop. They have this mechanism, like a weight, which makes them blink and I was totally fascinated by them."
Crafting her first item during a sleepless night, after searching under 'blinking doll necklace' on Etsy, a website where people sell handmade and vintage items, and finding nothing, she rightly hoped she had spotted a gap in the market.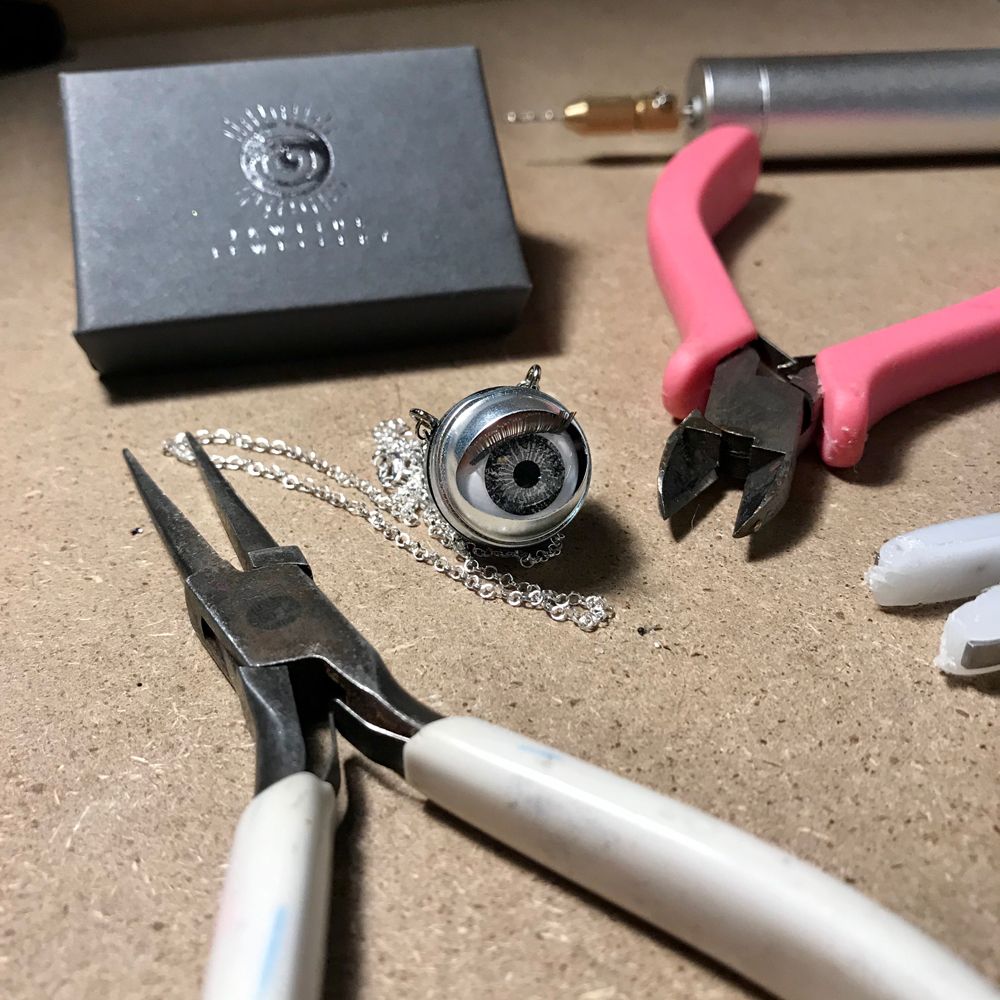 India's jewelry making (PA Real Life and Jawline Jewellery)
"I saw some static doll eye jewelry, but found no blinking doll eyes," she said.
"I thought either they were too weird, or it was a sign that I should go for it."
"I'd made a few bits and pieces as a teenager so had an idea of how to make jewelry and, within 48 hours of posting my necklace on Etsy, it had sold, so I realized I'd found something more people might like."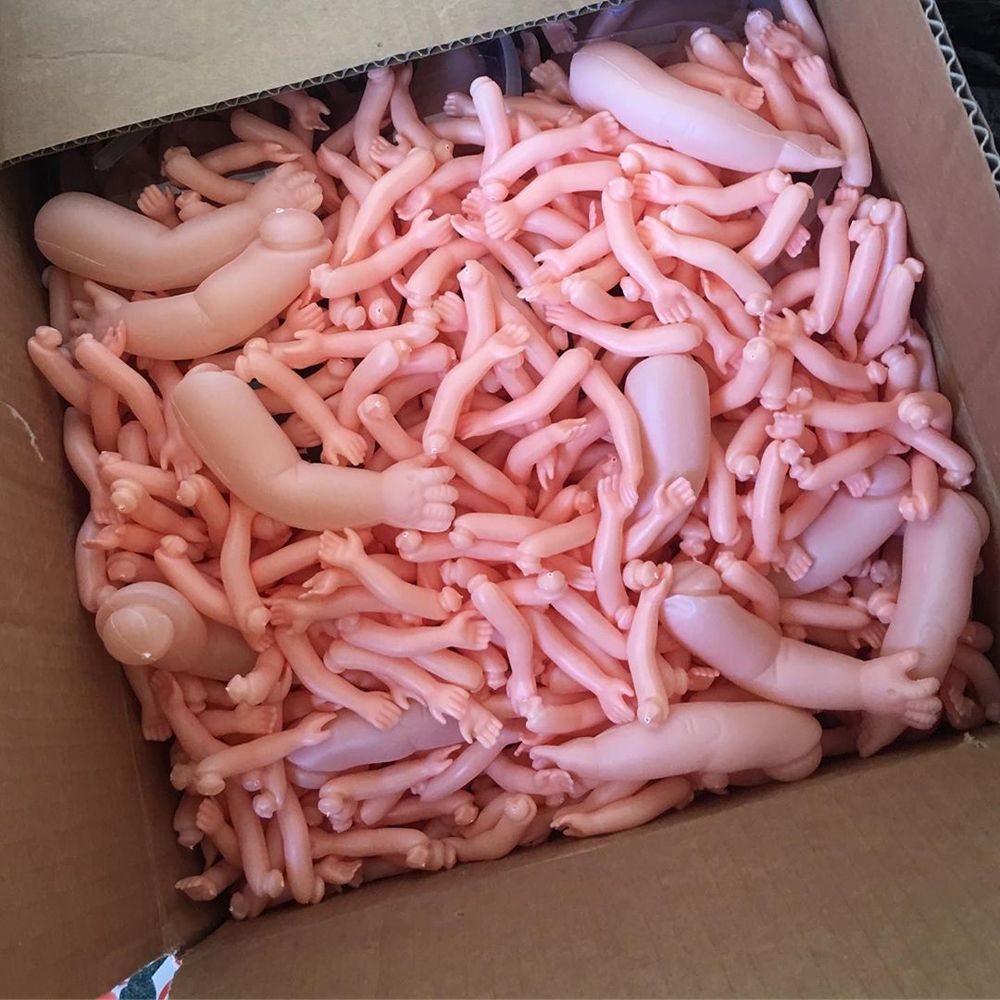 India's collection of doll parts (PA Real Life and Jawline Jewellery)
Adding earrings and rings to her collection, she was soon selling more and more.
Then, two years ago, she started investing more time in her creations and launched Jawline Jewellery, with its own website, at the beginning of 2020.
She said:
"It's not for everybody, but there's definitely a market for it and Halloween is very busy. This year business has doubled across everything to the point where I'm having to limit the amount of baubles I sell because I don't have enough hours in the day."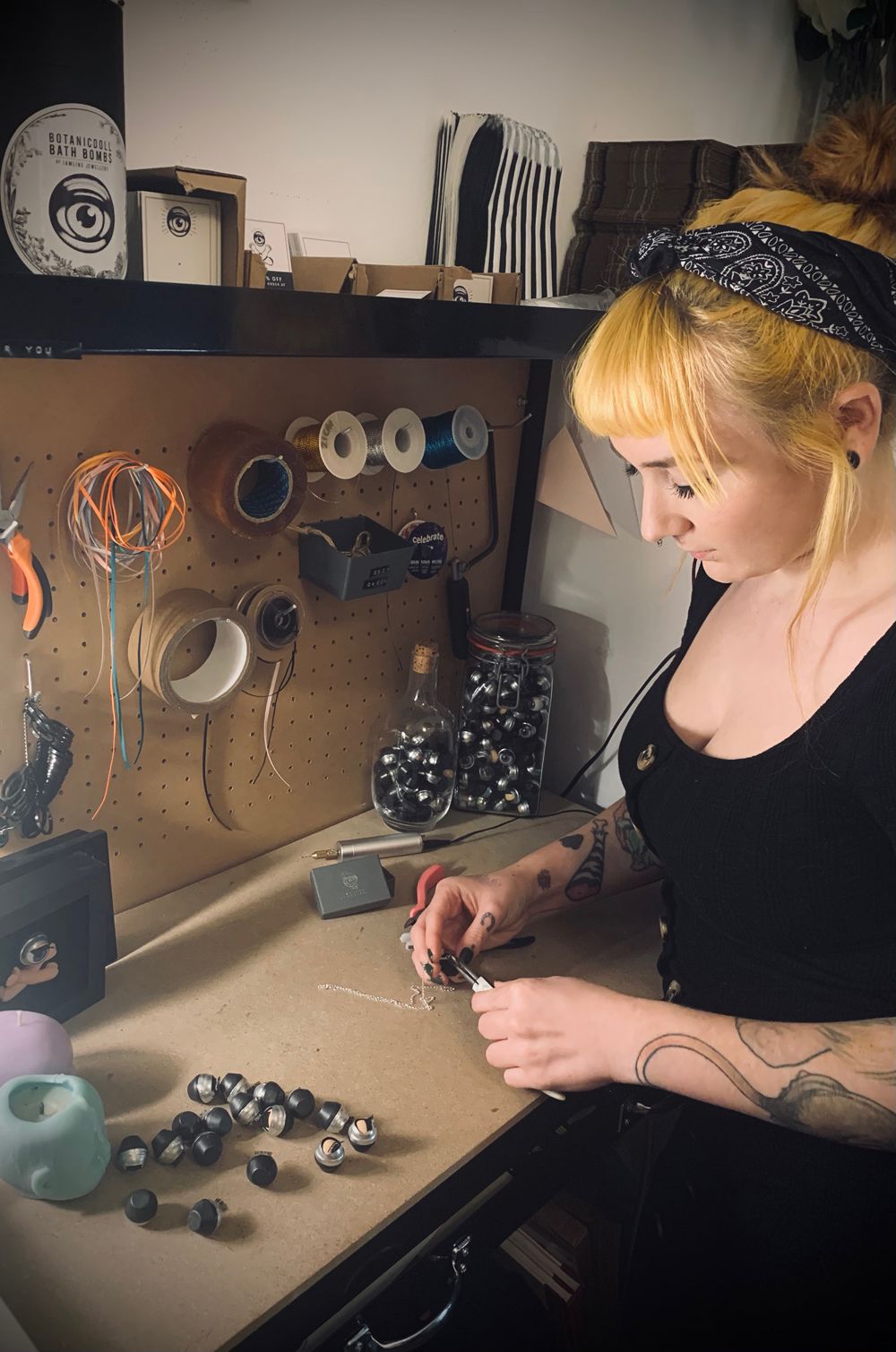 India in her studio (PA Real Life and Jawline Jewellery)
India continued:
"People tend to feel quite strongly about dolls, whether they love them or hate them, but it's the blinking eyes that seem to get me and other people."
"When you wear the jewelry, if its static it won't blink, but if you move forwards and backwards or when you're walking around, it's as if the eyes are moving around or blinking at you."
"It's quite disconcerting and your own eyes are drawn to the jewelry."
India sources the eyes from numerous shops and also buys dolls specifically for their eyes, of which she estimates she has 2,000 in various jars.
"I have literally pulled the eyes out of dolls," India laughed.
"I have at least 2,000 eyes in these jars."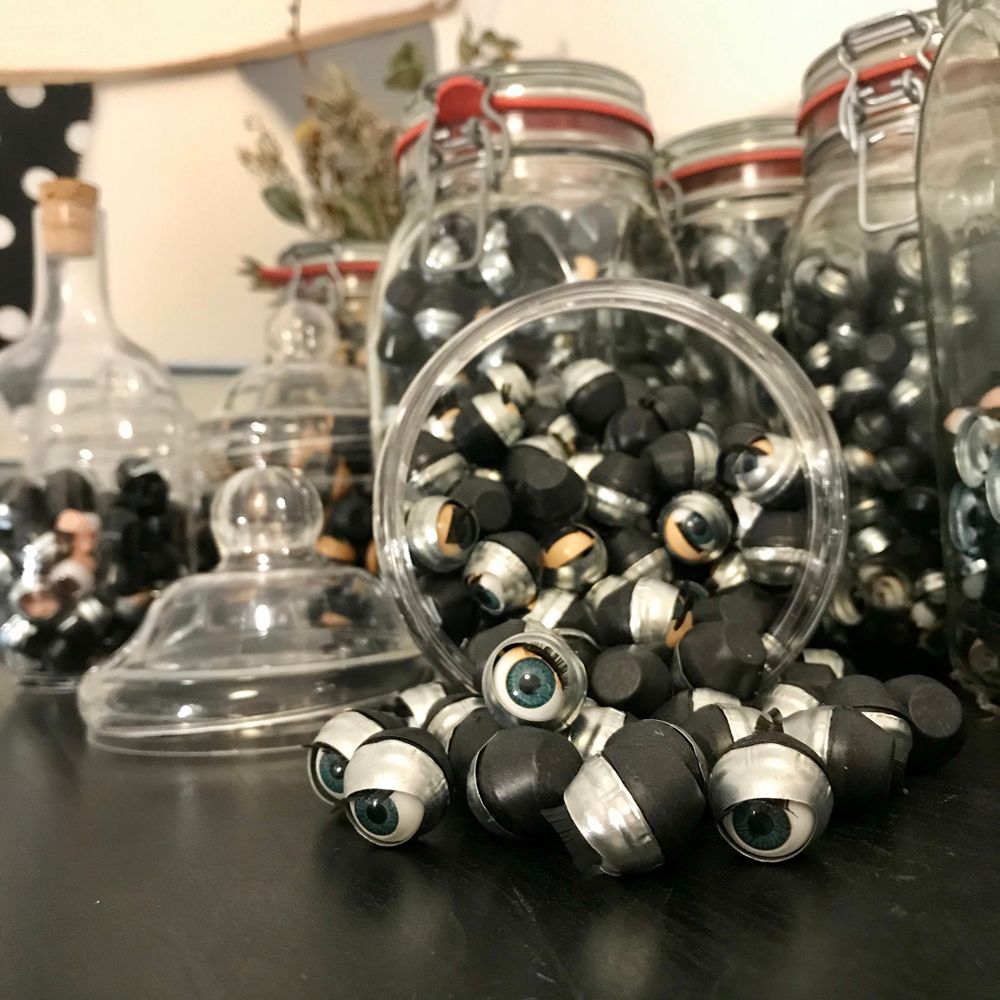 India's jars of doll's eyes (PA Real Life and Jawline Jewellery)
"A lot of my house is in a minimal style, then I have my jewelry studio where it's like my brain has exploded," she said.
"I have jars of dolls' eyes and an old bubblegum vending machine in the shape of a globe full of doll arms and legs, as well as a drawer of dolls' arms."
"I'm very comfortable with thousands of eyes watching me. It doesn't creep me out and I don't talk to them or anything like that!"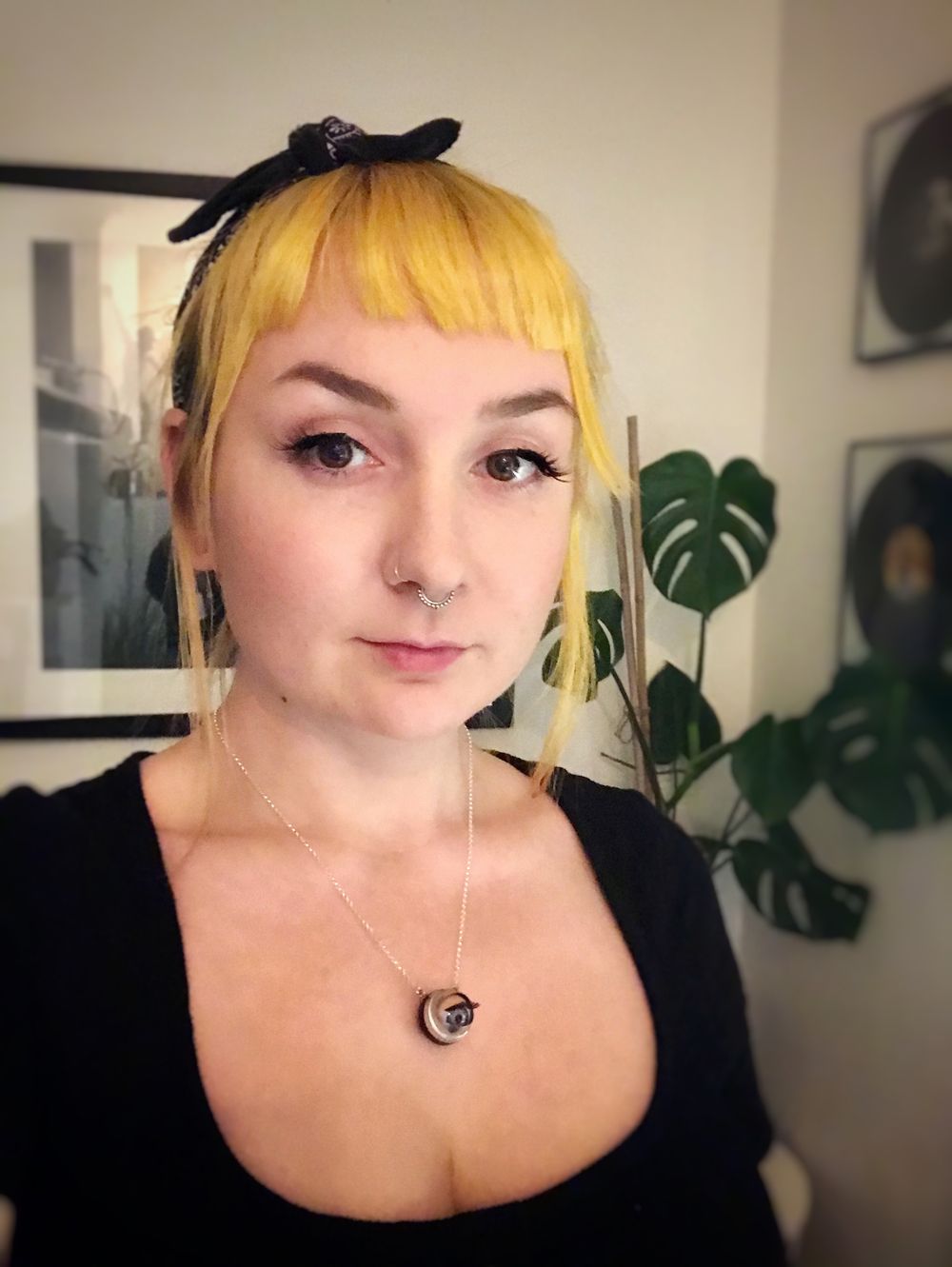 India (PA Real Life and Jawline Jewellery)
India continued:
"It can be a bit weird when the odd eye escapes and I find it in the kitchen or the sitting room, though."
"Luckily, my boyfriend isn't too freaked out. He just accepts it. He's a good egg!"
Also making key chains with different eye colors, India has even created dolls eye plugs for flesh tunnels in the ear lobe, and botanic doll bath bombs with hidden parts.
She explained:
"Inside the bath bombs are hidden doll parts – arms, eyes or feet. As the bath bomb fizzes away the arm shoots to the top."
"It was another idea I had when I couldn't sleep and was frantically writing stuff down. I love bath bombs and thought although it's a strange thing to do, it's something fun – a black bath bomb with a creepy arm popping out of it!"
India, who takes commissions, but says she has never been asked for anything too weird, is now working hard to meet the Halloween demand.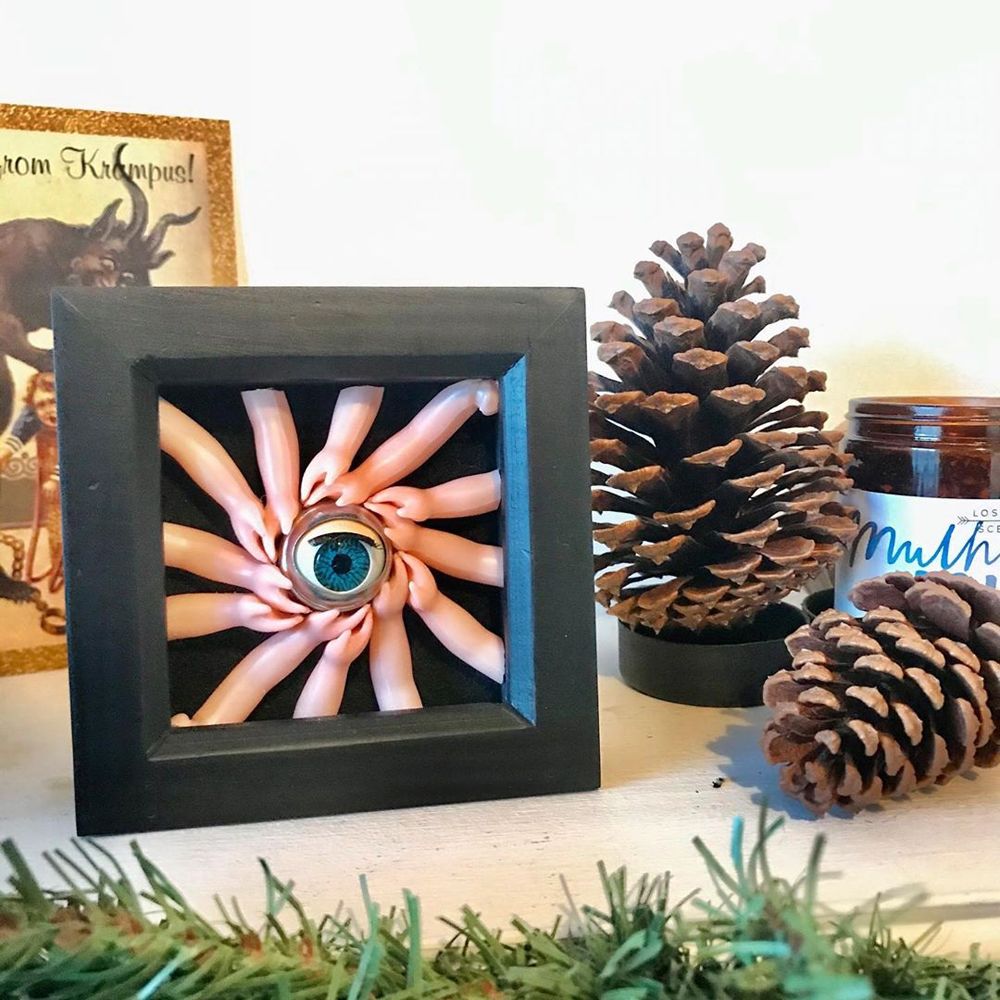 India's art work (PA Real Life and Jawline Jewellery)
She said:
"Half my customers are in the US, so I do get more orders around Halloween – which seems to be getting bigger over here, too."
"This year, I've been making Halloween eye baubles in orange and black or white and red dripping blood, inspired by classic monsters."
"Ironically, I'm not too keen on horror movies, but my partner likes them so whenever he's watching something, if I notice a doll, I'll be transfixed, wondering what its eyes are like."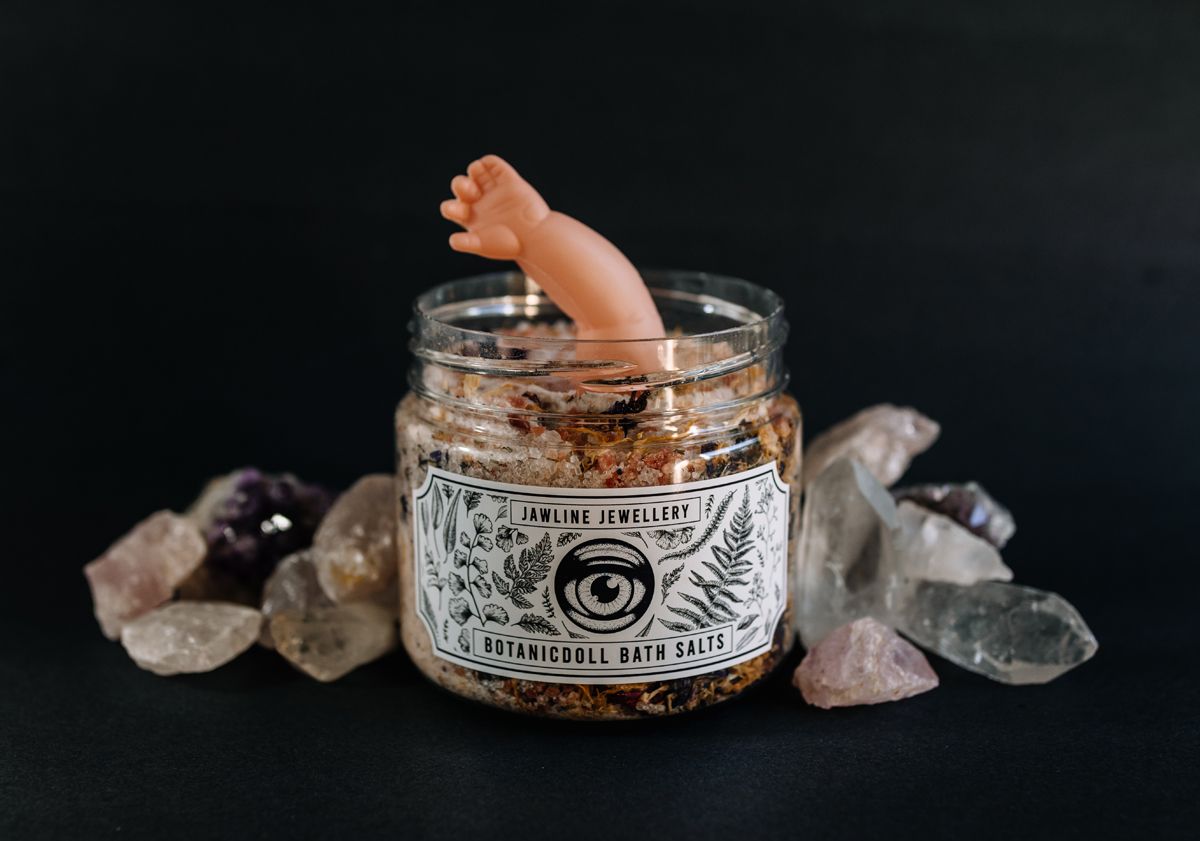 India's Botanic Doll Bathbombs (PA Real Life and Noelle Brochu Photography)
"When I'm out and about, I'm always scouring, looking for anything to do with dolls," she said.
Taking several hours to create some items, including art works such as eye-themed curiosity domes and box wall hangings made of several dolls' eyes and arms, India says the work can be very fiddly.
"There's a lot of sanding and drilling and stuff like that," she said.
"The eyes are not made to be worn or put on the wall, so I do have to make adjustments."
"There were some learning curves when I started out, but I'm a perfectionist, so I just kept working on things until I got them right."
"If you have your own business that you're passionate about, you make it work and you make stuff happen."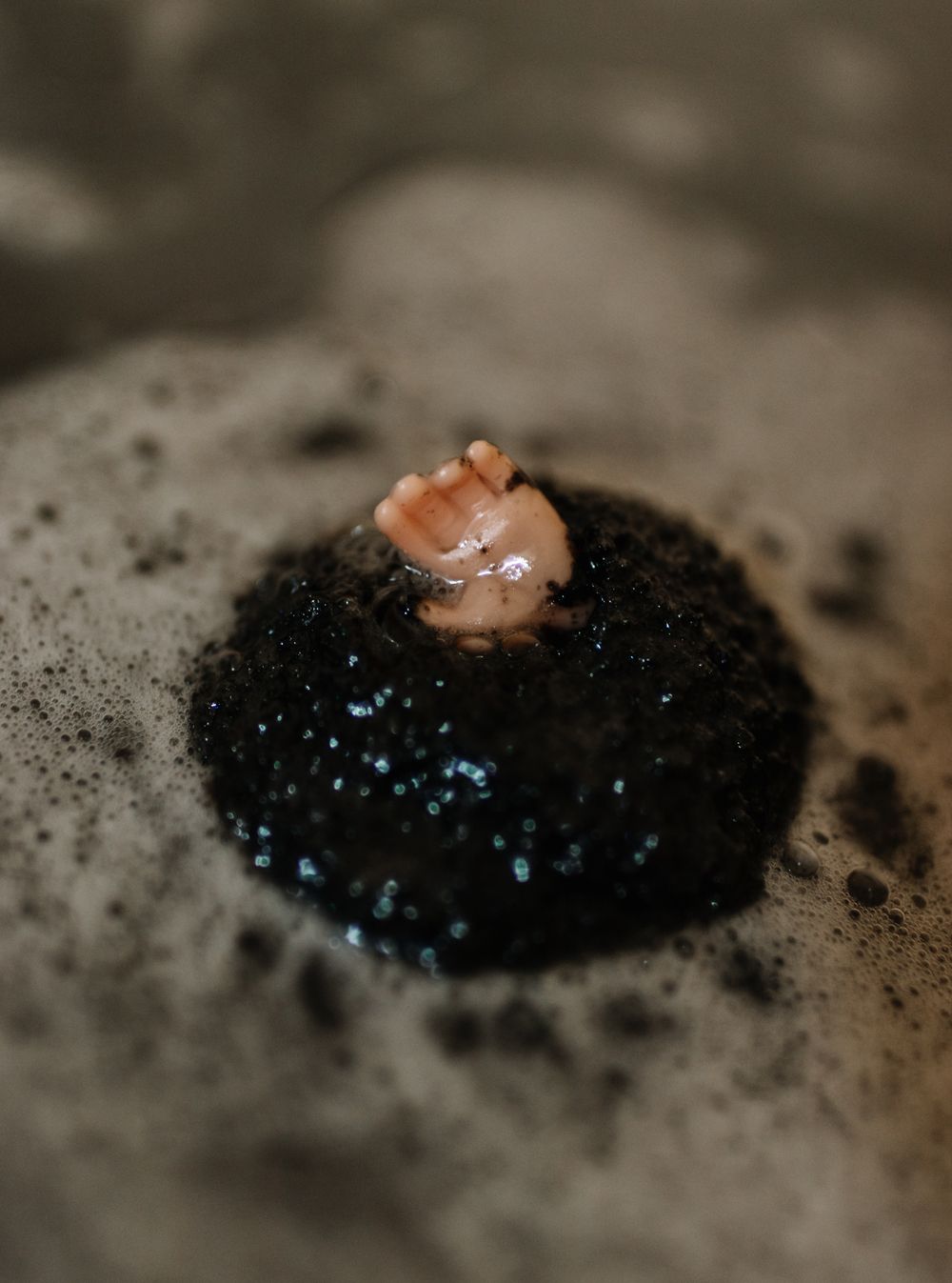 India's Botanic Doll Bathbombs (PA Real Life and Noelle Brochu Photography)
Apart from the financial rewards, she says the biggest thrill comes from seeing how people react to her creations.
She said:
"I used to hide behind the internet with my brand, and most of my family and friends didn't know I was doing it, but last year I decided to go for it and had a market stand at the Etsy Made Local Christmas Fair."
"I get a lot of joy out of the fact people have a strong reaction."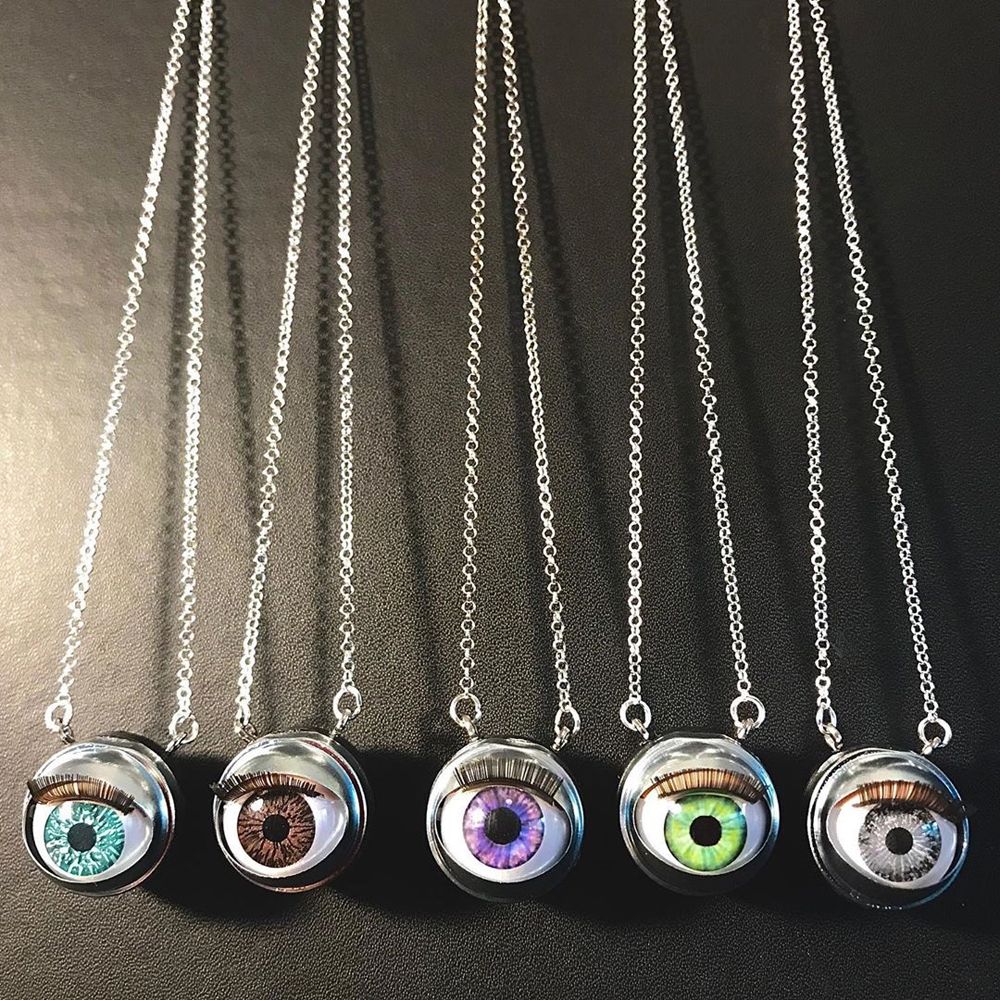 Eyeball jewelry (PA Real Life and Jawline Jewellery)
She added:
"It's either a childlike excitement, because there is the element of nostalgia. I love seeing their eyes light up like they are little kids."
"Then there's the horrified reaction, because a lot of people find those types of dolls creepy and seeing these eyes so out of context is unexpected and strange. They take people by surprise."
"I do get feedback saying, 'Your jewelry is so great, it creeps out my friends'. People enjoy that shock factor."
For more information visit Jawline Jewellery here or search Instagram for @jawlinejewellery.