Fox News surprised many online when they banned a regular commentator. Harlan Hill, a political consultant and man supposedly involved in public relations, went too far even for the controversial network when he insulted Kamala Harris last week.
Hill, tweeting during the Vice-Presidential debate, typed up his comments on Harris saying:
"Kamala Harris comes off as such an insufferable lying b****. Sorry, it's just true."
We would like to remind you, this man claims to be in public relations.
Many online were glad to hear Hill wouldn't be on Fox News anymore.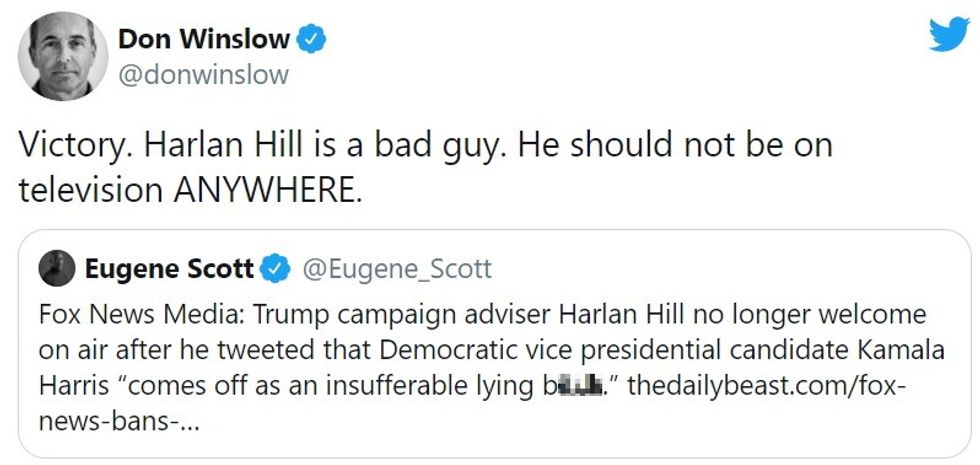 @donwinslow / Twitter
After Hill made the crude comment, Fox News said that they have no intention to bring him back as a guest. Hill was last on the network on Foix Business in June.
This news also brought many more PR fiascos to light.
Hill is the president of the Logan Circle Group, a PR firm. On their website, they claimed to work with numerous large companies, including AT&T and American Airlines, listing the companies under their logo.
However, when concerned consumers online questioned the companies, they said they never worked with Hill or his company. Hill claimed he has indeed worked with these corporations either directly or through "consulting partners."
These instances taken together led many to crack jokes at Hill's expense.
Hill, whose Twitter bio still lists himself as commentary for Fox News and an advisory board member for Donald Trump's campaign, has doubled down on the comment. He's not only not removed it, but also retweeted it and compared his comments to the ones people make about Donald Trump's family.
Comments and arguments over Hill's language continued online with many glad he will no longer be on television. They praised Fox News for an act they thought wouldn't happen.
Now if only they could remove some other vulgar talking heads, we might get somewhere.

@TheTimeTravell3
This isn't the first time Kamala Harris has endured unfair attacks in the course of this election. After Joe Biden announced Harris as his running mate, a new wave of "birtherism" conspiracies emerged around the Vice Presidential candidate.
These racist attacks were quickly proven false.