When people found out why Lee Harvey Oswald was trending on Twitter, there was the online version of applause.

Several prominent Republicans were tricked into posting a photo of the man who assassinated former President John F. Kennedy in honor of Memorial Day.
Ken Klippenstein, a journalist who formerly covered national security at the Intercept, successfully fooled GOP Florida Congressman Matt Gaetz, American Conservative Union Chairman chair Matt Schlapp and conservative commentator Dinesh D'Souza with his prank.
Klippenstein convinced the conservatives to retweet a vintage photo of Oswald in uniform—from when he served as a U.S. Marine.

They all fell for it.
The journalist is also a notorious internet prankster who got into a Twitter spat with Elon Musk and duped (now former) Iowa Republican Congressman Steve King into tweeting to his followers, "Steve King is a White supremacist."
Naomi Wolf and Richard Grennell were also past targets.
On Monday, May 31, the writer tweeted at Gaetz—who is the subject of investigation for allegations of having sex with a 17-year-old girl and engaging in sex trafficking of minors.
"Congressman, my grandpa's a big fan of yours and is a veteran," wrote Klippenstein.
"He would be thrilled if you could RT this photo of him for Memorial Day. Here he is as a young Private First Class."
Gaetz retweeted the photo without realizing the man pictured was JFK's killer.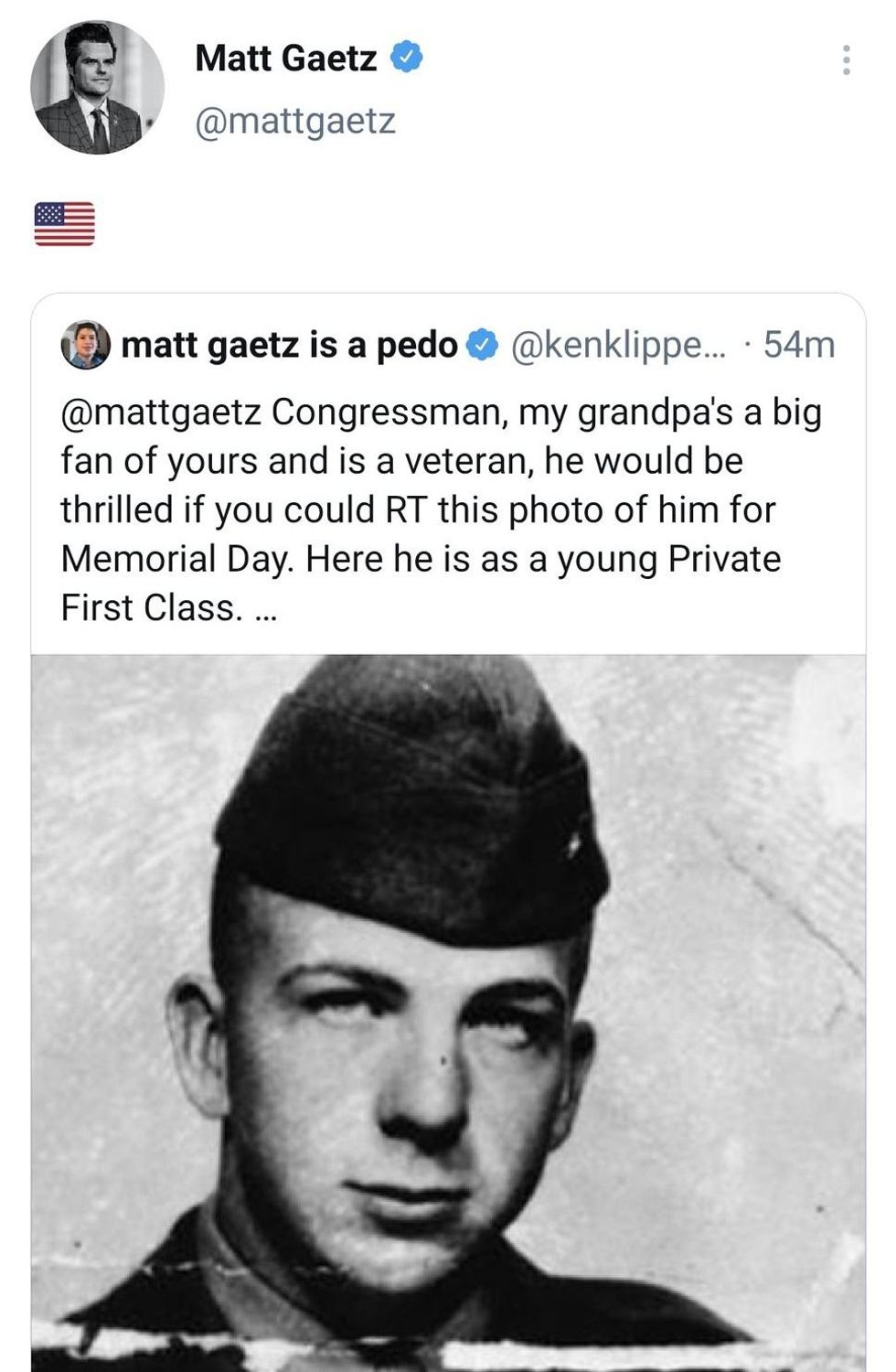 @mattgaetz/Twitter
Klippenstein's updated Twitter handle, referring to Gaetz's alleged sex scandals, was not lost on Twitter users.

Klippenstein also tweeted Schlapp in a similar fashion.

In response, the Fox News political contributor wrote:

"Wow [Ken Klippenstein] it's my honor to retweet the photo of a veteran on a day we remember his fallen friends. God bless your grandfather."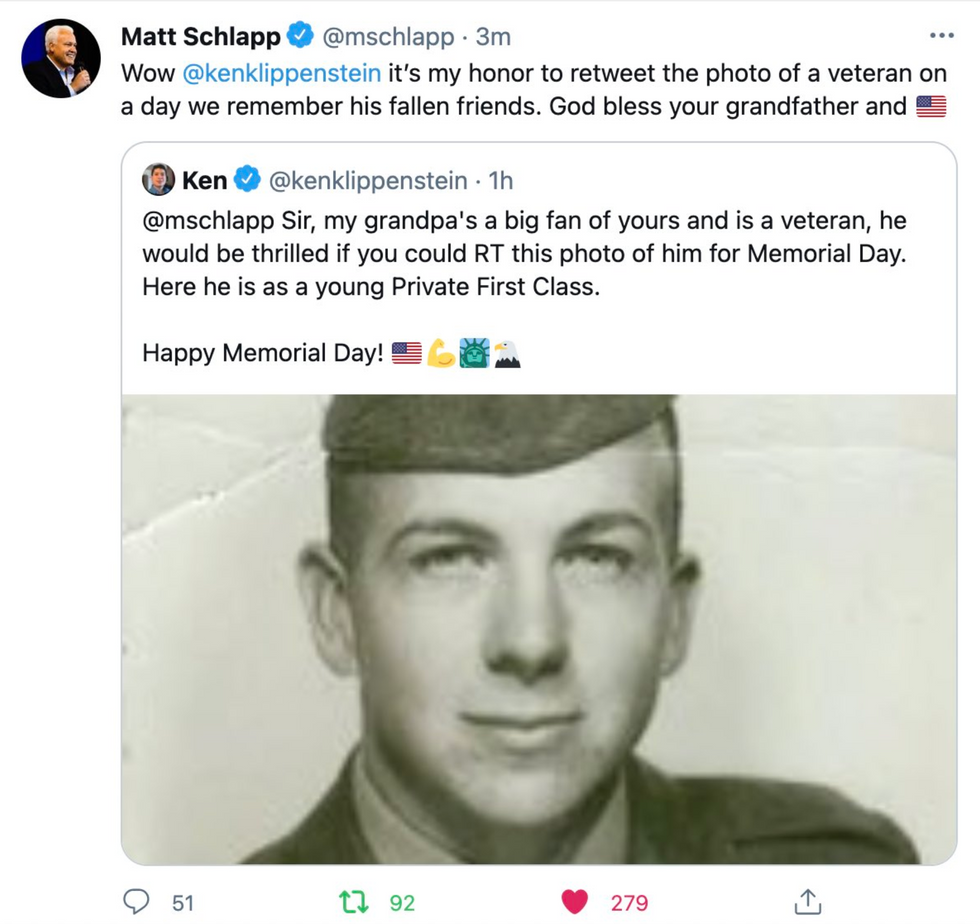 @mschlapp/Twitter
D'Souza—who was issued a pardon by former President Donald Trump for an illegal campaign contribution in 2012—also happily obliged in blindly honoring Memorial Day with Oswald's military photo.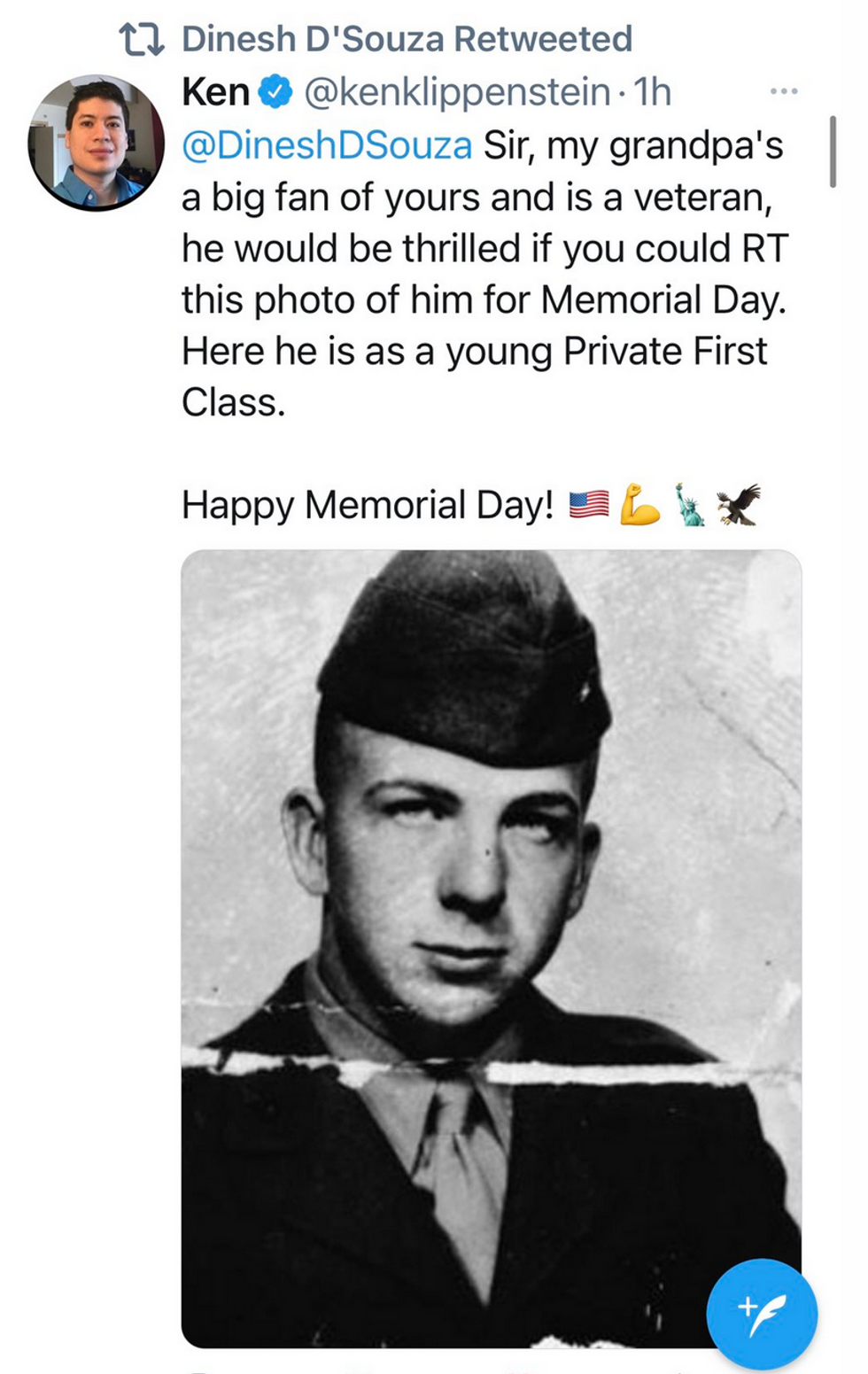 @DineshDSouza/Twitter
Eventually, the three Republicans removed their tweets presumably after discovering they'd been had.
But by then, Twitter users kept the receipts in the form of screenshots that circulated on social media.
But someone was enraged by the prank—conservative political commentator and staunch Donald Trump ally, Candace Owens.
Owens—who lead an unsuccessful push to get Black and Latino voters to register as Republicans—fumed over Klippenstein's prank.
She wrote him in a now-deleted tweet, saying:

"You are making a mockery of a day that is meant to memorialize men that died so that you and other anti-American leftists can laugh at their sacrifices by photoshopping a murderer into their uniforms".

After deleting that tweet, Owens responded to Klippenstein with the following:

"It is not 'political correctness' to have a soul and modicum of decency. Reminder: these men DIED—the majority of them on foreign soil—so you could be free."
"You do not photoshop murderers into their uniforms so you can have a laugh."
Unfortunately for her, she failed to recognize Oswald's military portrait was not tampered with through Photoshop at all.

It takes seconds to JFGI Oswald's military service record.
Oswald had enlisted in the United States Marine Corps on October 24, 1956, a week after his seventeenth birthday. He joined the United States Marine Corps Reserve after being discharged from active service on September 11, 1959.

Klippenstein later tweeted:
"I think I made Candace Owens short circuit lmao."
Though the internet lauded his online tomfoolery, Klippenstein's joke had consequences. He was allegedly fired from the Intercept for pranking the three conservatives on Twitter.

He blamed Owens for his firing.
He tweeted:
"Tell Candace Owens I hope she's happy I've been let go from my job."
He continued the series of tweets by writing:
"Ken Klippenstein fired for truth !!!!!!!"
"STOP THE (CANDACE OWENS) STEAL (OF MY JOB)!"
Not much is clear—including if Owens actually had a part in his termination.

His biography also remains on the Intercept's website as of this writing, but he did start his own Substack newsletter after claiming he was fired, according to Meaww.
Aren't Republicans the party that was going to cancel cancel culture?