A Republican Virginia state Senator is facing backlash after her campaign shared a pro-gun ad claiming that she's "not afraid to shoot" gun reform advocacy groups down.
---
Senator Amanda Chase, who represents Chesterfield County and is known for her extremely pro-gun antics, blamed the tone-deaf language on the digital media company her campaign hired to create the ad.
The original ad read:
"I'm not afraid to shoot down gun groups. SIGN my petition to help end the assault on our liberties."
Underneath was an image of Chase aiming a gun with a link to her petition.
Instead of working to prevent gun violence, Republican Senator Amanda Chase is threatening to commit it. Disgusting… https://t.co/JEBxZp14Rq

— Mark Herring (@Mark Herring) 1568989551.0
The ad was instantly met with sharp criticism as fellow Virginia politicians condemned the rhetoric and called for Chase to take down the incendiary ad.
If you're as disgusted by this as I am, then support our Democratic nominee @pohlforvirginia. She's been named a "G… https://t.co/XVM6oeb8e0

— Mark Herring (@Mark Herring) 1569024171.0
On the same day that @GiffordsCourage endorsed over 40 Virginia Democrats, @AmandaChaseVA released an ad saying she… https://t.co/4hJPqDh9t8

— Virginia Democrats (@Virginia Democrats) 1569001539.0
Parkland shooting survivor David Hogg also weighed in, slamming Chase.
🚨 VA state senator #AmandaChase just threatened to shoot and kill children that support gun control 🚨 If you thre… https://t.co/277xTD1JjM

— David Hogg text VOTE to 954-954 (@David Hogg text VOTE to 954-954) 1569107439.0
Many of my friends that are in High school and middle school work a lot in Virginia on gun violence prevention this… https://t.co/eSdhgcfxXD

— David Hogg text VOTE to 954-954 (@David Hogg text VOTE to 954-954) 1569107659.0
On Sunday, Chase took to Facebook to throw the digital media company under the bus for the ad, saying:

"This has nothing to do with me toning down my message; it has everything to do with the digital media company we just recently hired screwing up our original approved ad."
"They edited our authorized and approved ad with one that was ludicrous and over the top with one we would never have approved."
Chase then showed an image of what the ad should've read, adding:
"The company representative we worked with has admitted fault and we've requested an apology from the company's owners before noon Monday or we release the name of the company."
"No one in my organization would ever approve the ad they released. It's complete incompetence on their part which their company representative admits."
Not everybody is buying Chase's excuses, however, including her Democratic rival, Amanda Pohl.

Gun violence prevention advocates and constituents deserve an apology not excuses from @ChaseForSenate. https://t.co/UQJa1hpDiZ

— Amanda Pohl for Senate of Virginia (@Amanda Pohl for Senate of Virginia) 1569024671.0
Many doubted Chase's claims that the media company somehow went rogue with the ad.
@pohlforvirginia @ChaseForSenate Concepts are approved Scripts are approved Final media is approved Pretty sure s… https://t.co/QHUAPXH9Qf

— Tony Cope (@Tony Cope) 1569161784.0

Facebook

Facebook

Facebook
Her new version of the ad didn't seem to sit too well with people either.

Facebook

Facebook

Facebook

Facebook
Not a good look, Sen. Chase.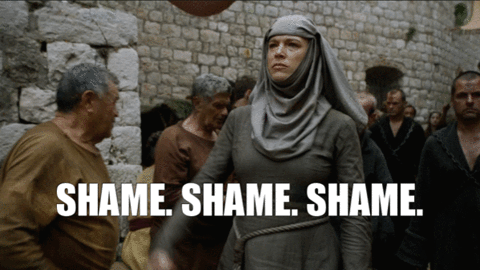 Giphy
*****
Listen to the first season of George Takei's podcast, 'Oh Myyy Pod!' where we explore the racially charged videos that have taken the internet by storm.
Be sure to subscribe here and never miss an episode.