Since signing on as President Trump's cybersecurity advisor in 2017, former New York Mayor Rudy Giuliani has made clear again and again how little he knows about the world of computers. For instance, he doesn't seem to understand that, on Twitter, when you fail to put a space after a period, it forms a hyperlink leading to a website. In a recent tweet spreading conspiracy theories about Robert Mueller's special council, he inadvertently created a link to the website G-20.In.
---
Unfortunately for Giuliani, 37-year-old Jason Velazquez, a tech-minded individual who owns a design firm in Atlanta, quickly scooped up the domain for $5 and added some text. If anyone follows Giuliani's link, they'll find this:

Huffpost
Twitter was so delighted by the practical joke, they combed through Giuliani's old tweets looking for other times he accidentally linked to non-existent websites.
They quickly found this example:
Following that link takes you to stories Lawfare has written about the "Russia Connection."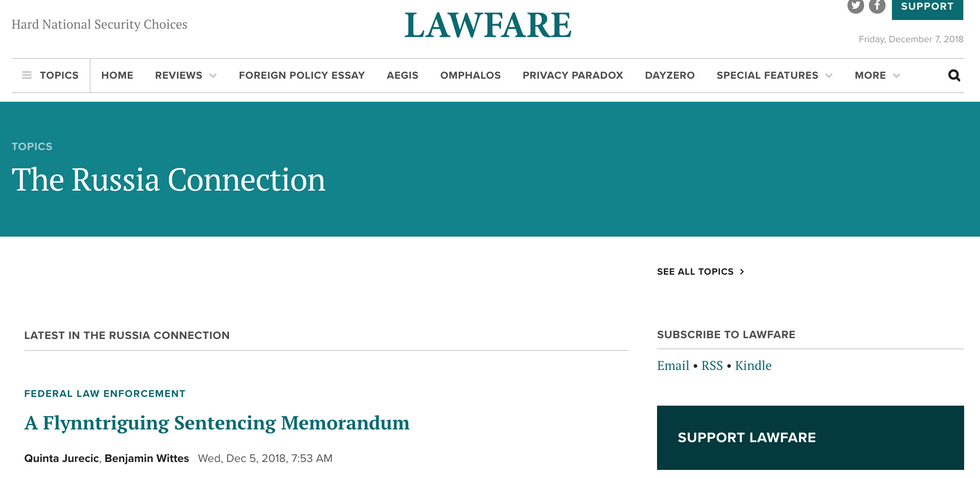 Lawfare
Benjamin Wittes, an editor for Lawfare, said the site had nothing to do with the link...but he's a big fan of whoever was.
Giuliani, meanwhile, seemed to have heard about what was happening with his accidental links. Rather than own up to his mistake or delete the tweet, he created a brand new conspiracy theory where Twitter was maliciously creating links when he used improper grammar?
Twitter users obviously didn't buy Giuliani's story.
Needless to say, the President's lawyer was the subject of many laughs.
The internet sent tons of kudos to the quick thinkers who bought Giuliani's domains!
Let's not forget Giuliani is a supposed cybersecurity expert.
At least he's good for a few laughs...
What must President Trump be thinking right now?