Marvel actor Karen Gillan once did couple's therapy on Zoom with her Guardians of the Galaxy character's elaborate makeup on.
Gillan plays Nebula, a part-cyborg blue-skinned alien warrior who is the adoptive daughter of Thanos and the adoptive sister of Gamora in the Marvel Cinematic Universe (MCU).
Needless to say, her visible transformation into Nebula entails a lot, including applying makeup and later being enhanced with CGI in post-production.
One day while shooting for James Gunn's Guardians of the Galaxy Vol. 3–which is now in theaters–the Scottish actor also known for playing Amy Pond in the Doctor Who series said she completely forgot she had couples therapy scheduled.
And she had screenshots to prove it.
She shared her out-of-this-world embarrassment with fans in a tweet captioned with:
"In honour of Guardians of the Galaxy in theaters Friday, here's a screenshot of the time I forgot I had scheduled a COUPLES THERAPY session on a day we were shooting."
The screenshot showed Gillan in all her Nebu-tastic blue and purple makeup with red lipstick and her hair tightly concealed by a darkened skull cap.

Also included in the snap were her husband Nick Kocher and their therapist–whose face was obscured with an emoji for privacy.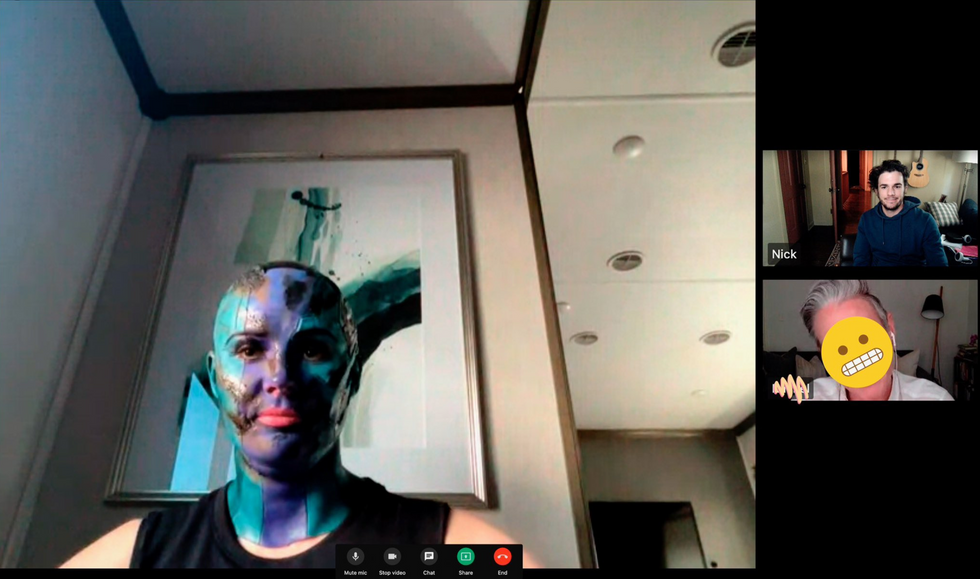 @karengillan/Twitter
Fans got a kick out of her dedication.

Jokes aside, others appreciated her for being so open about her shared mental wellness regimen.

In May 2022, Gillan married Kocher, an American comedian of the sketch duo BriTANicK, in a ceremony at Castle Toward, in Dunoon, Scotland.

Last year, Gillan told Comingsoon how obsessed she was with playing Nebula–who was first introduced to audiences as a secondary antagonist serving Ronan the Accuser in 2014'sGuardians of the Galaxy.

In later films, Nebula became an antihero and eventually a protagonist when she joined forces with the Guardians of the Galaxy and became an Avenger.

"I love my character so much. I'm obsessed with her. Honestly, I'm just fascinated," gushed Gillan.
"I think it's just been so lucky."
"It's like the gift that keeps on giving because she starts off as this villain, and I was given the opportunity to really kind of show her perspective and her point of view on things."
In addition to the three Guardians films, Gillan played Nebula in Avengers: Infinity War (2018), Avengers: Endgame (2019), and Thor: Love and Thunder (2022) and last December's The Guardians of the Galaxy Holiday Special on Disney+.

"I think's been like six movies, and I just think she's completely fascinating. Her whole family dynamic, her upbringing, toxic narcissistic family system."
"It's all the stuff I love to explore."
It's safe to assume Gillan's appearance at her forgotten Zoom session was a one-off and not an inadvertent glimpse into her daily life staying in character.

Not like we would be judging or anything.