Tuesday night's Golden Globes was full of memorable moments, but one in particular has fans wanting more.
Red carpet interviewer and host of the webseries Chicken Shop Date Amelia Dimoldenberg and Golden Globe nominee Andrew Garfield got a little flirty—albeit somewhat awkwardly—during their second meeting.
That's right—second.
In November Dimoldenberg was shocked when interviewee Garfield revealed he was a fan of hers.
He said:
"I think you're great."
Dimoldenberg eventually spilled:
"I've been trying to get a date with you for a while."
"I'm asking you out right now."
Garfield laughed:
"You do date a lot of people."
Chicken Shop Date consists of Dimoldenberg taking people out on uncomfortably awkward dates to chicken shops.
Cut to Tuesday night's Golden Globes, when it gets even more flirty... and awkward.
On the red carpet, Garfield and Dimoldenberg were clearly excited to see each other, not even knowing how to begin the conversation.
The both said "Hi" and then laughed.
Dimoldenberg said:
"We must stop meeting like this."
And Garfield replied:
"I only ever want to see you."
When Dimoldenberg questioned the phrase, Garfield giggled:
"That's not the end of the sentence!"
The two continued to go back and forth.
Dimoldenberg revealed to Garfield that she was going to invite him to her birthday party.
He, in response, recognized the compatibility of their astrological signs(!).
Garfield replied they shouldn't "explore it too much" because he's afraid of "what it might turn into."
Check out the exchange below.
Needless to say, Twitter was blushing...and totally wants more.
But really, everyone just wants this to happen.

@goldenglobes/Instagram

@goldenglobes/Instagram

@goldenglobes/Instagram

@goldenglobes/Instagram
Before parting ways, Dimoldenberg asked for an autograph on a suspiciously-readily available paper.
Turns out, Garfield unknowingly signed a 'Best Friends' certificate.
It's official now.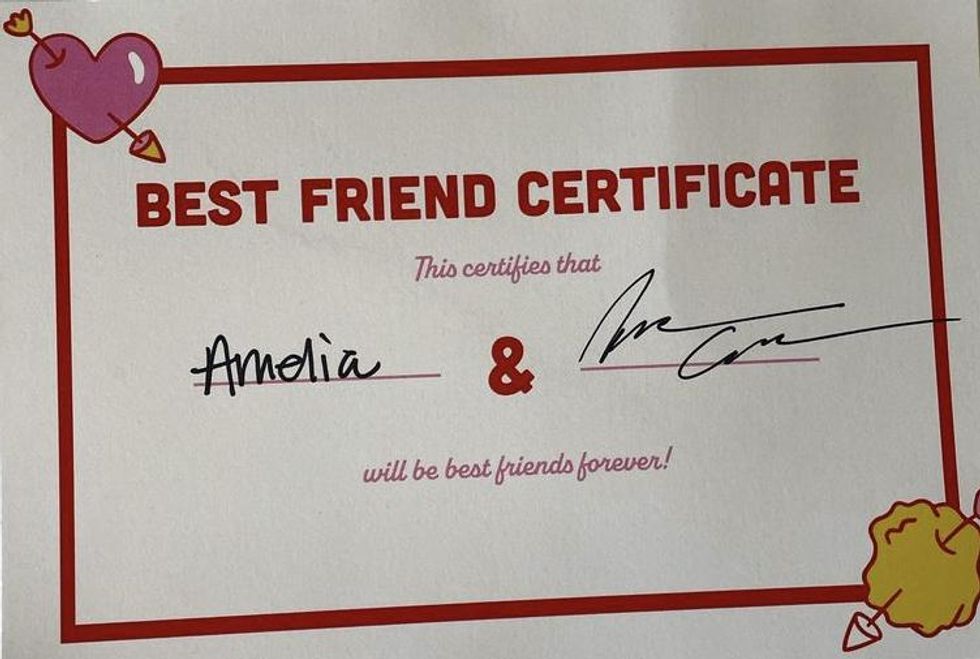 @ameliadimz/Instagram