First Daughter Ivanka Trump garners a lot of criticism.
From her unqualified position as a White House adviser to her and husband Jared Kushner's $135 million earnings while on the White House staff to her attending and interrupting meetings with world leaders to trademarks and patents for voting machines and other products from China—all exempt from daddy's tariffs—liberals and conservatives find plenty to call out about Ivanka's job at the White House.
---
Now the former head of the United States Office of Government Ethics is calling a trip by Ivanka to Dubai a corporate event funded by taxpayers. The Trump Organization is promoting the third anniversary of their Dubai golf club and Ivanka's visit.
Ivanka Trump's United Arab Emirates trip comes days before the 3 year anniversary celebration of Trump's Dubai golf… https://t.co/5BpDgmjkyi

— Anna Massoglia (@Anna Massoglia)1581965285.0
Trump International Golf Club in Dubai is promoting its anniversary celebration on Instagram during @IvankaTrump's… https://t.co/leNmR8GzVU

— Anna Massoglia (@Anna Massoglia)1581965672.0
People once again noted that President Donald Trump and Republicans made much of a private citizen being hired by a private company while his father was Vice President.
FYI, that's favoritism on the part of the private company for hiring the child of a famous person, not nepotism by the parent.
@annalecta @Twinsfan811 @IvankaTrump @TrumpGolfDubai The ink isn't even dry yet on the @GOP's "no" vote https://t.co/I5R08qmTSc

— 🐶 evie 🐶 (@🐶 evie 🐶)1581971189.0
Let's take a closer look at that mountain next to the mole hill.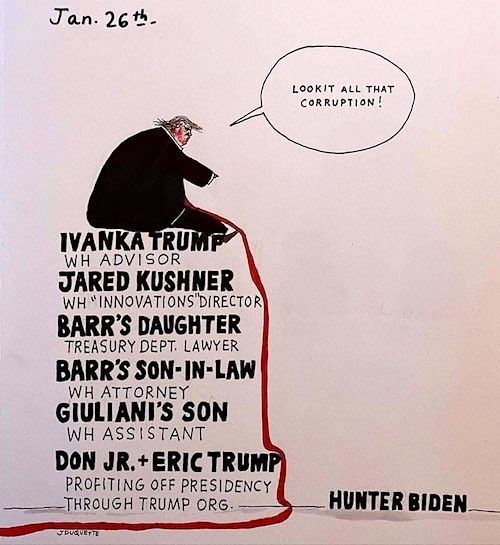 @bewicca/Twitter
People were appalled at the money spent by taxpayers to promote and profit Trump Organization properties.
@LBaptisia @annalecta $250,000. Which is disgusting. How many times did the GOP whine when Obama went to Hawaii?

— Stacy G (@Stacy G)1581970719.0
@annalecta @ps9714 @IvankaTrump @TrumpGolfDubai Unreal! It's crazy how much money these people take from the tax p… https://t.co/JWEsCixxxG

— Tyler Maurice (@Tyler Maurice)1581972707.0
@annalecta @Susan_Hennessey Will Ivanka be arranging any contracts that benefit her personal companies like she did… https://t.co/ZUPDj6Gusq

— Stephen Elpop (@Stephen Elpop)1581966881.0
@annalecta @Susan_Hennessey So Ivanka is pretending to be the president this weekend. How much is that costing in… https://t.co/8jcRArUmQ4

— MaryE Sutton (@MaryE Sutton)1581967359.0
@NormOrnstein @annalecta Trump said he'll "Rip the U.S. Constitution in half & start over." during his 3rd 4th or 5… https://t.co/6iwaQdHUgf

— Maybejeff (@Maybejeff)1581974703.0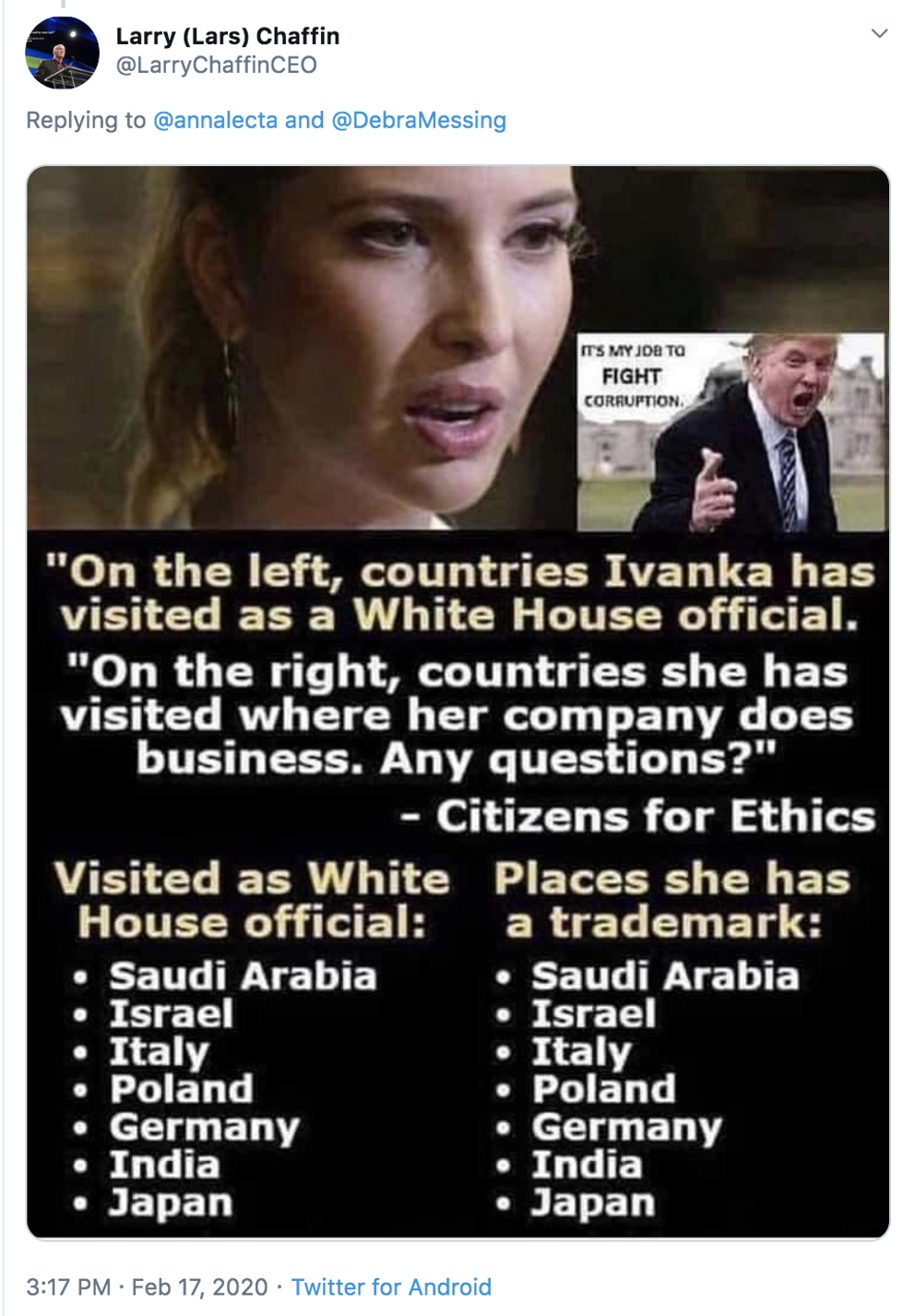 @LarryChaffinCEO/Twitter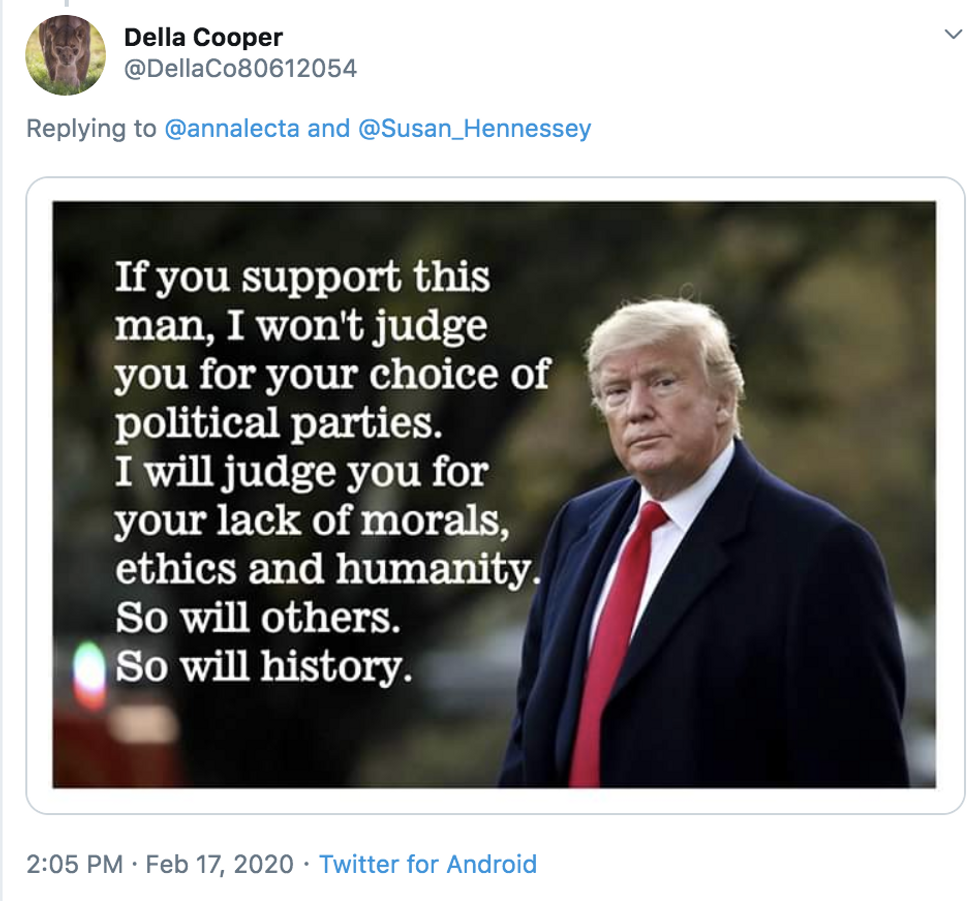 @DellaCo80612054
@waltshaub I'm so sick of our tax dollars being funneled into their business one way or another

— Brandy 🇺🇸✌🏼❤💙 (@Brandy 🇺🇸✌🏼❤💙)1581966545.0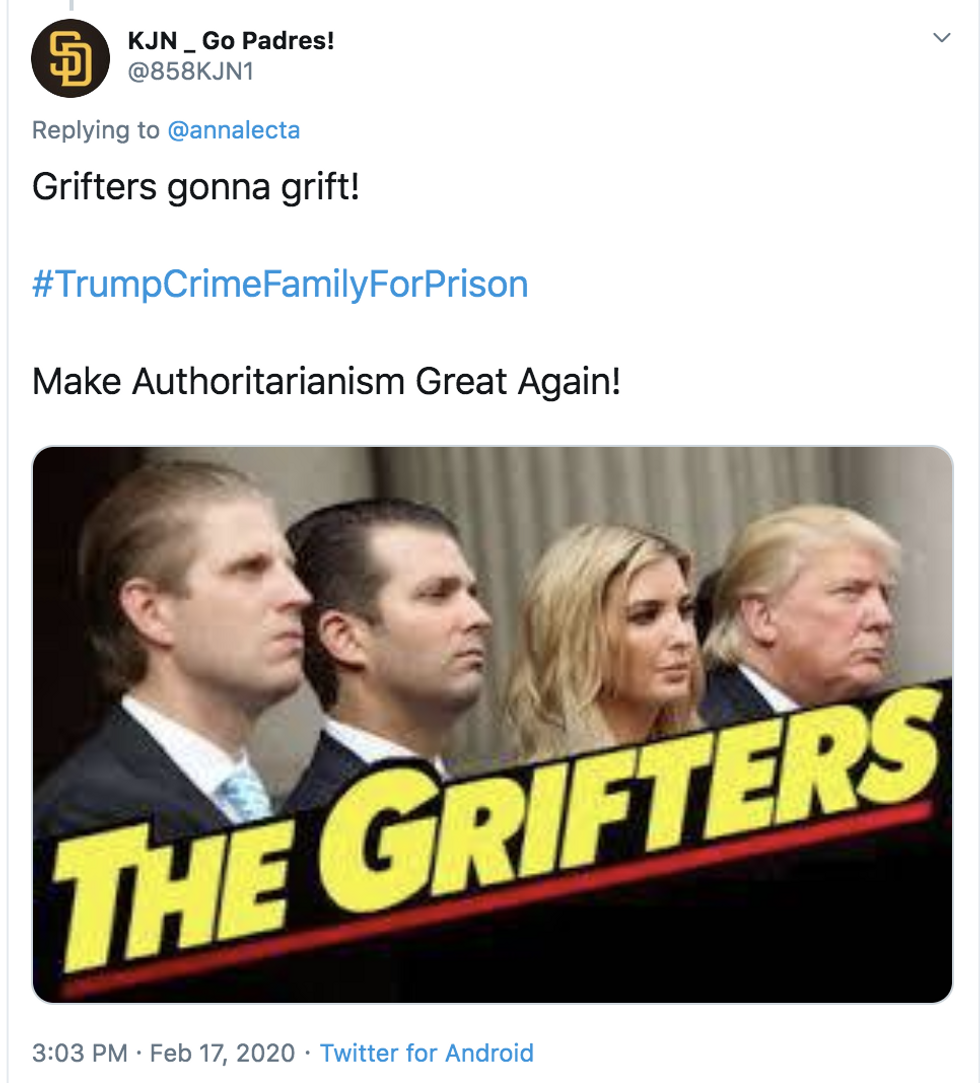 @858KJN1/Twitter
Others pointed out Ivanka's lack of training, credentials or qualifications to be an official spokesperson for the United States at gatherings of international world leaders.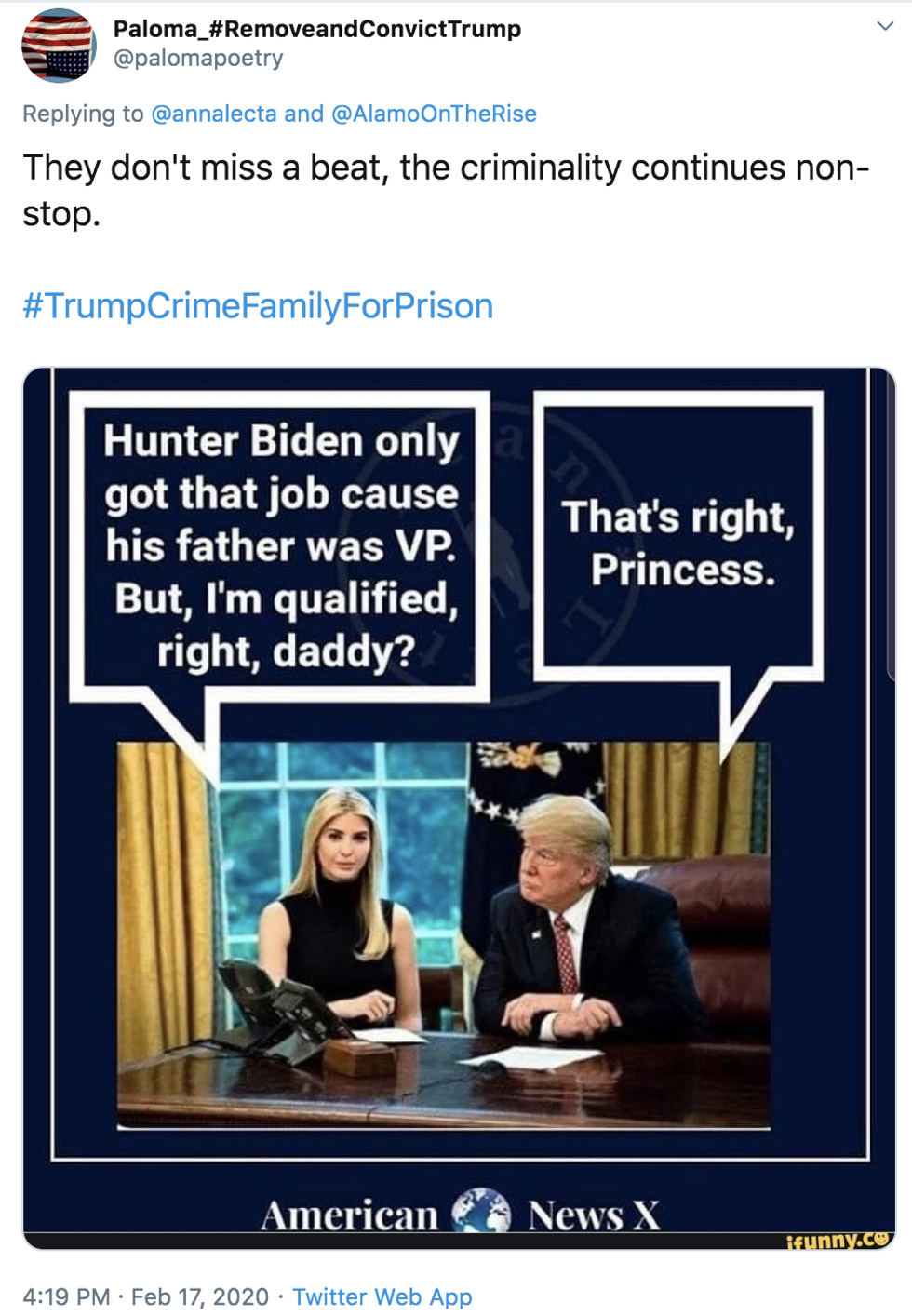 @palomapoetry/Twitter
@MakeYourBed1 @annalecta She is unqualified!

— bluetexas222 (@bluetexas222)1582050246.0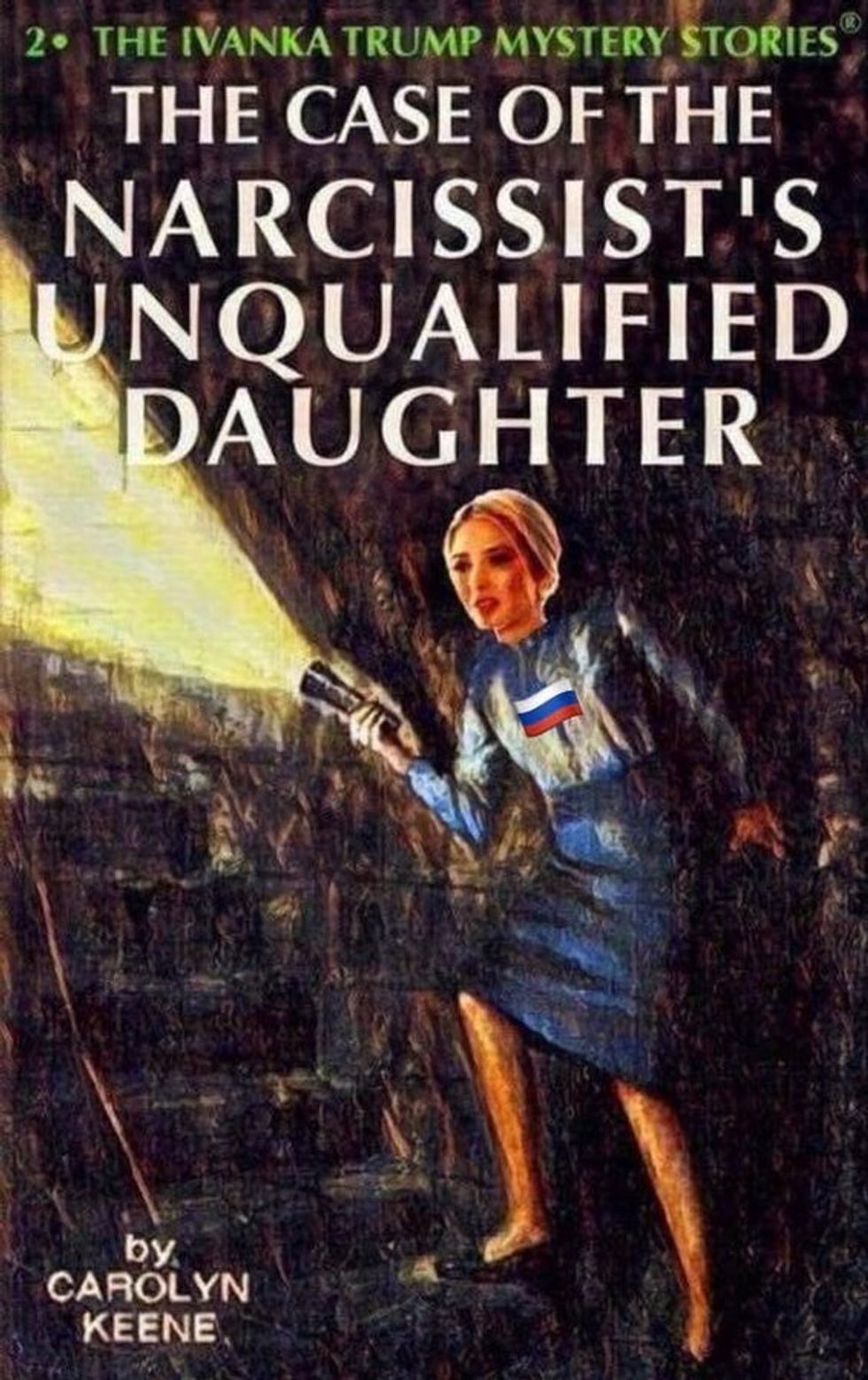 @annalecta/Twitter
Others once again asked, what exactly is Ivanka's job at the White House?
@waltshaub https://t.co/yc8z3GX80h

— Carolyn from Maryland (@Carolyn from Maryland)1581966583.0
@kamimagic @waltshaub She's wasting our money

— Lori Lockhart (@Lori Lockhart)1582049626.0
@kamimagic @waltshaub To look pretty.

— Claudilla (@Claudilla)1582053354.0
Someone explain to me how Ivanka's mysteriously defined "job" would be materially different if she were a princess… https://t.co/gZwScsMPht

— Schooley (@Schooley)1581967062.0
Trump currently faces a lawsuit for violating the emoluments clause of the Constitution.
It bars federal officials from accepting payments from foreign interests or governments. The clause guards against conflicts of interest when a President decides between personal profits and the interests of the nation.
The Trump Organization has plans for a second golf course in Dubai.