The Starbucks scandal involving the alleged suspension of a barista after labeling a police officer's cup with the word "PIG" took a bizarre turn.

The estranged daughter of an Oklahoma police chief agreed her father was indeed a "PIG" after he ranted about the offensive moniker scrawled on the Starbucks cup of one of his officers making a coffee run on Thanksgiving Day.
---
The daughter who goes by @MissOMara on Twitter denounced her father, Kiefer Police Chief Johnny O'Mara, by posting a series of tweets calling him:
"blatantly, proudly racist."
this is my father and i'd like to say that he is absolutely a pig and i'd like to thank the brave men and women fro… https://t.co/PFPDBjp40y

— o'mara (@o'mara)1575142142.0
She tweeted a followup stating her father had been blatantly, proudly racist since her childhood.

for the record, my father has 0 business being a police officer. he was blatantly, proudly racist when i was a kid.… https://t.co/lW72RatqNh

— o'mara (@o'mara)1575142433.0
@MissOMara I saw the last name and thought "maybe there's a connection" but this is INSANE LMAO this happened at th… https://t.co/ws8D8SaREs

— G. (@G.)1575145927.0
People were shocked over a police chief's daughter publicly castigating him.
@MissOMara @bmillerrr Oh damn. Plot twist.

— Sean Hopkins (@Sean Hopkins)1575147616.0
Her tweet got a grande reception.

@MissOMara @katya_zamo I'm gonna buy a printer so I can hang this tweet on my wall

— Stephen Hogan 施賀鈞 💎 (@Stephen Hogan 施賀鈞 💎)1575150161.0
@MissOMara Thadda girl🙏🏽. We can't help but to stan💯 https://t.co/WsKUHrMyFM

— Lala 💕 (@Lala 💕)1575147416.0
@MissOMara Right under the wire for most heroic tweet of the decade

— Quitter (@Quitter)1575150006.0
@MissOMara @teter45013 Omg. Young lady, you've got a fierce heart and a brave soul and I have no doubt it will serv… https://t.co/pRylHqPZmW

— mwy (@mwy)1575155373.0
Below is the Fox News interview with O'Mara.

Police chief urges Starbucks to not fire employee who wrote 'PIG' on officer's coffee youtu.be
Two days prior to the daughter's tweet, O'Mara wrote about the insulting label incident on Facebook after hearing about it from the officer who ordered the drinks.

The barista who wrote the insult said it was a joke and offered an apology.
@MissOMara @Garek_Maxwell public food service workers are braver than any cop or marine tbh

— #1 Beastars Stan Account (@#1 Beastars Stan Account)1575167231.0
The manager of the Starbucks location in Glenpool where the drinks were picked up offered to replace the labels, but O'Mara declined and posted his rant online.

"What irks me is the absolute and total disrespect for a police officer who, instead of being home with family and enjoying a meal and a football game, is patrolling his little town."
He also saw the incident as something part of a larger societal issue.

"It's another tiny symptom and a nearly indiscernible shout from a contemptuous, roaring and riotous segment of a misanthropic society that vilifies those who stand for what's right and glorifies the very people who would usher in the destruction of the social fabric."
And yet, there's this.
@MissOMara People get bent out of shape because cops get called "pigs", but give cops a pass even when they discove… https://t.co/O1GmR3UyYu

— (((DJ@X A&M))) (@(((DJ@X A&M))))1575193033.0
Tulsa 8 shared a statement issued from the popular coffee chain, which read:

"This is absolutely unacceptable and we are deeply sorry to the law enforcement officer who experienced this. We have also apologized directly to him and we are working to connect with the police chief as well as to express our remorse."

"The barista has been suspended pending the outcome of our investigation into this matter."

"This language is offensive to all law enforcement and is not representative of the deep appreciation we have for police officers who work tirelessly to keep our communities safe."
@MissOMara @JordanUhl Love how the worker was suspended without pay but if a cop kills an unarmed citizen they get… https://t.co/nkvYiyTO7e

— Thomas (@Thomas)1575161488.0
According to The NY Post, the daughter who sided with the suspended barista later discovered the other officers were not as upset over the slur as they were made out to be on the internet.
"The deputy it actually happened to told my mom he didn't really care and that it was a harmless joke, no big deal."
"But my father is a camera whore who couldn't resist the attention."
@LostGonz ya the deputy it actually happened to told my mom he didn't really care and that it was a harmless joke,… https://t.co/jeVeqyjLbS

— o'mara (@o'mara)1575146011.0
Appearing on Fox News, O'Mara appeared to have a change of heart upon hearing that the barista was let go and asked for civility.

"I just recently learned that the employee was terminated, and this may be a bit surprising, but I would like Starbucks to reconsider."
In yet another plot twist, there was speculation that the officer was behind the "PIG" prank by invoking the slur when placing his order via the mobile app.
@MissOMara From FB: https://t.co/LSKmnN7E7K

— 🕊️ | Anti-Oligarchy | Anti-Fascism | ✊🏻 (@🕊️ | Anti-Oligarchy | Anti-Fascism | ✊🏻)1575175374.0
But the officer insisted he did not use the Starbucks app when ordering.

Here is a screenshot from the tweet above.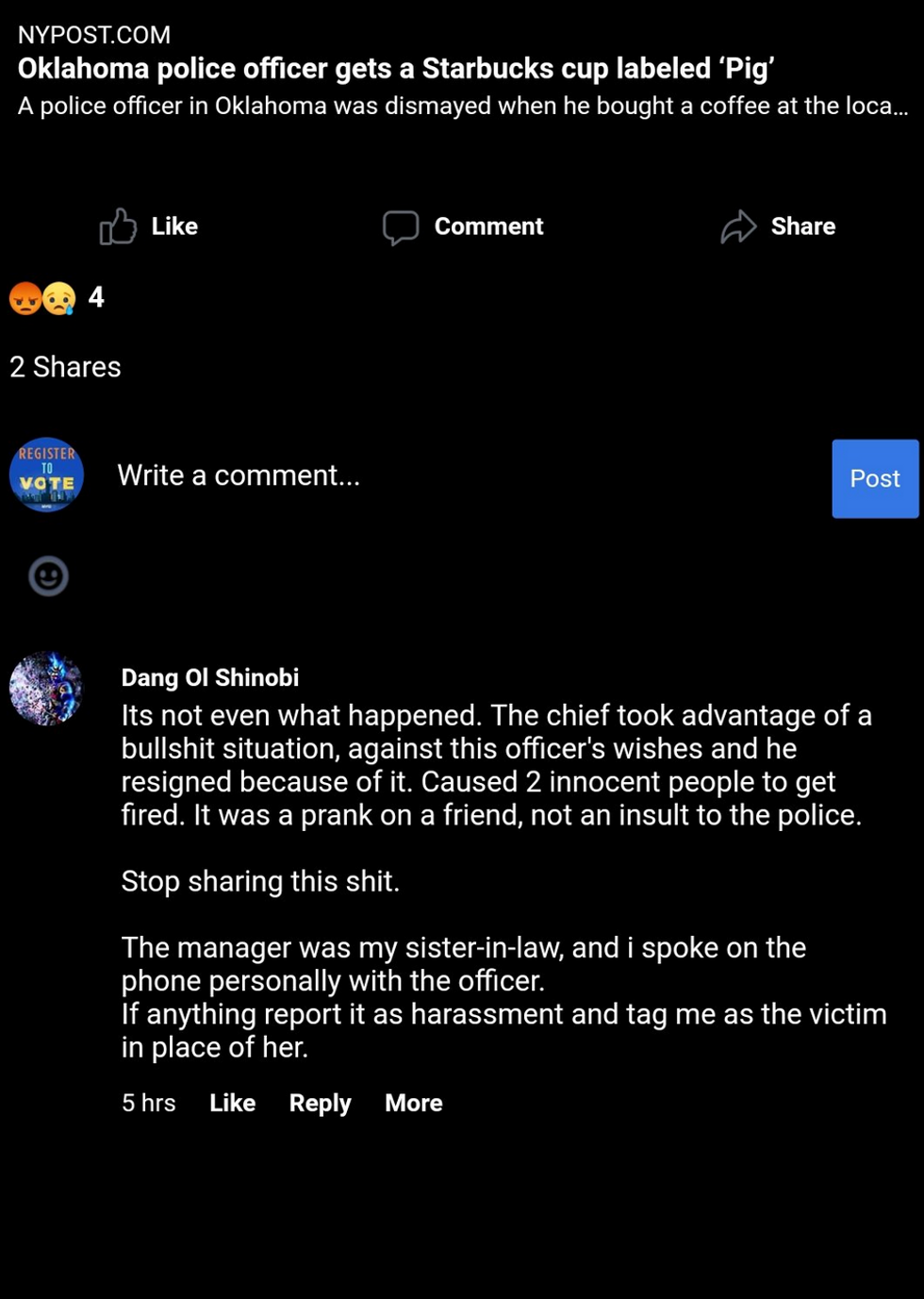 @RuBerninTwo/Facebook
After the daughter's tweet went viral – which racked up 502K tweets to date – she provided an update.

"update: he has seen it and had someone call my mom to 'get that s–t off twitter' lmao he is upset."
update: he has seen it and had someone call my mom to "get that shit off twitter" lmao he is upset

— o'mara (@o'mara)1575161109.0
Starbucks is planning to settle the bad brew by hosting a Coffee with a Cop event where customers can interact with the Kiefer Police Department in an attempt to address:
"the critical role dispatchers and police officers play in keeping our communities safe."