Meghan Markle and Prince Harry recorded a sweet video celebrating their little Archie Harrison Mountbatten-Windsor's first birthday on Wednesday.
Prince Harry filmed the video in which Markle reads the children's book Duck! Rabbit to their baby boy and posted it on the Save the Children UK Instagram account as part of the #SaveWithStories charity initiative which helps provide food and learning resources for children affected by the pandemic.

---
Little Archie looks eager to get into his story time while sitting on mommy's lap as he helps flipping the pages.
You can watch the adorable video here.
New York Times bestselling author Emily Giffin had nothing but disparaging words for Markle and called her "phony" and "unmaternal" in response.

The author of Something Borrowed posted screenshots of Markle's video on her Instagram Stories with a link to her video and dismissed the Duchess of Sussex by misspelling her name by dropping the "H."
"Happy birthday, Archie. Go away, Megan."
"Holy 'me first.' This is the Megan show. Why didn't she film and let Harry read?"
"And why didn't she take the moment at the end to say 'he said daddy!' Because that would make it about Harry for a split second, God forbid."
Writer and co-host of the Royally Obsessed podcast, Kaitlin Menza, posted screenshots of Giffin's Instagram posts on Twitter.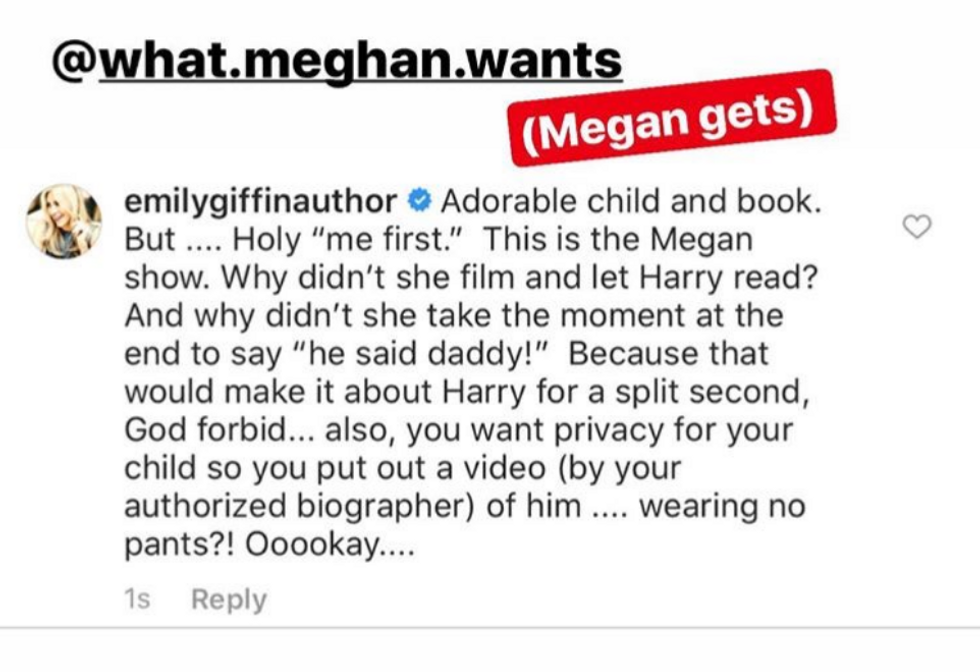 @heykmenz/Twitter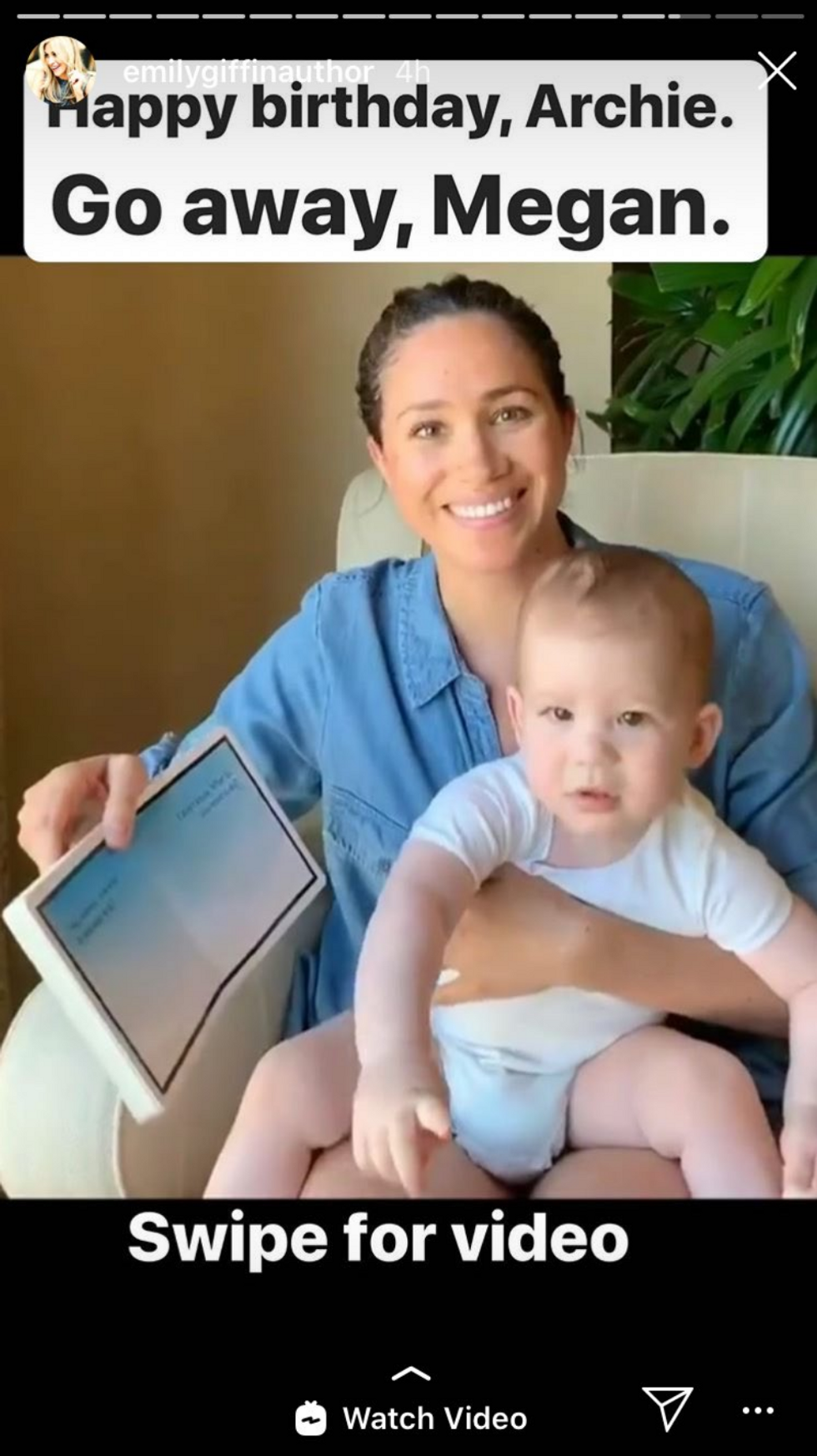 @heykmenz/Twitter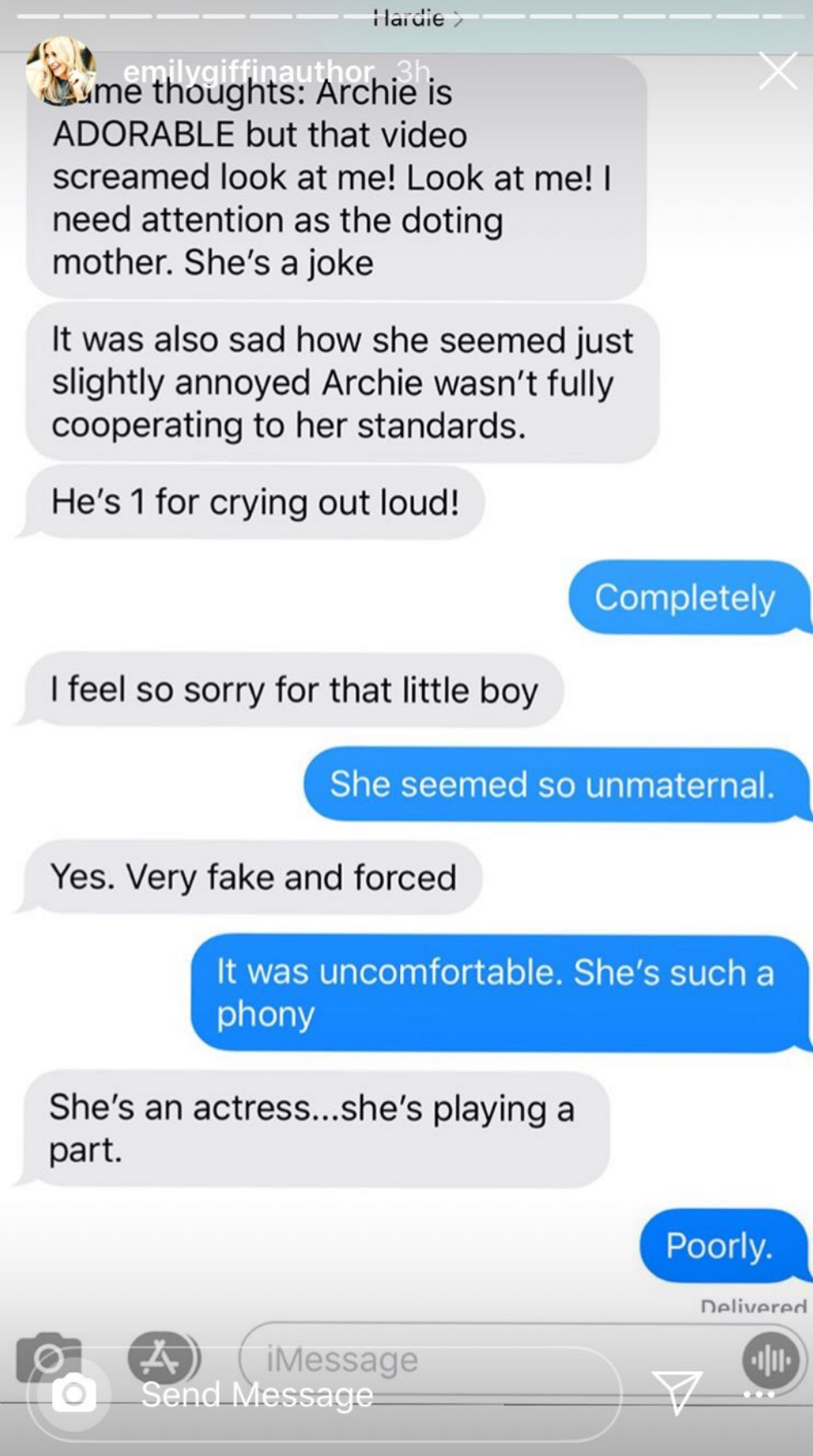 Royally Obsessed,
The 48-year-old author has since apologized.
But only after being lambasted for her insensitivity on the occasion of Archie's special day.
Giffin—who enjoys closely following and analyzing the British monarchy— backpedaled with a positive comment about the Suits actress tying the royal knot in a statement she posted on Instagram.

"To be clear, I absolutely loved that a biracial, American woman was marrying into the Royal Family."
"It seemed a wonderful, happy thing for everyone. I celebrated their wedding by hosting a gathering here at my home and posting many, many photos. Further, I was appalled by any signs of racism against her."
She said that her feelings for "BOTH Harry and Meghan changed" but emphasized that her beef with Markle had nothing to do with her race.
Giffin claimed her attack on just Markle was really about how the Duke and Duchess of Sussex "handled things" since their withdrawal from their royal duties on March 31.

"Further, I understood why she wanted to leave the monarchy and carve out her own path. I do, however, find fault with the way BOTH she and Harry handled things, and those feelings bled over in later posts, including the ones today
Giffin added:
"I can see how some of my posts may have felt mean-spirited, and could be construed as having racial undertones."
"It was not my intent, but I understand that intent and impact are two very different things. And I am truly sorry for that negative impact."
Back in January, Giffin denounced Markle by stating:
"I can't stand Meghan Markle. There. I said it."
She also tweeted.

"And I'm no longer a Harry fan, either. Get over yourselves."
Those were also screenshot and shared on Twitter.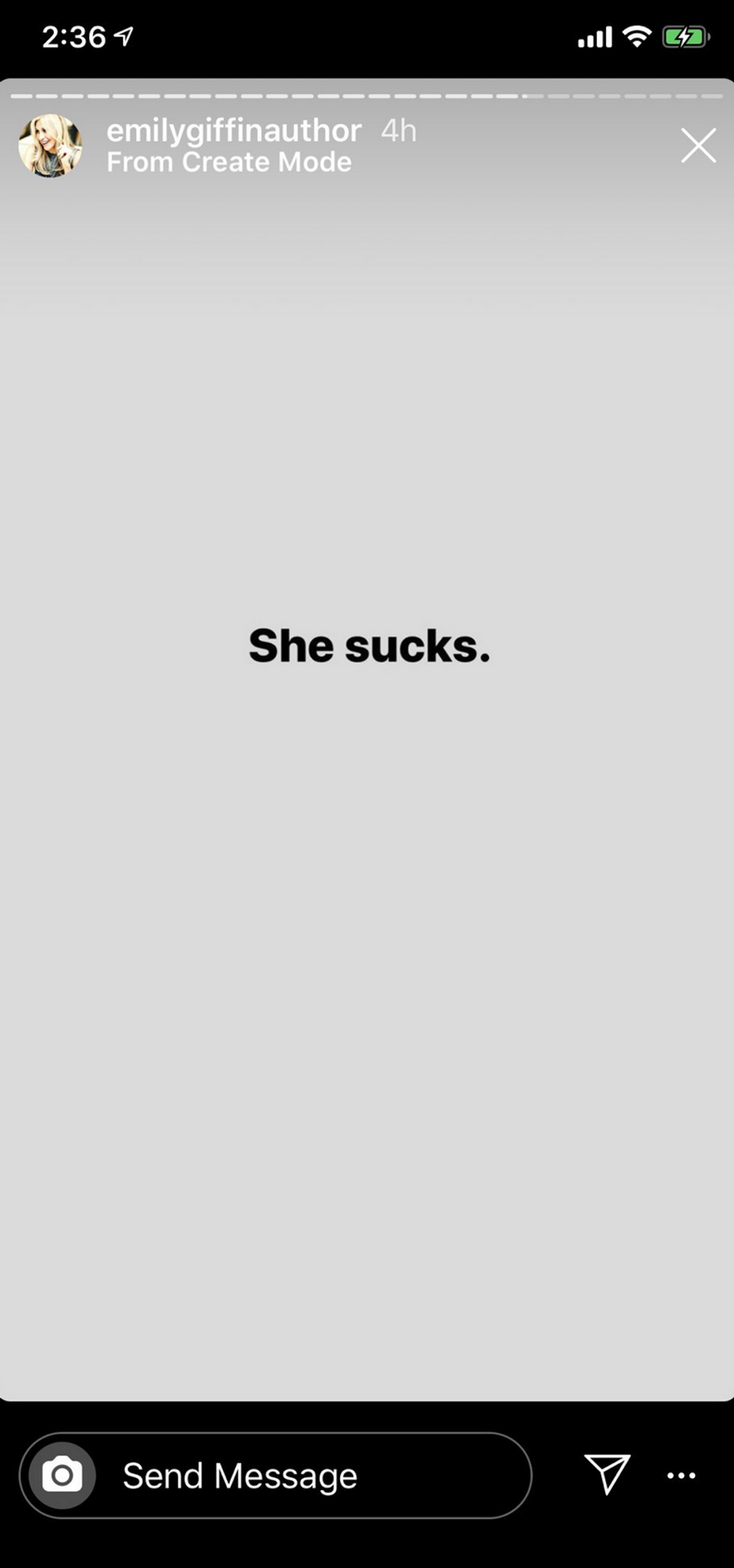 @gbracke/Twitter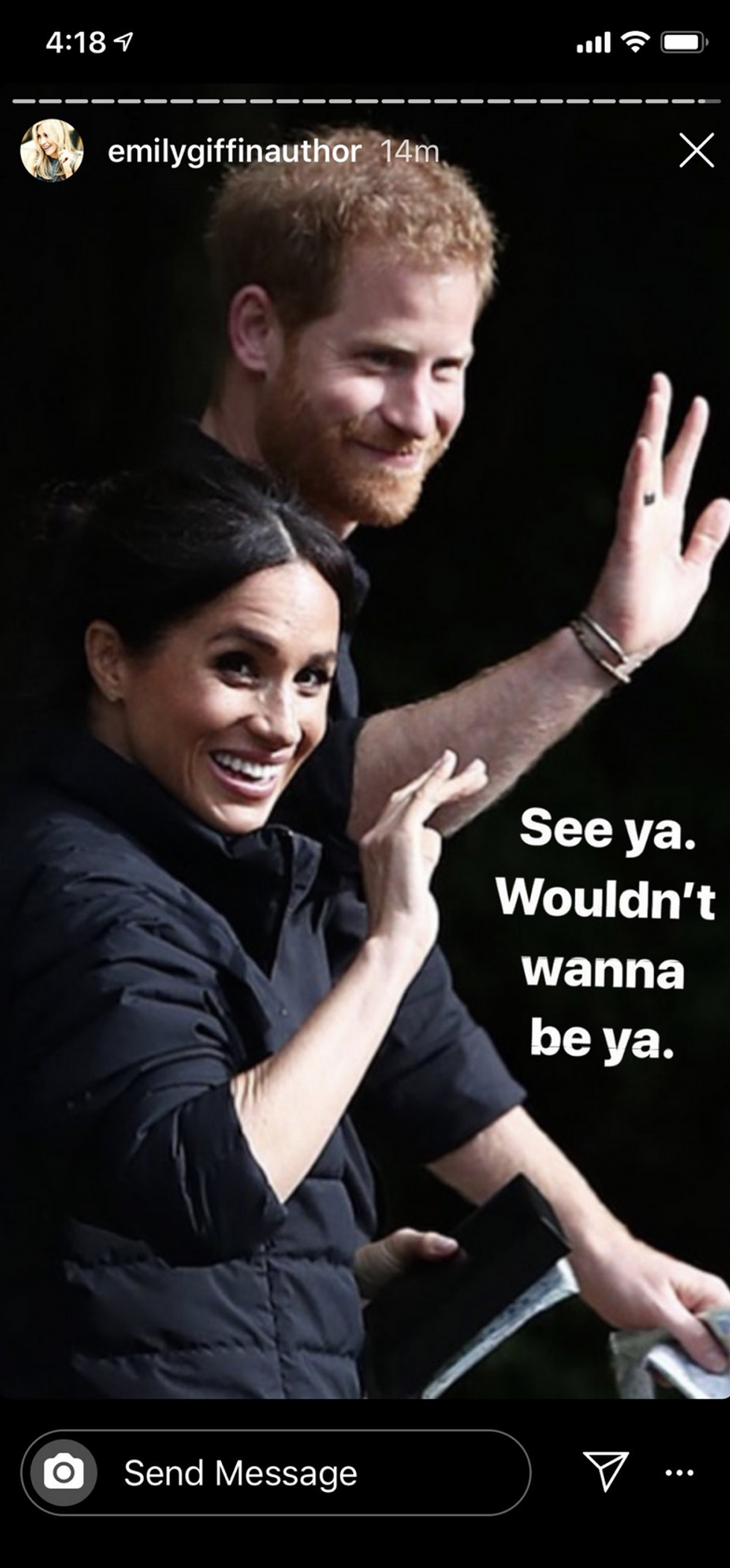 @gbracke/Twitter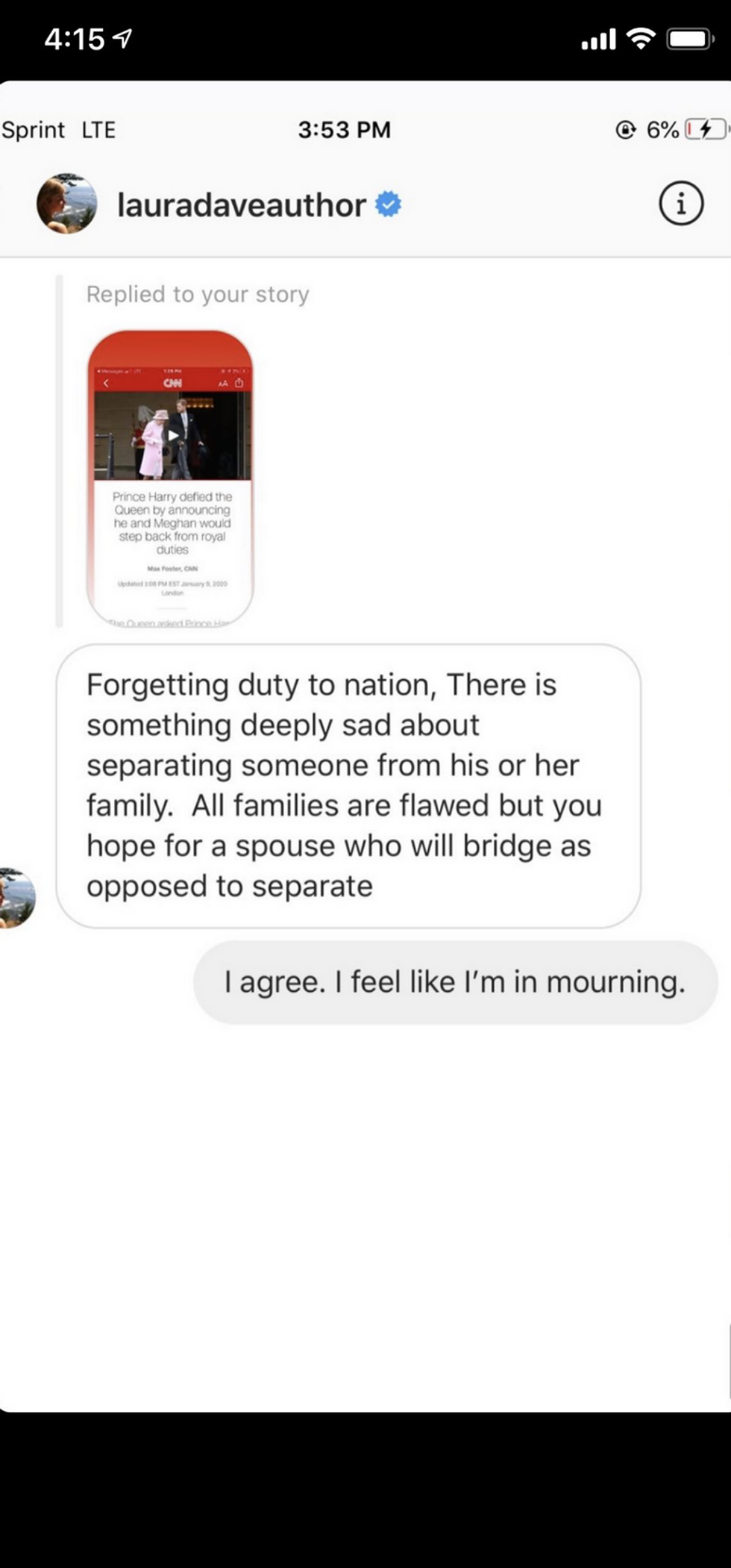 @gbracke/Twitter
Giffin has changed her Twitter and Instagram settings from public to private since her posts, but she later changed it back to public.

Disappointed fans have also slammed her on her Amazon listings. Others reached out to her publisher, Macmillan, and urged them to take action.

You can relive the courtship and marriage of the Duke and Duchess of Sussex with Harry & Meghan: A Modern Royal Romance and Wedding available here.