Most people have done things they aren't proud of when they were kids, but seldom do they get the chance to atone for those things.
Dwayne 'The Rock' Johnson got that chance and he took it in a planned and thoughtful act that took decades to come to fruition.
The wrestler turned actor visited the 7-Eleven store he used to steal a king sized Snickers bar from everyday as a teenager to make amends.
Johnson may be a rich and famous actor now, but he hasn't always lived such a blessed life. He was only 14 years old when his family got evicted from their apartment in Hawaii.
He then started committing petty crimes such as shoplifting.
When he was 18 he changed his life around through football, eventually followed in his famous family's footsteps in professional wrestling then eventually started acting. Ever since then, Johnson wanted to go back to Hawaii to make amends for some of the things he did.
Johnson posted a video to Instagram documenting his visit to the Hawaiian convenience store.
In the video Johnson explained after decades of guilt he finally got to right the wrongs of his youth.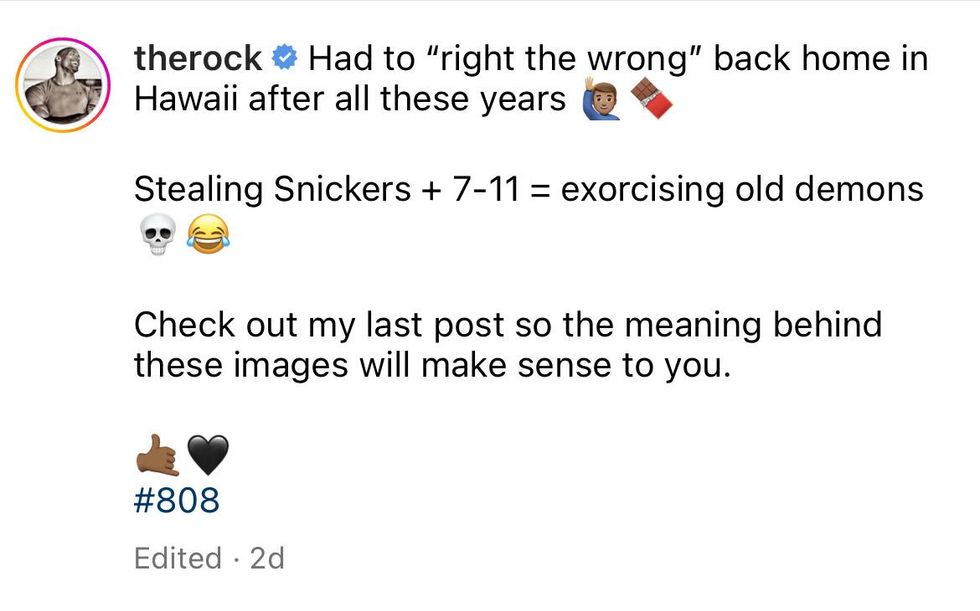 @therock/Instagram
Johnson shared:
"We were evicted from Hawaii in '87, and after all these years—I finally got back home to right this wrong."
"I finally exorcised this damn chocolate demon that's been gnawing at me for decades."
He went on to tell viewers how the snickers were his daily workout snack.
The clerk used to look the other way when he would steal the snack he could not afford to buy.
"The Snickers was my pre daily workout."
"The same clerk was there every day and always just turned her head and never busted me."
In addition to buying every Snickers in the store, Johnson also purchased items for all of the store's other patrons bringing his total to $298.
He then left the bag of snickers for someone else who might need a snack.
"If someone looks like they are stealing Snickers, give them these instead."
The comments were abundantly supportive.

@therock/Instagram

@therock/Instagram
Though some people were less impressed.


@therock/Instagram

@therock/Instagram

@therock/Instagram
7-Eleven commented on Johnson's video.


@therock/Instagram
In his post Johnson talked about how we can't change the past, we can only do good in the present and in the future.

"We can't change the past and some of the dumb stuff we may have done, but every once in a while we can add a little redeeming grace note to that situation—and maybe put a big smile on some stranger's faces."