Canadian rapper Drake masterfully clapped back at a troll who made a ghostwriting joke aimed at his four-year-old son, Adonis, on Instagram.
The barb began when the "Certified Lover Boy" rapper–who goes by @champagnepapi–had written on an Instagram post from @lethalshooter about Tee Morant and LaVar Ball.
Drake commented about how fathers "can be elated and competitive and over supportive and it's a right of passage to that OG's talk sh*t."
He added that he would be the same "even if my son is in a rubix cube competition."
In response to Drake's supportive father's comment, a troll wrote:
"Ya son prolly play with ghost writers."
A screenshot of the exchange taken by @commentsbycelebrs can be seen, here.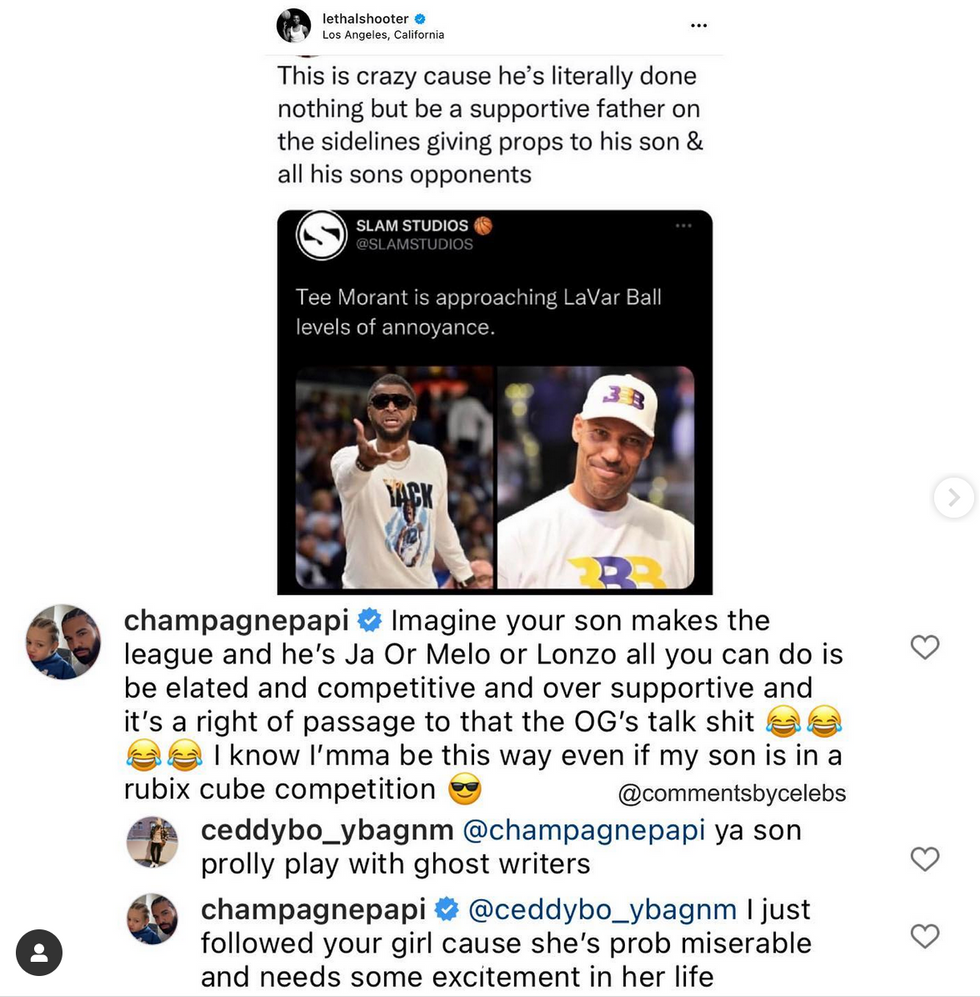 @commentsbycelebs/Instagram
The ghostwriting comment was in reference to a hip-hop controversy in which Drake had been accused of not creating his own verses.
Drake responded to the troll by writing:
"I just followed your girl cause she's prob miserable and needs some excitement in her life."
In a subsequent Instagram story post, the rapper did actually track down the troll's wife and proceeded to follow her.
But the drama didn't end there.
Twitter user @Lord_Turner shared screenshots of the interaction by the wife, whose name on Instagram is Toni Bowden.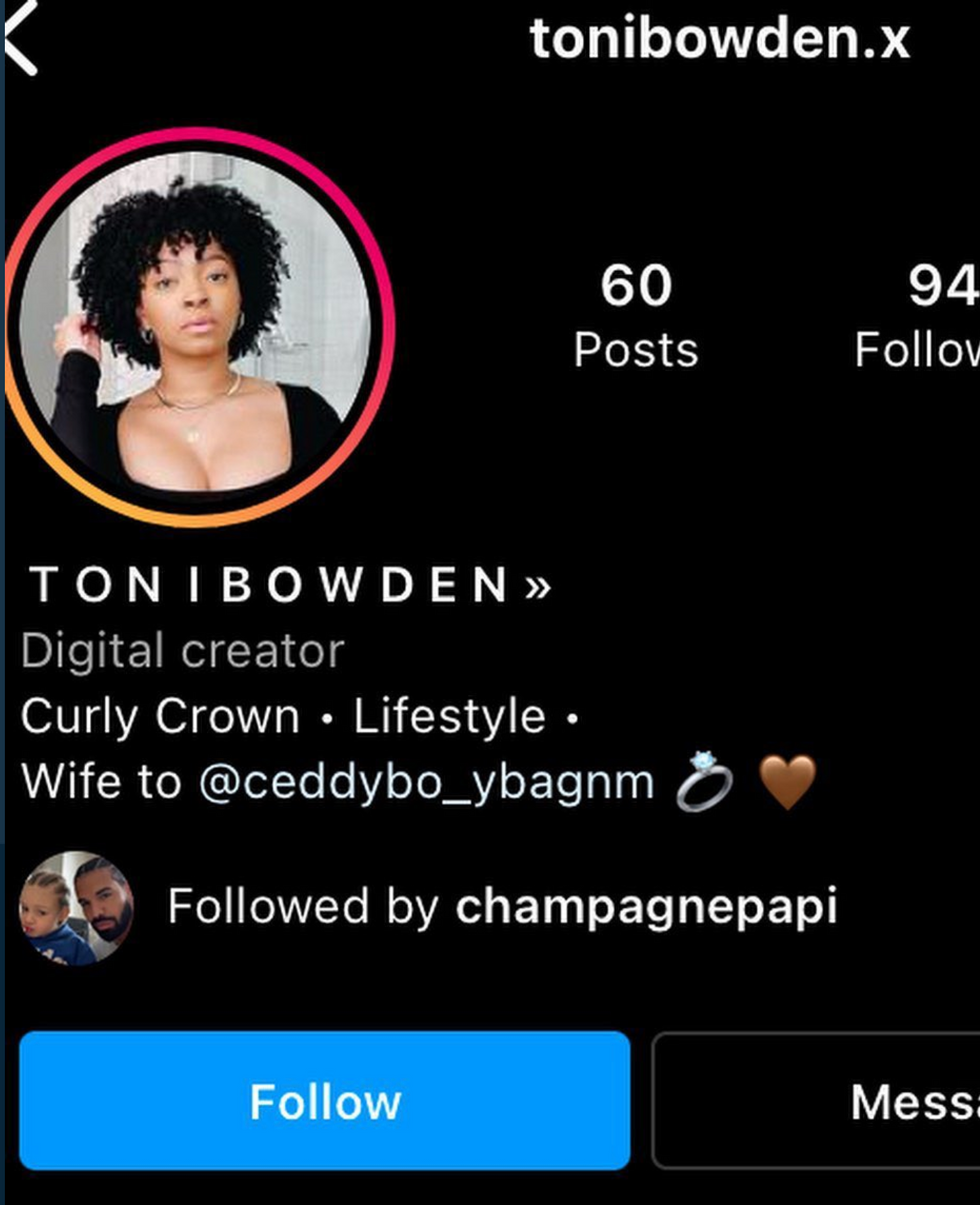 @Lord_Turner/Instagram
Bowden was amused by being "followed" by Drake, and she showed proof he started following her on the platform, just as he declared.
She acknowledged Drake in her Instagram story by writing:

"Oh hey @champagnepapi."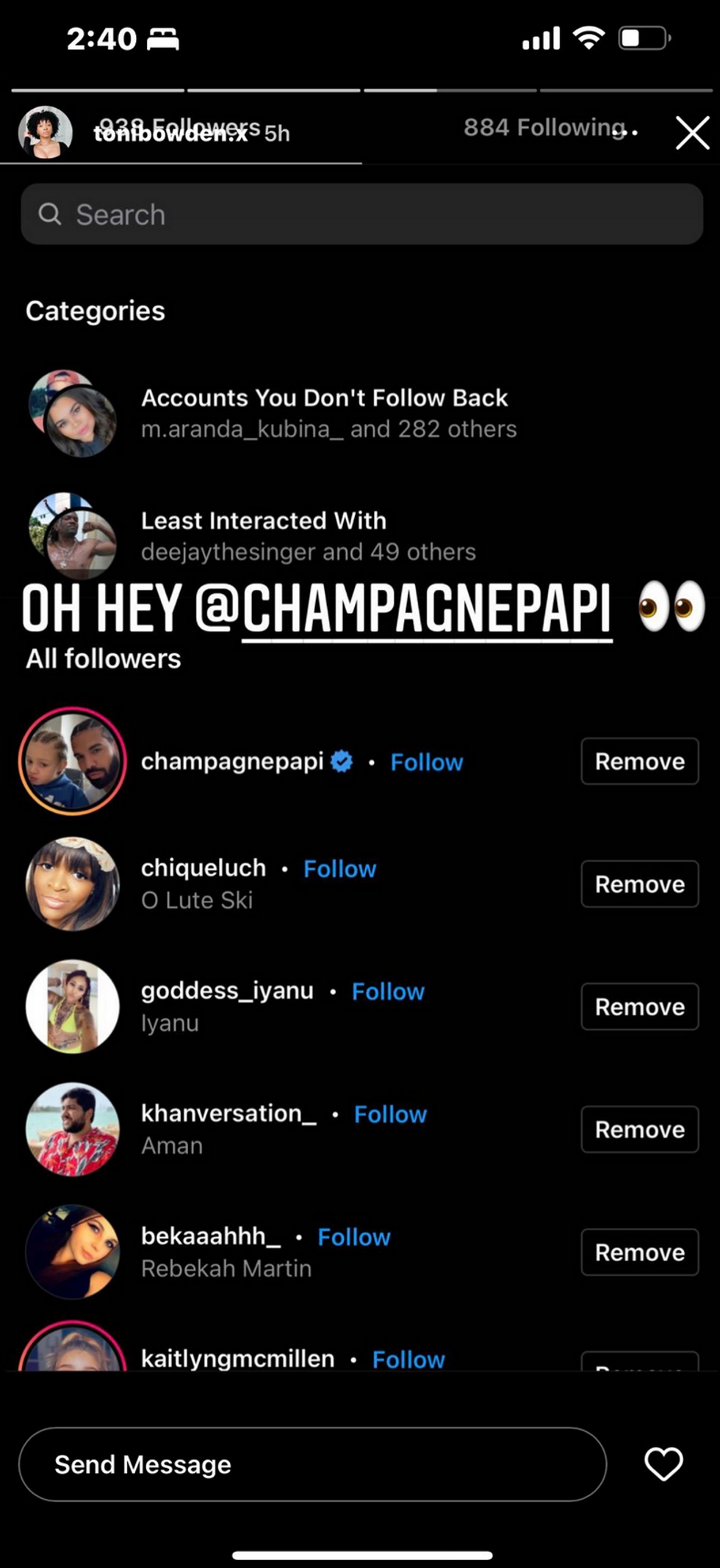 @Lord_Turner/Twitter
The Twitter user also exposed the troll–who appears to be a loving father.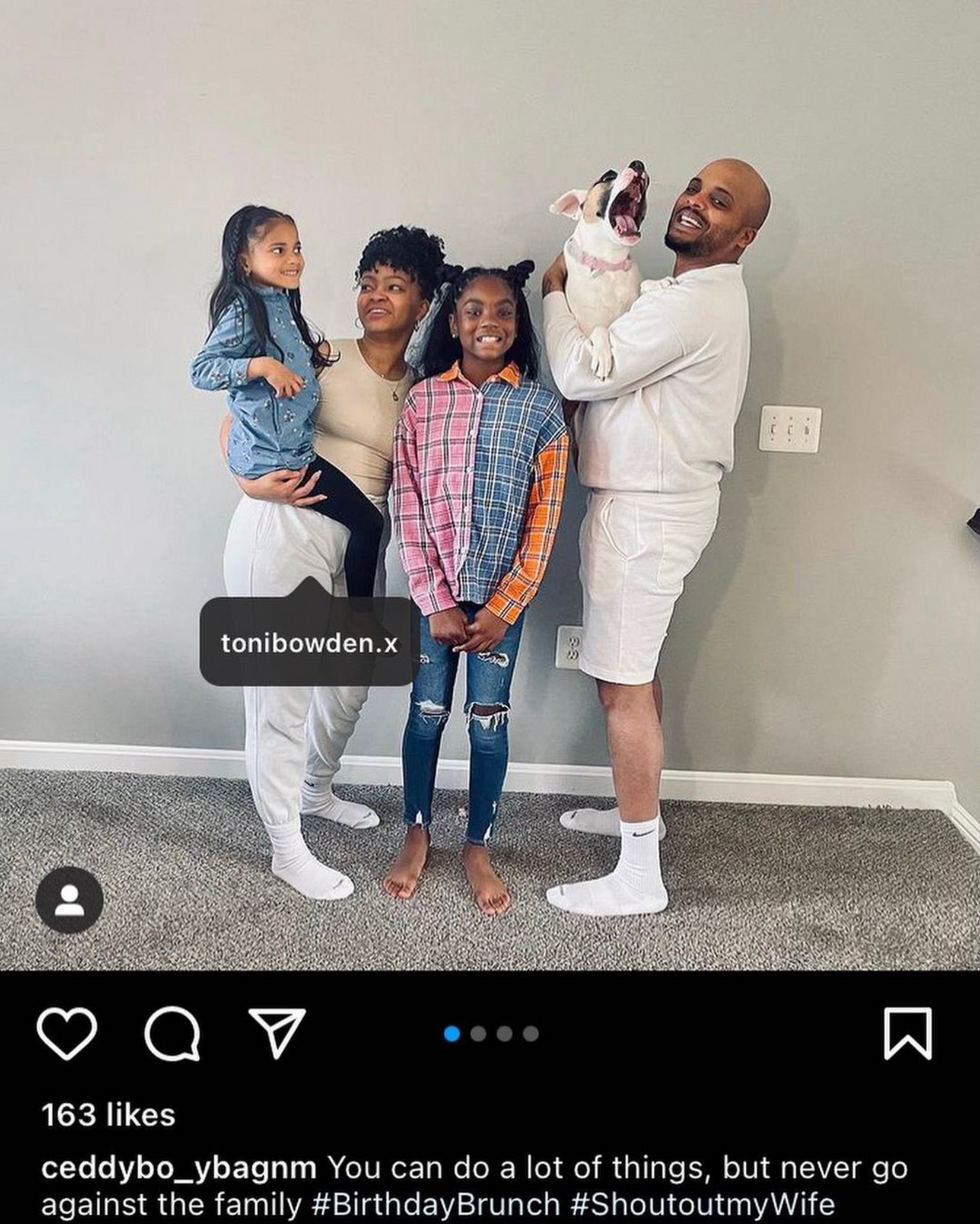 @Lord_Turner/Twitter
She then wrote, "My husband @ceddybo_ybagnm decides to be a troll and now @champagnepapi thinking I need excitement in my life," followed by laughing and eye emojis.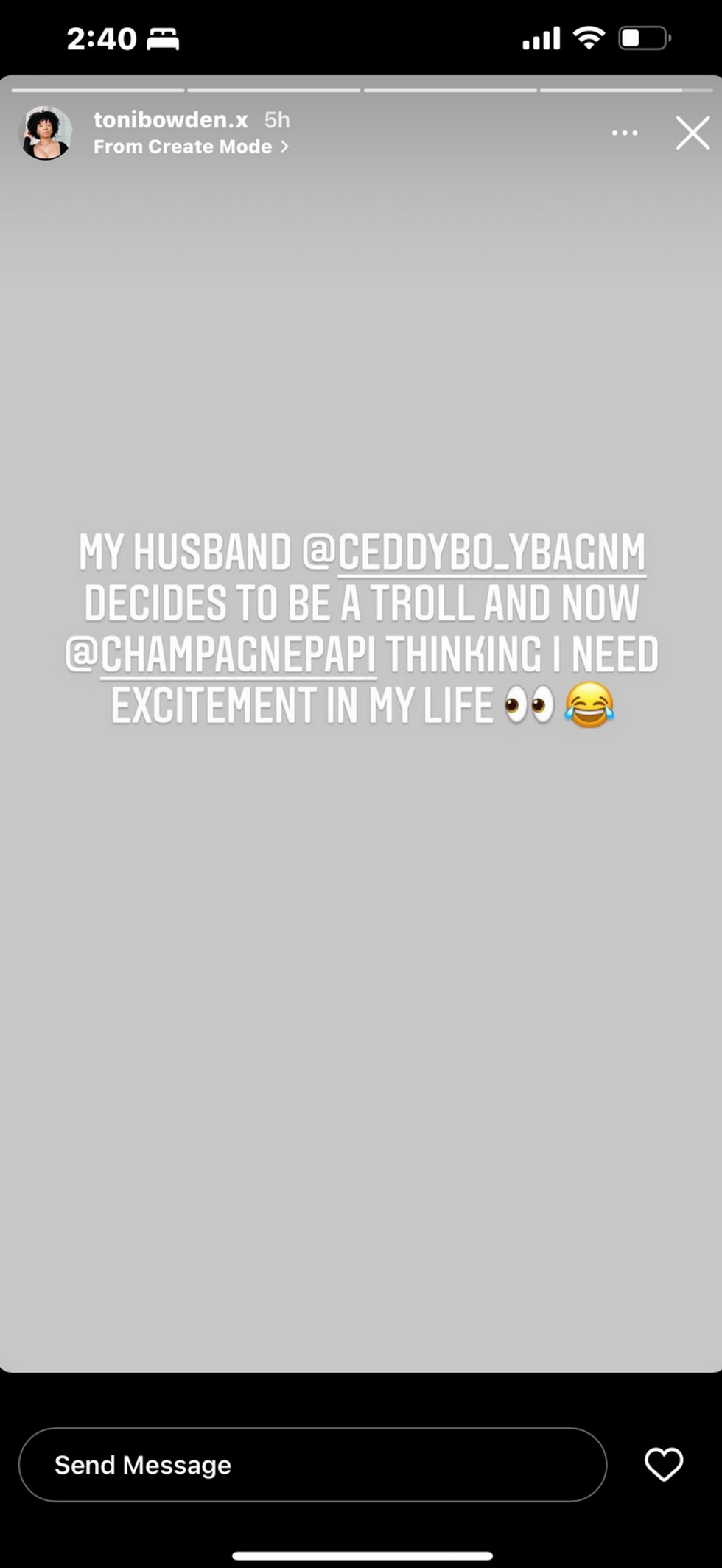 @Lord_Turner/Twitter
Drake–who has been known to caution fans in his lyrics about stealing girls away from their boyfriends and husbands–delivered his coup de grâce by skewering the troll by writing to his wife, "I'm here for u ma."
And fans were here for it too.


@commentsbycelebs/Instagram

@commentsbycelebs/Instagram

@commentsbycelebs/Instagram

@commentsbycelebs/Instagram
Others remarked his modus operandi was a zodiac trait.


@commentsbycelebs/Instagram

@commentsbycelebs/Instagram
His pettiness was appreciated.


@Lord_Turner/Twitter@commentsbycelebs/Instagram

@commentsbycelebs/Instagram
The dramatic interaction came amidst Variety's announcement the rapper struck a "Lebron-sized" deal with Universal Music Group, which insiders say could potentially be "in the vicinity of $400 million or more."

This week, Drake was announced to appear on Jack Harlow's new album, Come Home the Kids Miss You, which came out on Friday.