Spoiler alert! If you haven't watched the 10th season finale of RuPaul's Drag Race, you may want to chasse away.
You could say finalist Asia O'Hara gave it her all in terms of creativity. The 35-year-old has proven throughout the season that she is a force to be reckoned with on the runway with her eye-popping, provocative looks.
Sadly, her lip sync for life didn't take flight the way she had hoped. So what happened?
---
Being one of the older contestants and admittedly not the strongest dancer among her competitors, Asia knew she had to soar above the competition to stand out from the herd.
She told Entertainment weekly about her failed final performance in which her glam army of butterflies failed to take flight.
I wanted to create a moment that was unforgettable, a moment that people would think, "Oh my God, that's one of the greatest things I've ever seen." The competitor in me is always thinking about how I can eliminate doubts in anyone's mind that I'm the best person on the stage in the moment.
miss asia ohara really did that............. bringing live butterflies to the stage............ holy shit

— linda ♀ (@linda ♀) 1530247043.0
In a competition where you can never be too ambitious, Asia wanted to secure her place in the annals of Drag Race history for being a visionary, a risk-taker, a walking wow-factor. So she kept her gimmick a major secret until the reveal.

In my head, the butterfly release was going to work out perfectly. I didn't share my ideas with anyone — including my boyfriend — because I've learned that it's hard to explain to people what I see in my head, and also I wanted it to be a surprise to everyone and I wanted a genuine reaction. It just didn't work out.
Everyone during Asia Ohara's butterfly disaster #Asiaohara #Season10 #dragracefinal #RupaulsDragRaceSeason10 https://t.co/ExreZ8PmxV

— Demi Leigh (@Demi Leigh) 1530257142.0
What she envisioned in her head didn't fly well in execution. It was all about temperature.

I used what are called Painted Lady butterflies, and going west across the continental divide, they have to be kept cool — basically in hibernation or asleep — so they don't stress. They need to warm up to a certain temperature in order to fly away. I, of course, rehearsed it at home several times and it worked, but [the finale was] a different place and a different environment, and I don't think the contraptions were warm enough to wake the butterflies up. But, as they warmed up in the stage lights during the break, they started to fly away!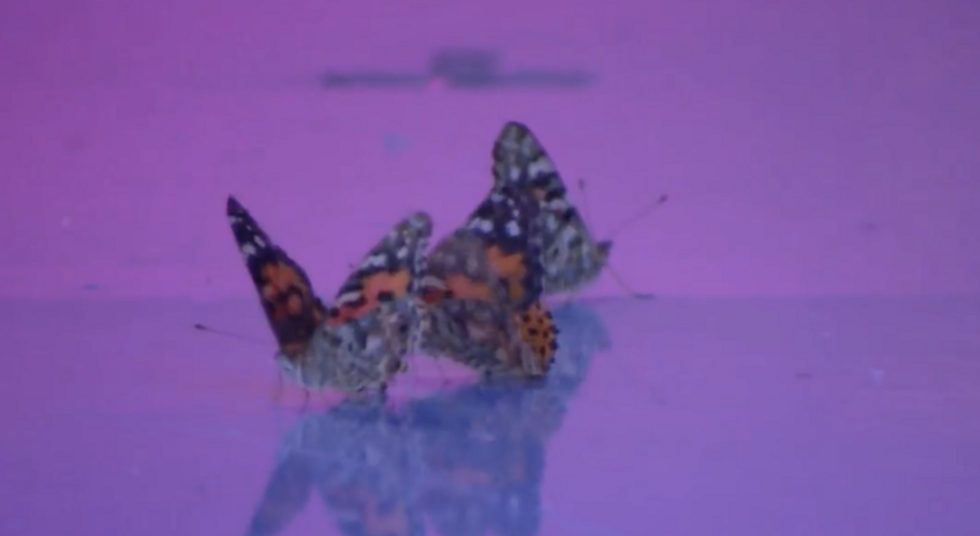 Fly my pretties.(OsnapitzChandler/YouTube)
ASIA OHARA LET FUCKIN BUTTERFLIES OUT OF HER TITTIES AND HER WRISTS WHAT A RUVEAL

— Savannah/Levi you choose idc (@Savannah/Levi you choose idc) 1530240270.0
EW asked what was going through her mind the moment she realized her winged friends weren't going to flutter away.
So, I opened the first one and the butterflies kind of looked at me like, is it that time? I thought there was going to be a warning! In that moment I knew, okay, it's not going to go the way I planned and that it was probably my last hurrah. But, I continued to open the other three, thinking the ones on my chest were maybe going to be warmer. It just was not the case, but you know, I wasn't going to just stand there and fold my arms and say I was done.
Asia OHara's Butterfly mishap is the best piece of Tragic Comedy since The Comeback. #dragracefinal https://t.co/UkV1XCFP1X

— MaddingMadMadMadWorld (@MaddingMadMadMadWorld) 1530239440.0
She explained she wasn't reckless in her preparation as she respects the life of "everything that draws breath and would never purposely hurt a butterfly or any animal." She did her research on how to properly handle the butterflies and rehearsed with handlers who specialize in the act.
As you know, however, that moment did not go as planned and I would like to publicly offer the entire world my deepest apology.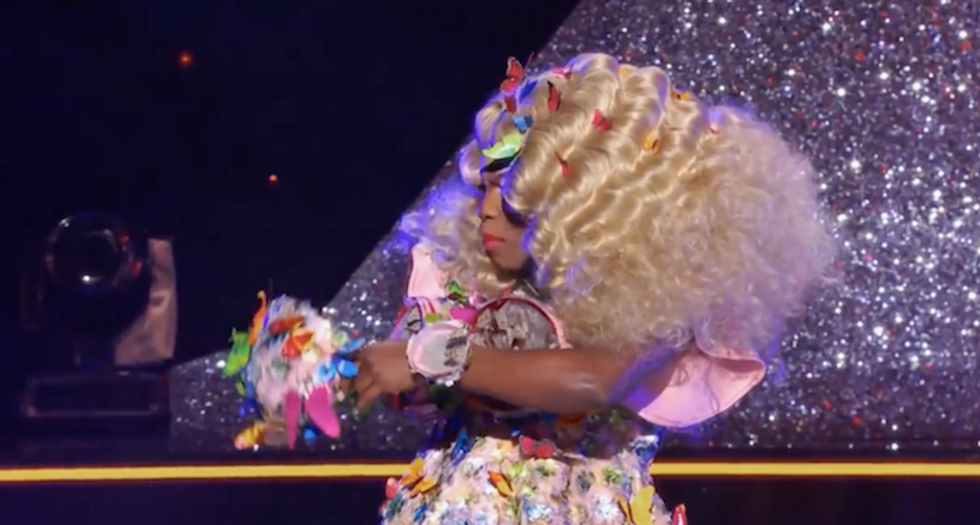 Are they dead?(OsnapitzChandler/YouTube)
In fans' eyes, she won.

i love asia ohara im so sorry those butterflies disrespected u like that

— h҉e҉i҉d҉i҉ 🤡 (@h҉e҉i҉d҉i҉ 🤡) 1530236946.0
#DragRaceFinale Asia Ohara pulled her breast off and had butterflies coming out of her watch. She won.

— 🦄T|A (@🦄T|A) 1530244854.0
So what was her takeaway from the experience? Not relying on temperamental beings to elevate a performance.

The pressure of needing to do well in that moment overshadows normal judgment… the second I saw the first one not take flight, it was like, I should have known not to gamble such a large opportunity on something as temperamental as a butterfly.