Legions of LGBTQ people in New York City know Pissi Myles.
Whether she's hosting drag bingo at The Ritz or Pissi's Playhouse at Pieces Bar, Pissi constantly brings the party.
---
And always with style.
And at Wednesday's widely watched public hearings in the impeachment inquiry against President Donald Trump, Pissi brought the party to the Capitol.

The queen was there to cover the day's events for the indie news source Happs.
But with sky high hair, even higher heels and a fabulous frock, Pissi stood out amidst the sea of suits and sensible skirts.

She ended up making the news herself.
Drag queen Pissi Myles made an unexpected, and quite noticeable, appearance at Wednesday's impeachment hearings. https://t.co/nEgQHvE6rm

— MSNBC (@MSNBC) 1573729325.0
Drag queen Pissi Myles causes a stir with unexpected appearance at the impeachment hearings https://t.co/AdAhMBivhz

— The Washington Post (@The Washington Post) 1573677478.0
Drag queen shows up to first public Trump impeachment hearing https://t.co/mCNYxbmLHa https://t.co/C4dXUOHWfq

— The Hill (@The Hill) 1573735383.0
As photos of Pissi began making the rounds throughout the day's events, she became an instant sensation with shoutouts from drag legends like RuPaul and Lady Bunny.

My pal @pissimyles in action! https://t.co/eFqFEgrGFi

— LADY BUNNY (@LADY BUNNY) 1573677533.0
. @pissimyles is my hero https://t.co/IzR5cWJU9f

— Marti 2021 (@Marti 2021) 1573669725.0
So glad @pissimyles and I were matching! https://t.co/A7zy0VXTHd

— Jan Schakowsky (@Jan Schakowsky) 1573673872.0
By the next day, Pissi made the cover of the New York Post.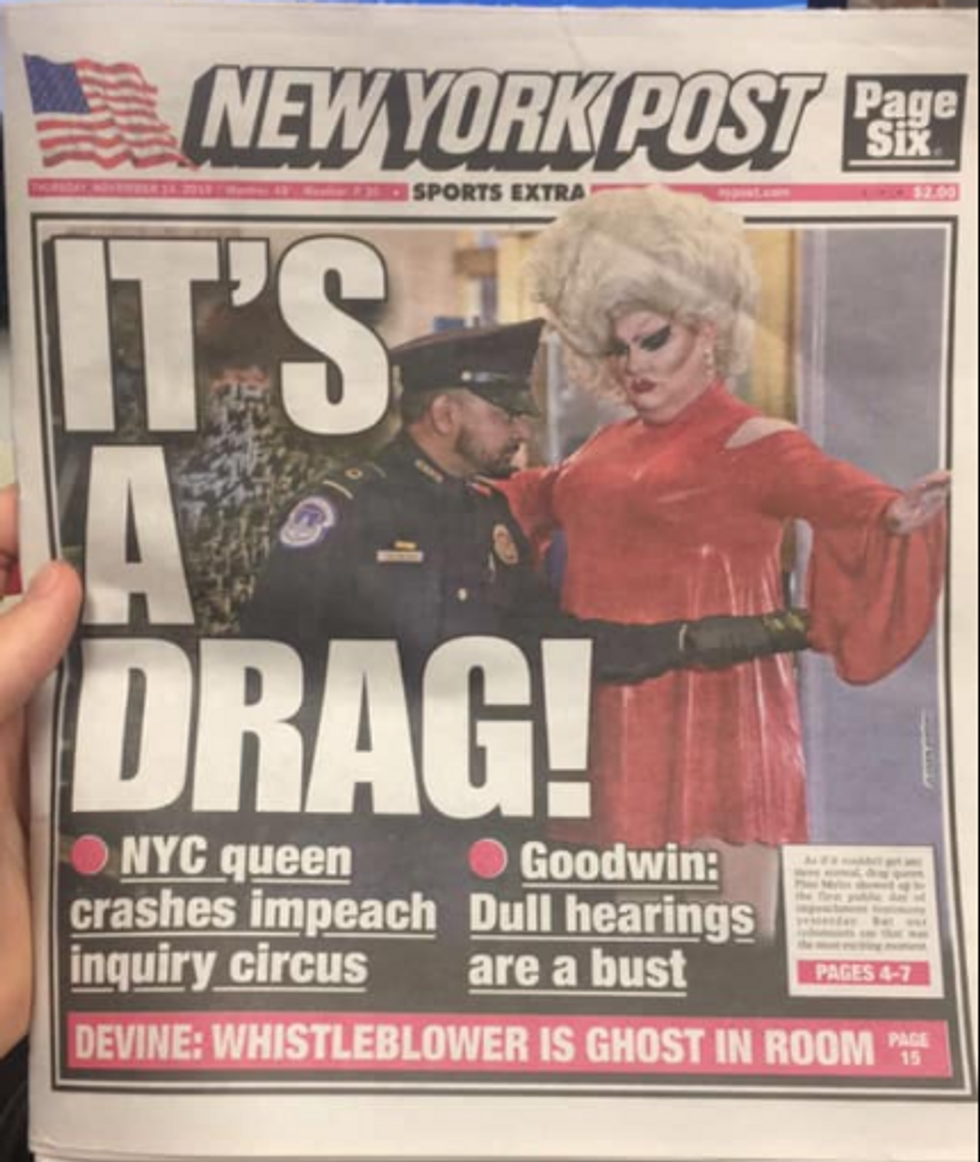 Tyler Lee Hastie/Facebook
While her look was on point, what resulted from her visit was even more admirable.
Update: the #LadyinRed is @pissimyles (Also update: I have lost all of my power to be productive today as I am on… https://t.co/qlEBKrAsR7

— Annie Andersen (@Annie Andersen) 1573662131.0
Pissi Myles with the alternative House impeachment hearing coverage outside the hearing room: https://t.co/9VHDJtSqbd

— Frank Thorp V (@Frank Thorp V) 1573666620.0
This is @pissimyles, who is reporting on #ImpeachmentDay for @HappsNews. She's a NJ/NY-based drag performer and win… https://t.co/Nd06Nau3RB

— Nikki Schwab (@Nikki Schwab) 1573661150.0
Everyone is just standing around watching @pissimyles broadcast #ImpeachmentHearings https://t.co/k2sl0vqG06

— Nikki Schwab (@Nikki Schwab) 1573663417.0
The delightful Pissi Myles, of Asbury Park NJ, is covering the hearings for HappsNews. Kellyanne was overheard aski… https://t.co/EEfK70JTy3

— Paul Rudnick (@Paul Rudnick) 1573671687.0
Said to Pissi Myles at the hearings: Karen Pence: "Gurl, how do you do your contour like that? Gorge!" Lindsay… https://t.co/udbg9NlIkd

— michael musto (@michael musto) 1573686273.0
In a Facebook post after the hearing, Pissi thanked everyone for their support.
Myles also highlighted the numerous DACA recipients she met on the Hill as the Supreme Court decides whether or not to allow the deferred action program allowing undocumented people brought to the United States as children a pathway to legal status and citizenship.

Overall, the day's events gave Pissi hope for the future.

"I experienced a lot of love in the capital, which gives me hope that there is an upswing in morale in this country. People are starting to feel hopeful again, and we need to take that hopefulness to the polls in 2020."

Some of the queen's friends began circulating her Venmo username, urging people to tip her, since drag queens make a living from tips at their shows.
While Pissi said she appreciated the tips, she intends to donate them to an organization that supports DACA recipients.

The nation may not have an honorable President, but at least it's got no shortage of majestic queens.

You can get Pissi Myles' song Babashook(contains explicit lyrics) here.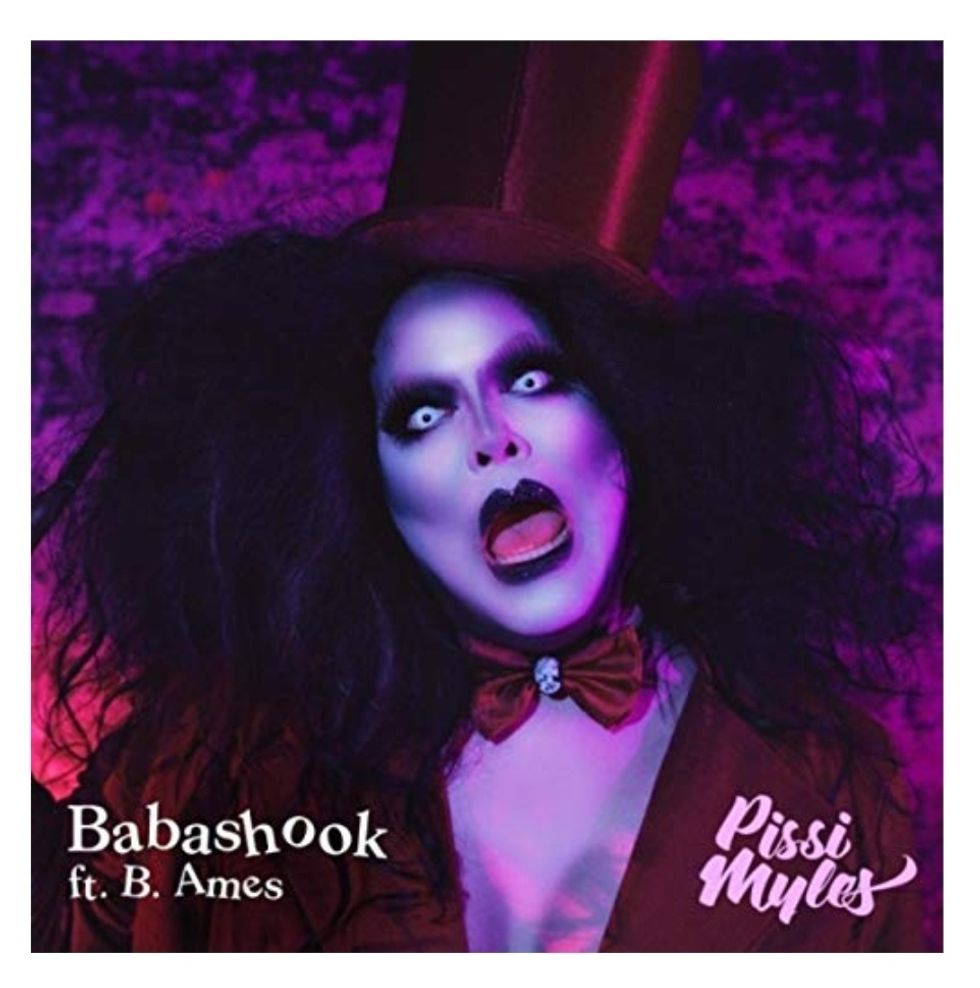 Amazon