Nick Dyer, a spokesman for Georgia Representative Marjorie Taylor Greene, reportedly went off on California Representative Eric Swalwell for wearing a mask last Friday.
According to a tweet form The Hill's Scott Wong, Dyer told Swalwell:
"Biden says you can take off your mask."
Representative Swalwell did not take well to this snide comment. He proceeded to get in Dyer's face and yell:
"You don't tell me what to f*cking do!"
Wong reported that he witnessed the altercation, but was not close enough to hear what was actually said. He got the information from Dyer.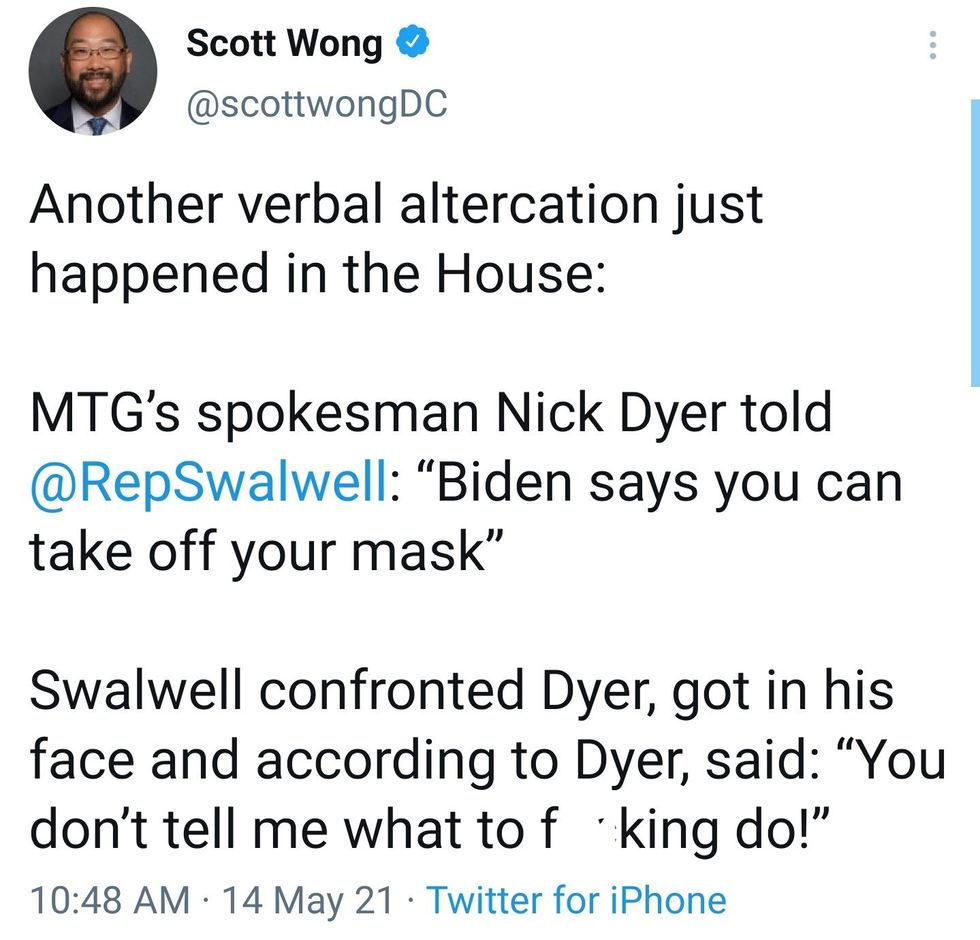 @scottwongDC
Swalwell later corroborated the story with his own tweet, saying that he only regretted that his response to Dyer was not more explicit.
@RepSwalwell
Twitter users had a lot to say about mask-related bullying.
Several people called for Greene to face real consequences for her continuing behaviors towards colleagues she disagrees with.
Greene attempted to put a very different spin on the altercation, claiming that Swalwell "cornered" her staffer.
"Eric Swalwell chased my staffer into the Captiol [sic], cornered him and exploded in anger inches from his face."
People weren't having it though, and immediately challenged her version of events.
Many also condemned Greene's ongoing campaign against New York Representative Alexandria Ocasio-Cortez, with some even calling for her expulsion from congress.
Whether there will be consequences for any of the parties in this conflict remains to be seen.