Over 200 death threats and threats of violence have been sent to local school officials from anonymous individuals outraged over the latest hot button culture war issues such as bathroom access for transgender students, the teaching of America's racial history in schools, and mask mandates.
Reuters found that 220 reported examples of hostile intimidation letters were sent to school board members across the country, including one targeting the child of Brenda Sheridan, a Loudoun County, Virginia school board member.
The sender addressed the child and threatened death unless Sheridan stepped down from the board.
The hand-written note sent around Christmas time last year read:

"It is too bad that your mother is an ugly communist whore."

"If she doesn't quit or resign before the end of the year, we will kill her, but first, we will kill you!"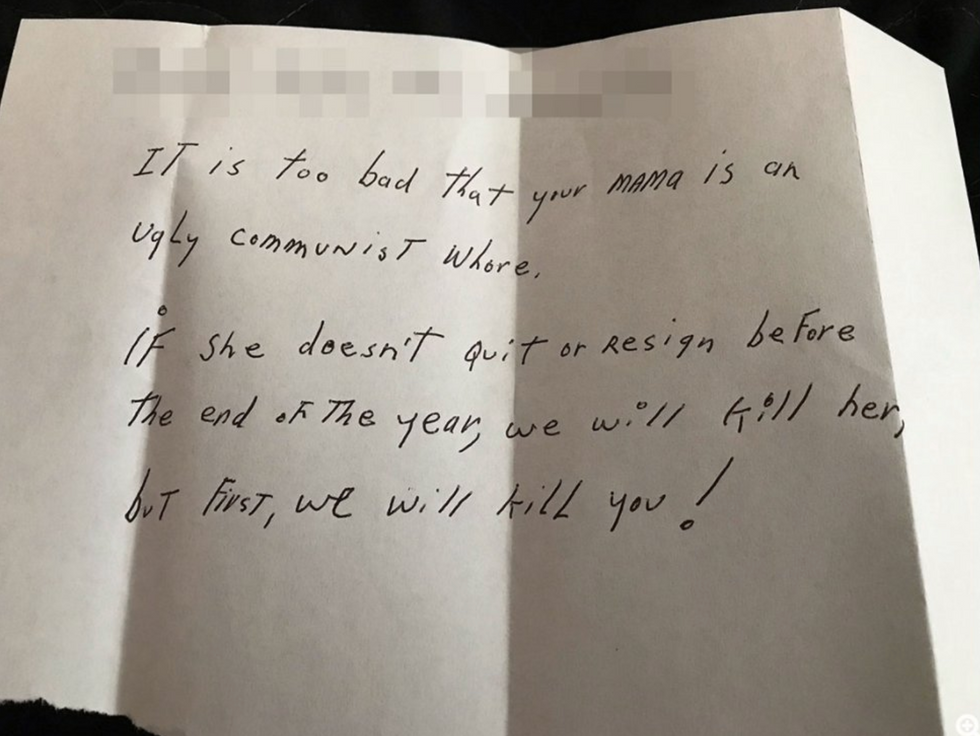 @Gabriellaborter/Twitter
The media outlet reported that many of the threats typically coming from people out-of-state who have no connection to local school districts were a part of a "rising national wave of threats to public officials"–including election officials and members of Congress.

In June, Sheridan received another letter threatening violence, which read:
"Brenda, I am going to gut you like the fat f'king pig you are when I find you."
Police investigators failed to identify a suspect–highlighting the difficulty in tracking down threats made anonymously.
In another example, Pennsylvania's Pennsbury school district board members received complaints about the district's diversity efforts.
One antisemitic email sent to the board said:
"This why hitler threw you c‑‑ts in a gas chamber."

In Dublin, Ohio, Chris Valentine–the school board president at the time–received an anonymous email vowing that officials would "pay dearly" for supporting race education and mask mandates meant to protect teachers and students from stopping and spreading COVID-19.
The letter read:

"You have become our enemies and you will be removed one way or the other."
The sender identified himself as "James Baker" of "Citizens to Remove CRT [critical race theory] from America."
The message, which was also sent to other districts, read:
"All Americans know the schools have become Indoctrination Centers for Marxism."
"WE ARE COMING AFTER ALL OF YOU STINKING TRAITORS OF AMERICA!"
Law enforcement was apprised of the violent messages in those three cases but no arrests have been made–except for those who exhibited disruptive behavior in person at school board meetings.
In response to the increasing number of terroristic threats against school officials in September, the National School Boards Association (NSBA) sent a message to President Joe Biden's Administration asking for federal enforcement for protection and to stop the "growing number of threats of violence and acts of intimidation occurring across the nation."
The Association's letter read:

"As these acts of malice, violence, and threats against public school officials have increased, the classification of these heinous actions could be the equivalent to a form of domestic terrorism and hate crimes."
However, NSBA's letter only fueled further outrage from Republicans who falsely argued the White House was censoring free speech and labeling dissenting parents as "domestic terrorists."
Some board members have resigned from their posts or opted out of seeking reelection out of fear.
One board member in Gwinnett County, Georgia who was constantly harassed online purchased a gun for protection, and the board chair in Union County, North Carolina installed security cameras outside her home "at every angle."

Sheridan has been serving on the board since 2021 and remains a member, despite the threats but said she rarely goes out in public alone anymore.
In investigating the suspect who threatened to "gut" Sheridan, the Loudoun County Sheriff's Office submitted a search warrant to Google to find out more information from the sender who used a Google email address.
But according to a police report, the warrant found the suspect used multiple IP addresses and left investigators with "no viable investigative leads" to find the perpetrator.
In October, Biden's Justice Department convened a task force due to the increase in harassment and threats of violence against school officials.
U.S. Attorney General Garland said the FBI will work with federal attorneys to strategize ways in which to combat the violent threats towards teachers, school staff, and board members.

Garland said in a statement:

"Threats against public servants are not only illegal, they run counter to our nation's core values."
"Those who dedicate their time and energy to ensuring that our children receive a proper education in a safe environment deserve to be able to do their work without fear for their safety."
The Department said the task force was "designed to address the rise in criminal conduct directed toward school personnel," and to "determine how federal enforcement tools can be used to prosecute these crimes, and ways to assist state, Tribal, territorial and local law enforcement where threats of violence may not constitute federal crimes."