An Alabama teacher's long commute involving multiple buses each way to and from work became a whole lot easier thanks to an unexpected gift.
After hearing about her daughter's travel-weary teacher, beauty guru Courtney Adeleye surprised her with a brand new car.
---
Adeleye, who is the CEO and founder of a vitamin and hair care products company, The Mane Choice, was more than happy to help. She sprang into action after her husband, who is a medical doctor, told her about their daughter's teacher catching buses everyday to work.
She posted a video of the reveal on Instagram.

"When my husband tells me that the teacher who has been teaching my girls for the last few years has been catching multiple buses to get to and from work everyday in the hot sun and cold! He said we should give her something I said....say no more!"
The benefactor added:

"When you ask me to define success....this is my response! (Give to those without expectations)"
The couple bought the teacher a white Ford Focus which was brought to the school presented with ribbon and bow.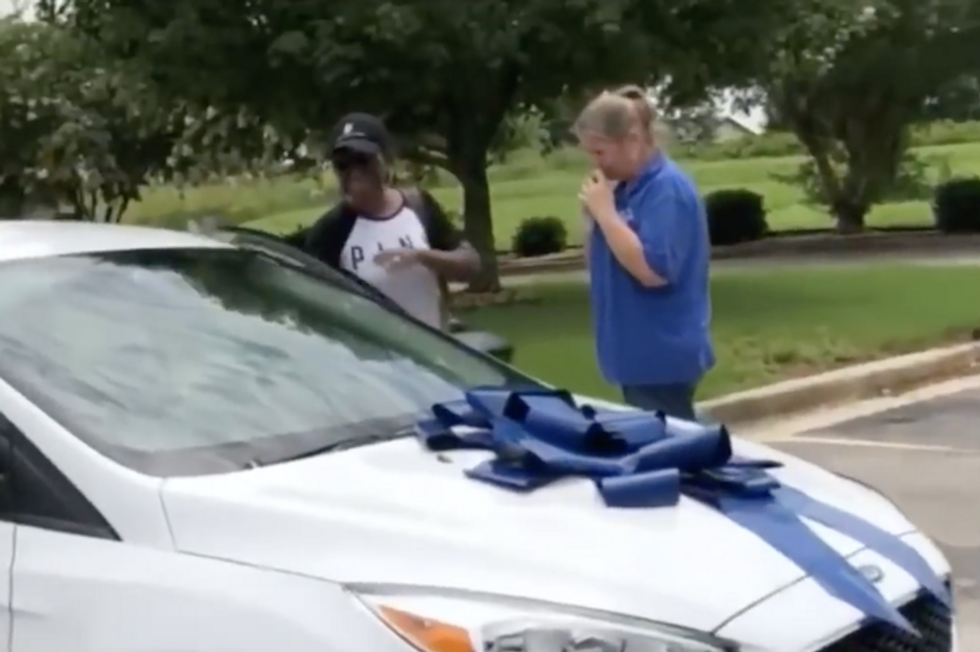 (Inside Edition/YouTube)
Their 11-year-old daughter filmed the emotional moment when the teacher walked out into the parking lot and saw the gift that will significantly change her life.

The overwhelmed educator broke down in tears.
"Are you serious? You're really serious? Oh my gosh!"
"I cannot believe this! Y'all just don't know."
Adeleye is known for paying it forward by frequently helping those in need. According to The Daily Mail, the philanthropic CEO started the Pay My Bill program through which she's paid a bill of 150 of her social media followers.
@BET I didn't know it was her who did that. Didn't even recognize her. I use her hair products. I like her even more now.

— Kia Humphrey (@Kia Humphrey) 1533849867.0
Here is the teacher expressing her gratitude to the salesperson who helped pick out the car, which is valued at a starting price of $18,000.

1. This family is awesome! 2. Courtney Adeleye is #BlackGirlMagic 3. Dr. Adeleye studied medicine in Nigeria, or… https://t.co/xCKAewWAN9

— Treana L. Allen (@Treana L. Allen) 1533735853.0
@AynRandPaulRyan @CourtneyAdeleye @tizzywoman Courtney Adeleye, U are a mensch-et! What an amazing gift! So many te… https://t.co/hfBhKcelm3

— Derik Van Derbeken (@Derik Van Derbeken) 1533925929.0
This story touches my heart and reminds me there are still good people out there. Good people are drawn to good peo… https://t.co/JZ78N26hta

— J Lee (@J Lee) 1533910157.0
@MensHealthMag @WomensHealthMag @CourtneyAdeleye @time @people @todayshow @USATODAY @DrOz @gma @TheEllenShow @Oprah… https://t.co/MjUrYp1BFr

— SMR (@SMR) 1533988665.0
@nbcbayarea Wow what a wonderful gift to give. This teacher will talk about this forever.

— Kathy guggie (@Kathy guggie) 1533941409.0
Adeleye is a nurse who got her start as a social media personality with her own YouTube channel. As she gained more followers, she began creating hair care products for African American women based on her background in health and the medical field.

Forbes reported that the beauty entrepreneur's $500 investment to start The Mane Choice grew into an empire that earned $25 million in sales in just four years. Her products are sold in 20,000 stores across the country.
But she's not letting all the success go to her head. In her eyes, true success is giving to others who are struggling a small boost in life.

Brava Ms. Adeleye, brava.