Viewers were gobsmacked after watching Justice League Dark: Apokolips War—a sci-fi fantasy superhero film produced by Warner Bros. Animation Studios— dropped on Tuesday.
But fans weren't stupefied over the execution of the plot line of the battle against Darkseid to save the planet.

---
They were speechless after discovering that the animated film included the implication of homosexual cross-species sexuality.
I don't know what I love about this more, John Constantine x King Shark as a thing unto itself, or the fact that th… https://t.co/CEIzDrlo1n

— Jon Erik is: 💃 (@Jon Erik is: 💃) 1588701903.0
It turns out that superhero John Constantine had a sexual fling with supervillain King Shark—a member of the Suicide Squad who is a giant mutant shark.
Justice League Dark: Apokolips War: John Constantine dated King Shark | @scoopit https://t.co/MD4YCcOfBm

— Sci-Fi Talk Official (@Sci-Fi Talk Official) 1588940663.0
In a scene from the adaptation of The Darkseid War and sequel to 2017's Justice League Dark, Constantine and Raven are seen at a seedy underground fight club.
Constantine is dumbfounded when he discovers his "ex" at the club.
Raven spots Harley Quinn standing next to King Shark and comments:

"You and Harley? Gross."
But Constantine recoils from the assumption and quips:

"Do I look mad?"
The cartoon then zooms in on the nefarious King Shark, who acknowledges his past fling with a wink.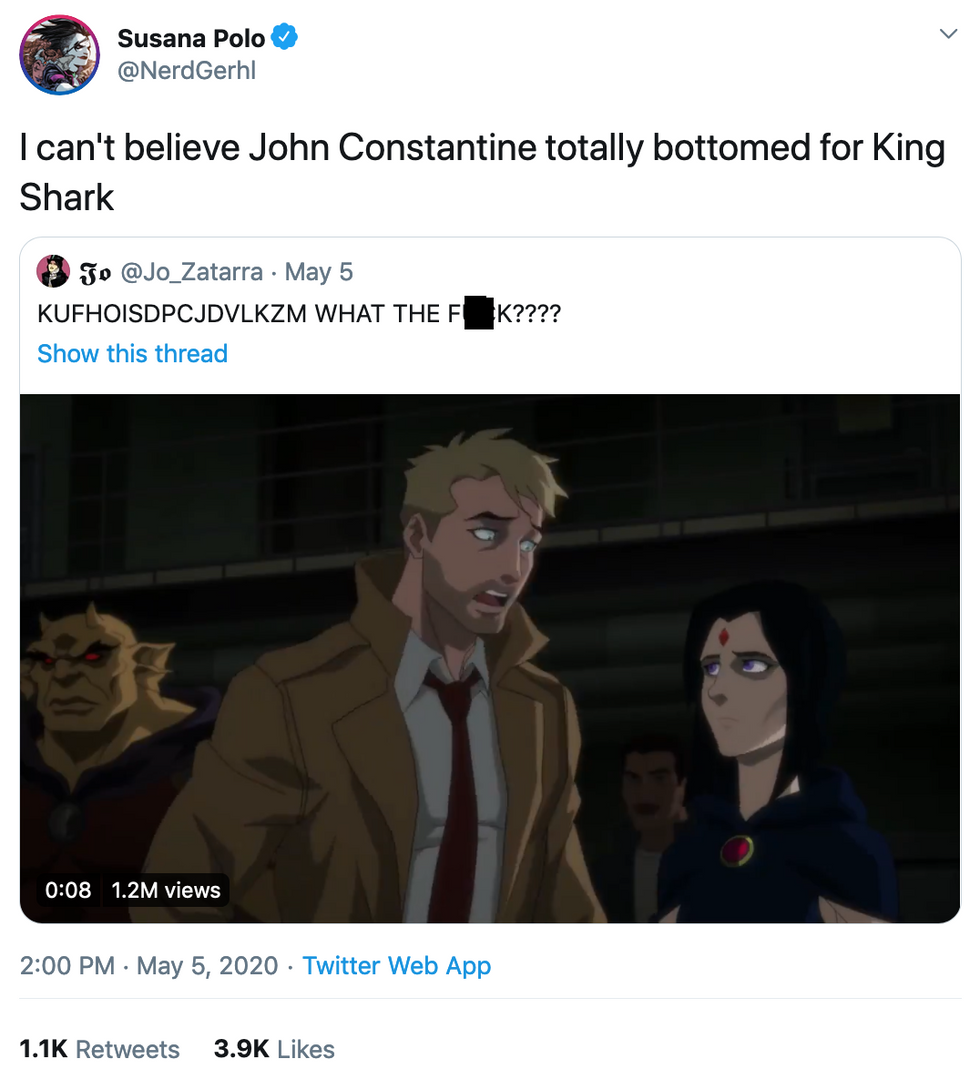 @NerdGerhl/Twitter

@SizzlerKistler/Twitter

@tatobamain/Twitter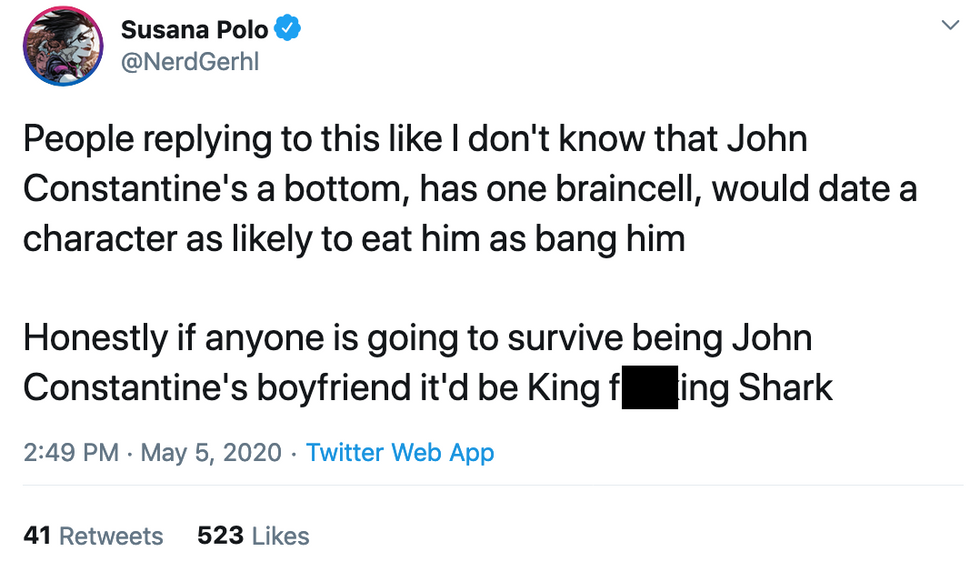 @NerdGerhl/Twitter

@TheSlumgullion/Twitter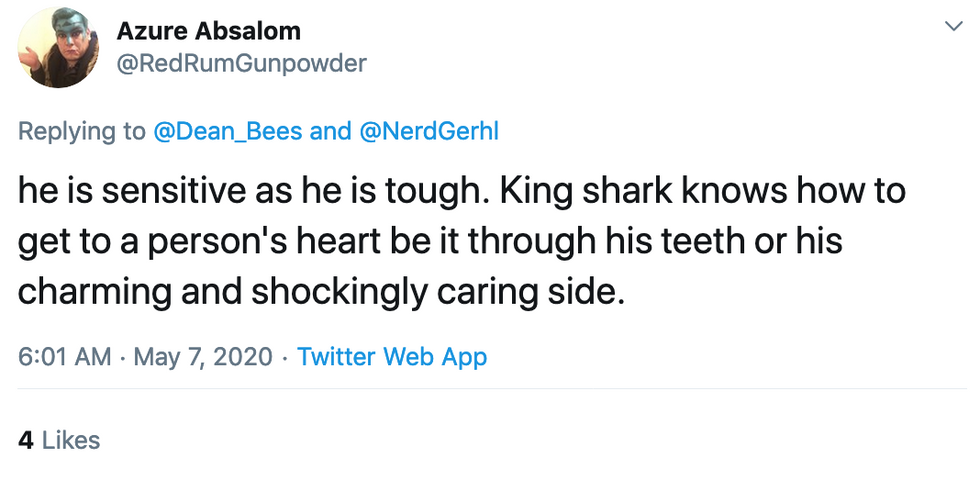 @RedRumGunpowder/Twitter
I can't believe DC said John Constantine f*cked King Shark 😤♥️ https://t.co/baAVcNDSo9

— Cavahn (@Cavahn) 1588761428.0

@Dekuton/Twitter
Fans have long been frustrated with 2005's Hollywood film Constantine and the eponymous NBC television show that ignored his sexuality.
Constantine is described as a "working classwarlock, occult detective and con man" whose canonically-known bisexuality was first established in John Smith's 1992 issueHellblazer: Counting to Ten when he casually mentioned having ex-girlfriends and ex-boyfriends.
The openly bisexual superhero, who is stationed in London, reprises his role from DC's Legends of Tomorrow, which also didn't "straight-wash" the deadpan character's bisexuality.
After clips of the scene from Apokolips War went viral for its unabashed portrayal of Constantine's sexual past, animation writer and showrunner for the direct-to-video film Mairghread Scott said:
"I can't believe they let me write this."

@MairghreadScott/Twitter
In a separate tweet, Scott said:

"I am very proud of this moment."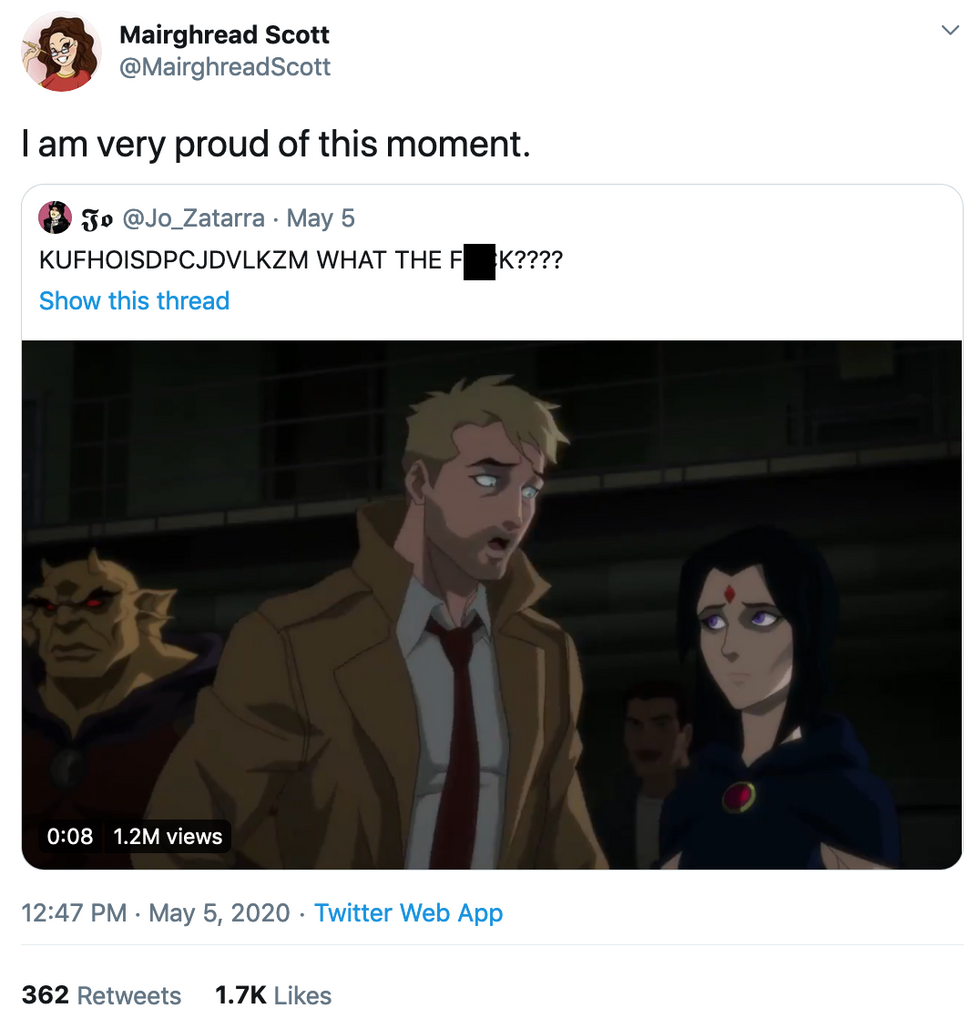 @MairghreadScott/Twitter
The screenwriter did not expect the fan reaction on Twitter and said she was "expecting to hear from Twitter folks thirsty for tortured, sad, bearded Superman."

But she thought wrong.

"I truly underestimated thirsty monster-f**ker Twitter."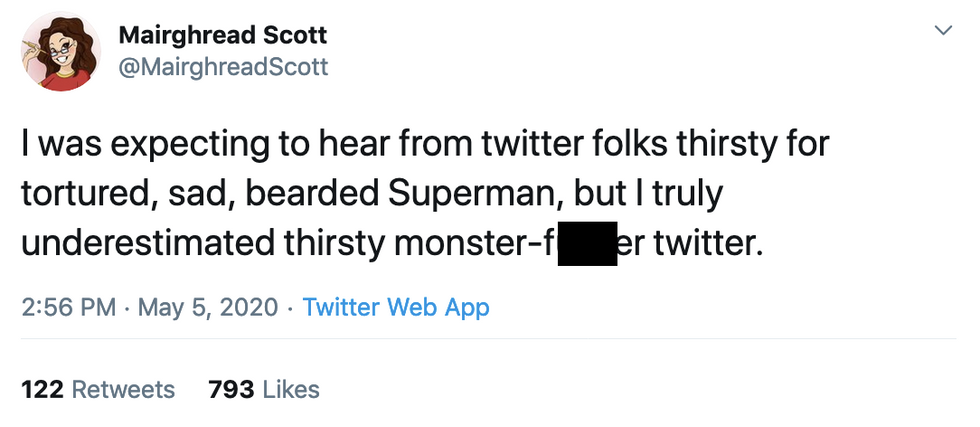 @MairghreadScott/Twitter
These fans expressed their gratitude and praised Scott for her valiant effort in normalizing kink in animation.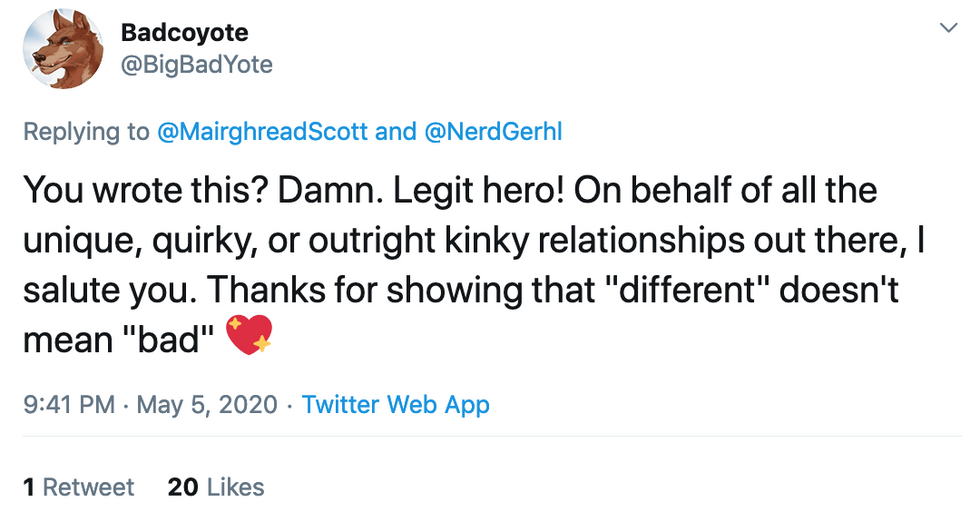 @BigBadYote/Twitter

@DelonFim/Twitter
Justice League Dark: Apokolips War stars Matt Ryan as John Constantine; Jerry O'Connell as Superman; Taissa Farmiga as Raven; Stuart Allan as Robin; Tony Todd as Darkseid; Jason O'Mara as Batman; Rosario Dawson as Wonder Woman; Shemar Moore as Cyborg; Christopher Gorham as the Flash; Rebecca Romijn as Lois Lane and Rainn Wilson as Lex Luthor.

The final installment in the DC Animated Movie Universe is available as a digital download now and will be released on Blu-ray on March 19 with an added showcase feature based on the character of Adam Strange.

Justice League Dark: Apokolips War is available here.