No conversation is off limits on a crowded train during a busy commute, especially for chatty New York City straphangers.
On just another ordinary day on the NY metro, a female passenger approached comedian Brandon Scott Wolf and commented that he looked familiar. His off-the-cuff response to her unusual observation became a viral sensation that is both hilarious and packs a punch.
---
"A woman on the train kept staring at me and after about 25 minutes she was like 'I'm sorry, but you look like my high school boyfriend who passed away,'" the stand-up comedian tweeted in his anecdote. "And without missing a beat I was like 'Amanda?' and she was like 'My name's Rachel' ... but imagine if I guessed her name right."
What if he confirmed her hunch? "There would be two scenarios that could make sense to her," he proposed. "1) I faked my own death and started a new life in a nearby school district. 2) I'm a ghost?"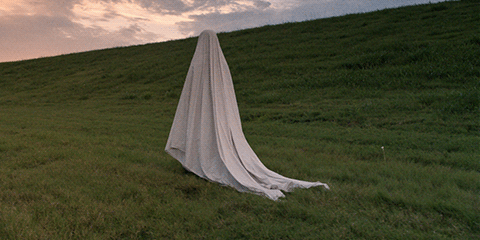 Oh, sheet.
Soon, others joined in the spooky fun on Twitter and offered additional scenarios.
People went to some pretty dark places.
People seemed to get into the spectral nature of things.
Truly next level horror.
There are other some talented comedians out there.
He could've played the part of the territorial ghost. Remember this stand up character?

What are the odds?
The Philadelphia native, who currently lives in Brooklyn, is no stranger to shock comedy. He's been a natural at delivering arresting one-liners and is billed as "a droll one-liner comic with a passion for absurd comedic ideas."
"Everything that I've done in life that's been remotely successful started out with a joke that I just blurted out," he told the New York Times. "And then I was like, 'You know what, I'm going to do that."
In addition to being a stand-up, Wolf's work also includes being a staff writer for NBC's Best Time Ever with Neil Patrick Harris and a freelance contributor for Saturday Night Live's "Weekend Update." He also contributed his humor and sharp wit to Ellen, USA Today, Yahoo!, BuzzFeed, GQ, The Huffington Post, Mashable, MTV News, and VICE, among many others.

He also simplified the rigors of online dating by narrowing down potential partners to just one person – himself, on his fake website, DateBrandonScottWolf.com. Samples from the questionnaire portion include, "If you could be any animal, which one would you be?" and "What toppings would you put on your burger?"

Some of the drop-down menu options, including ones for gender, and sexual preference, includes the options: male, female, caucasian.

"It's different, people were able to see my sense of humor, and I had a lot of fun making it," he said in an interview with Personal Branding Blog.

As for the girl on the train.
H/T - Twitter, Brandonscottwolf, NYtimes