Freshman GOP Congresswoman Lauren Boebert of Colorado just did her best to capitalize on the current surge of cicadas sweeping the east coast of the United States.
In a move that didn't surprise anyone, she compared the creepy crawling insects to Democrats across the aisle.
Boebert apparently grew impatient with all the talk about Brood X, a generation of cicadas that only surfaces once every 17 years to mate, eat and be merry. The bugs have been so plentiful up and down the east coast that they've even showed up on weather radar.
But Boebert, who's well-known as a conspiracy theory and gun rights advocate, decided to spin the unique wildlife phenomenon into an attack on her Democratic colleagues.
In a tweet, she laid into House Speaker Nancy Pelosi in particular.
"The media needs to quit acting like the cicadas are the worst creatures in DC."
"I can list several that are worse, starting with the Speaker of the House."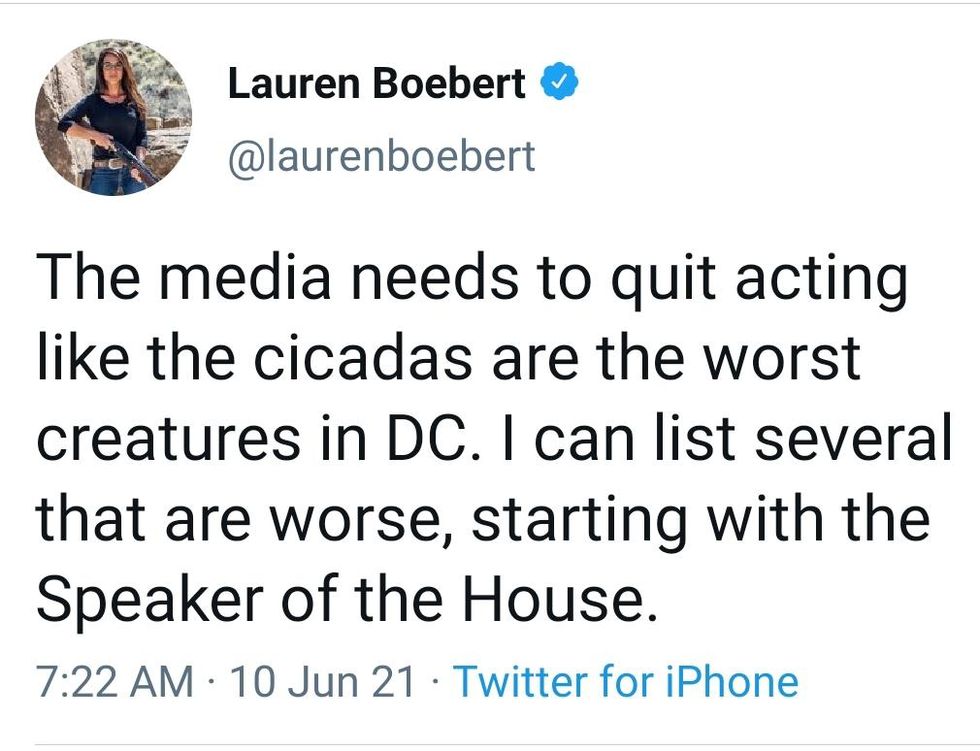 @laurenboebert/Twitter
People had no patience whatsoever for Boebert's dig.
Regardless of the cicada situation, Lauren Boebert will very likely grab headlines at least once or twice in the near future.
Here's hoping it has less to do with once-in-a-generation insects.