When Cupid's arrow hit the bullseye in martial arts instructor Emily Lawndry's heart, she was soon grappling with more than just her feelings.
For seconds after locking eyes with handsome metal fabricator Daniel Dore, 27, in March 2016, she was wrestling him to the floor in a grappling drill, during a training session at the Goshukan Karate Academy.
Now their devotion to their sport and to each other is so intertwined that the karate-loving couple have both achieved black belt status – with Emily going one further and obtaining her second dan – and Daniel even proposed at a training session.
Emily, 25, of Sydney, Australia, recalled her first encounter with her fiancé, saying:
"We had to do a grappling drill, which is basically trying to wrestle the other person to the floor – and that was certainly an interesting way to break the ice."
Overpowering each other during training soon awoke an equally overpowering mutual attraction, with the dynamic duo officially becoming a couple in the July, and Daniel proposing in an equally robust manner in April 2019.
Emily, who believes their shared love of traditional Japanese karate has helped cement their feelings, said:
"Honestly, I don't think our relationship would've worked if we didn't both love karate."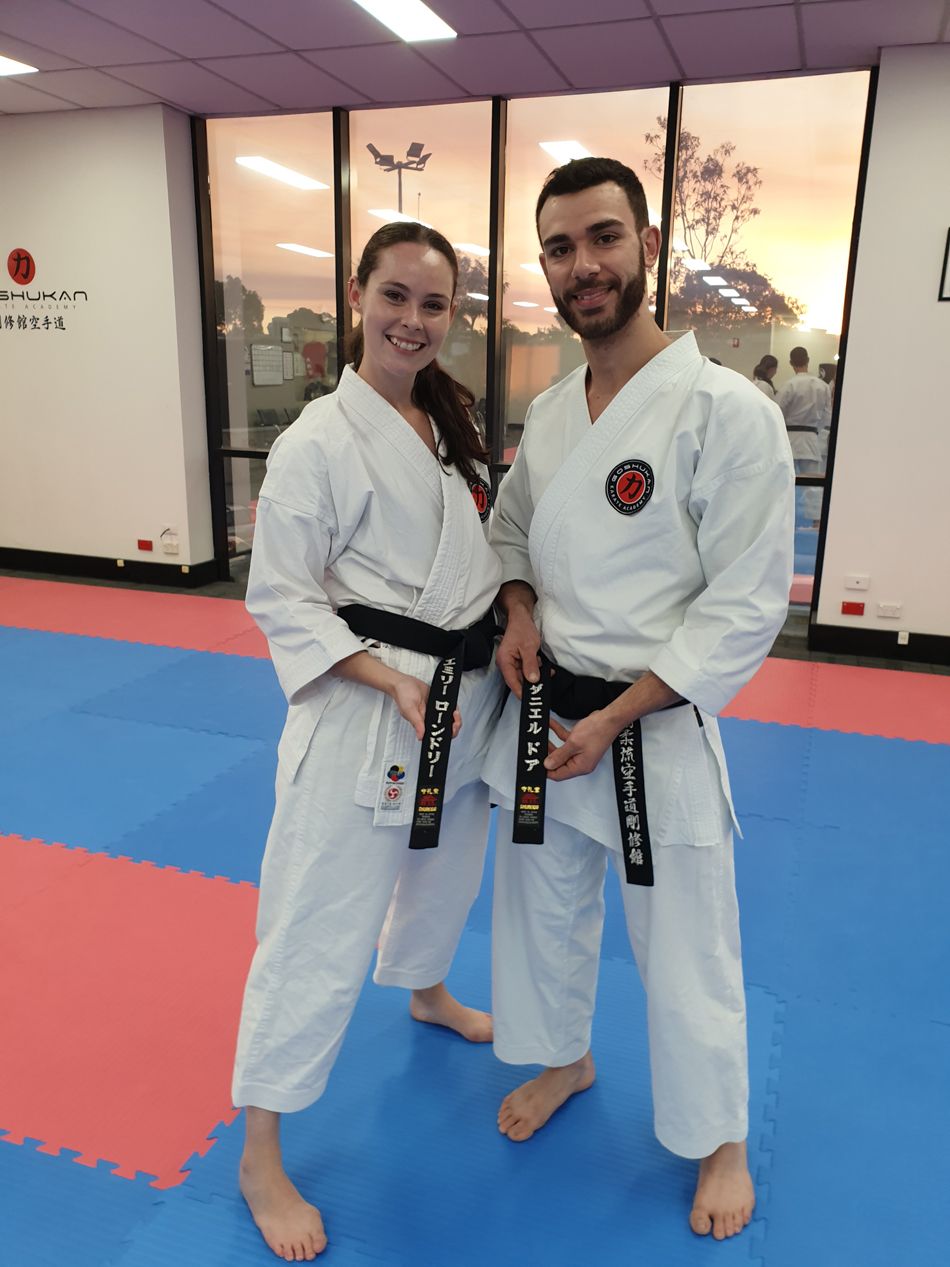 Emily Lawndry and Daniel Dore (Collect/ PA Real Life)
She added:
"We share an understanding with each other about how dedicated we are to this sport. When we train together it's not like we partner up all the time or stand side by side, but it's amazing to know we're both in the same room pushing for the same goal three times a week – when we're not in lockdown, obviously!"
"Karate drew us together and it's what makes us unique as a couple. We're a team and doing karate together 100 percent makes us who we are as a couple."
Their mutual devotion to each other and their sport was clear when Daniel, a first dan black belt, proposed in April 2019 – three years after their first date.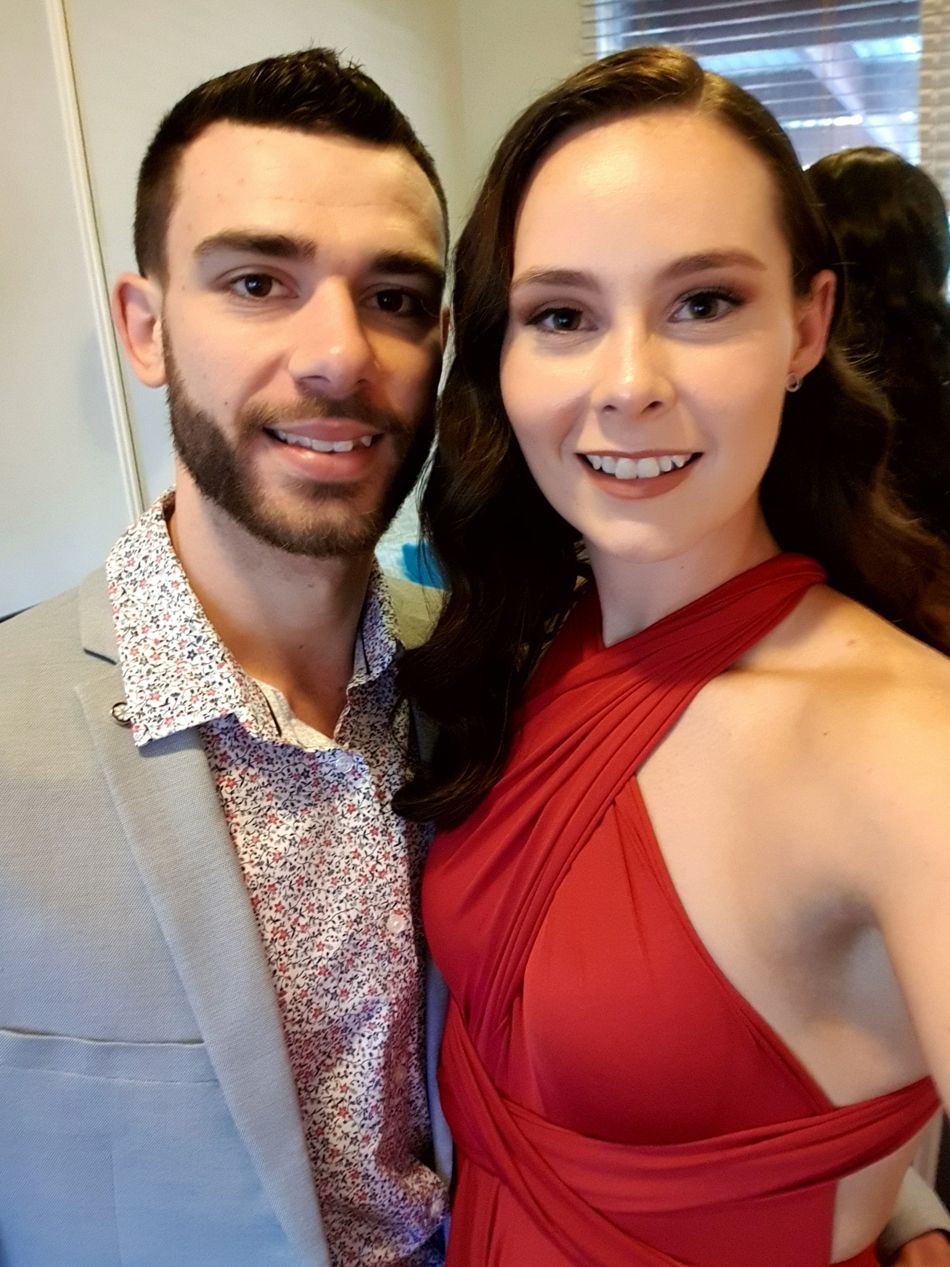 Emily Lawndry and Daniel Dore (Collect/ PA Real Life)
"I had absolutely no idea that Daniel was going to propose," said Emily. "I'm quite an organized and curious person, so for him to get that past me is impressive.
"We went to training on the Sunday, like we do usually, but I had no idea that Daniel had sneaked all my friends and family in and that everyone who we were training with knew he was going to propose!"
"Our shihan, which means karate instructor, told us we needed to do a drill with blindfolds on and I was just like, 'What's going on? I'm not putting a blindfold on!' I completely refused to."
Fearing Emily's stubbornness would ruin his proposal, Daniel and the instructor were forced to improvise.
"My shihan knows me so well, he knew that if he started filming me doing a high kick drill, I'd focus so much I wouldn't notice what was going on around me," Emily laughed.
"I was standing at the bag just after I finished, then turned around and could see that all my family and friends had appeared and were just standing there. My jaw dropped to the floor! I could see my mum Angela, 55, was holding a sign that said, 'I adore you will you marry me?'"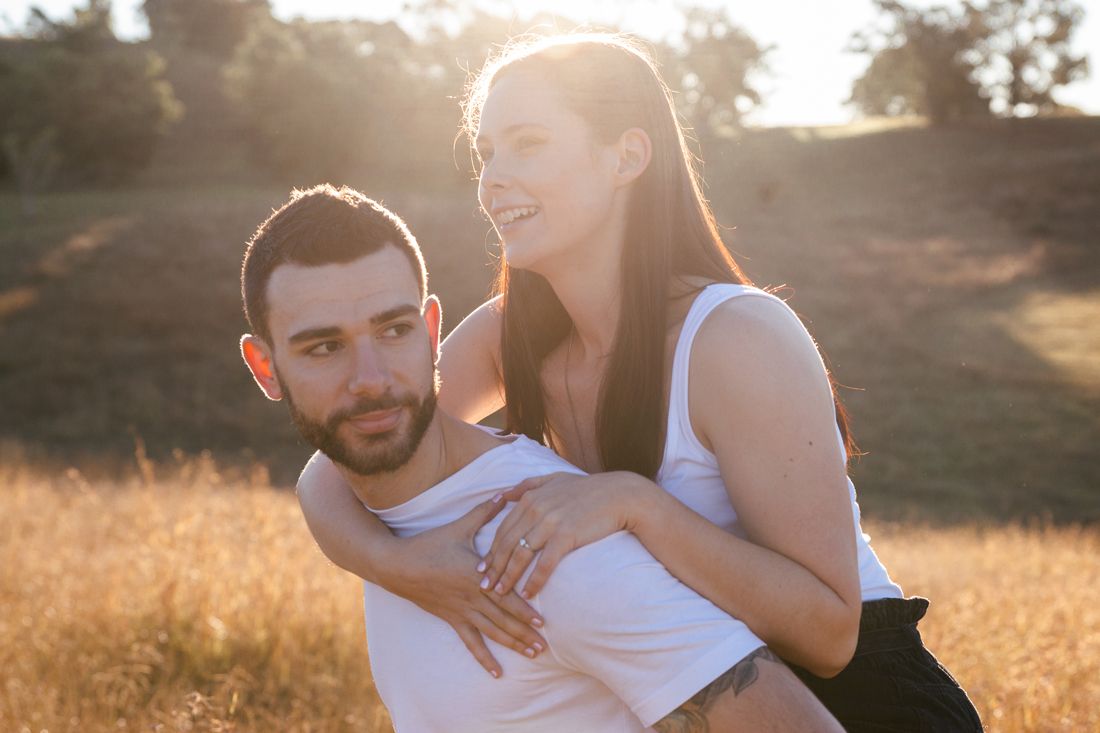 Emily Lawndry and Daniel Dore (Harriette Tait, The Feeling When Photographer/ PA Real Life)
She added:
"Then I looked to my side and there Daniel was, down on one knee. Of course, I said yes!"
"Later, I found out that Daniel had planned the whole thing six months in advance. He'd even drawn a map for my family and friends and told them where to park their cars, so I wouldn't see them. It was brilliant."
They had come a long way since that first fateful session in 2016, when Emily was taken by Daniel's good looks as he joined the tournament training team.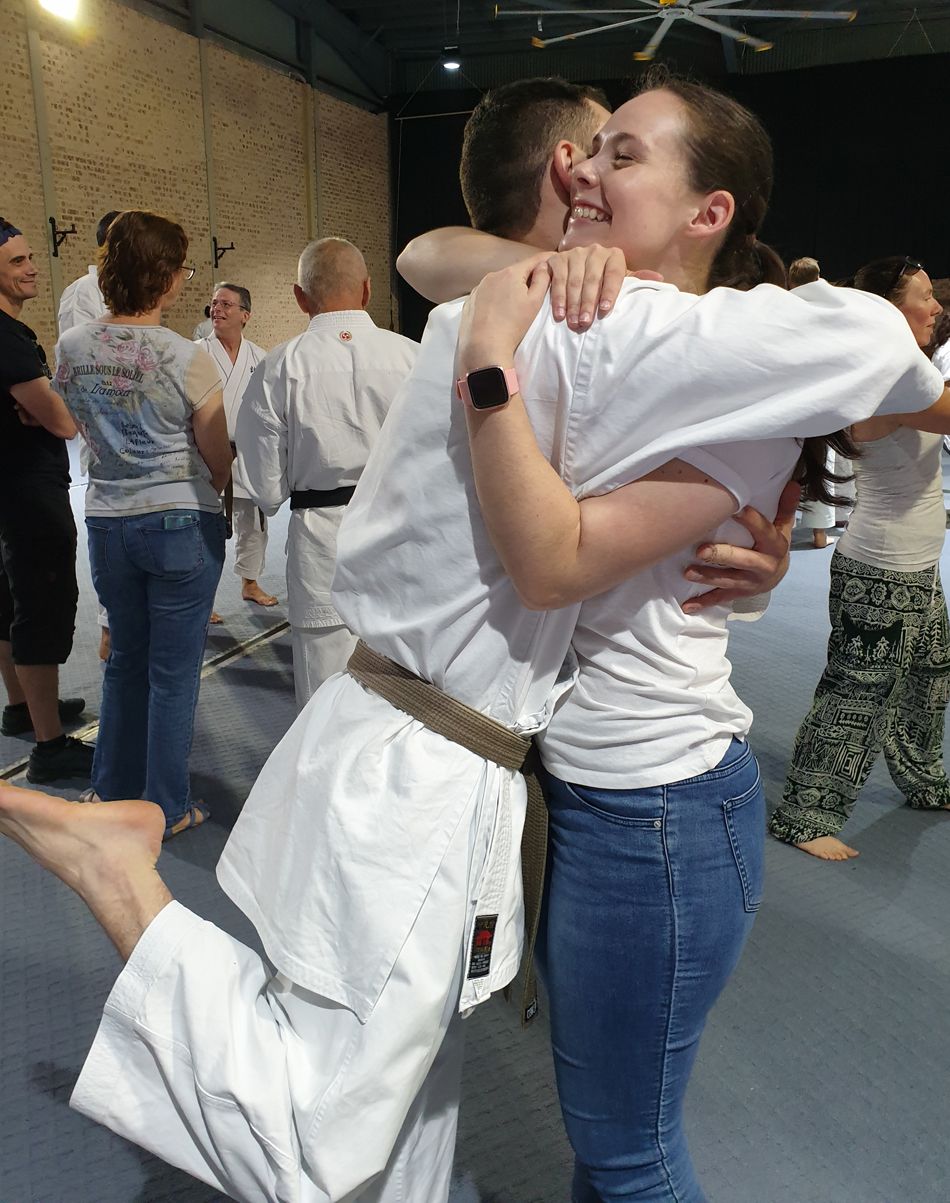 Emily Lawndry and Daniel Dore (Collect/ PA Real Life)
"We were partnered up to work together that day, and Daniel told me his name, but it went in one ear and out the other because I was so nervous," she laughed.
But the training team was huge, so they were seldom partnered again and perfecting their moves left little time to chat.
So, never one to shirk a challenge, Emily tracked him down on social media, even though she could not remember his name.
"I did a bit of Facebook stalking and somehow managed to stumble across Daniel's profile," she said. "We started talking and immediately hit it off."
"I always ask Daniel, 'If I hadn't tracked you down on Facebook, would you have tracked me down?' He always replies, 'No.' It's a good thing I made the effort to!"
One of the reasons she fell for Daniel, according to Emily, is because he was not intimidated by her being almost a black belt when they met, while he was still a blue belt – which is four belts below.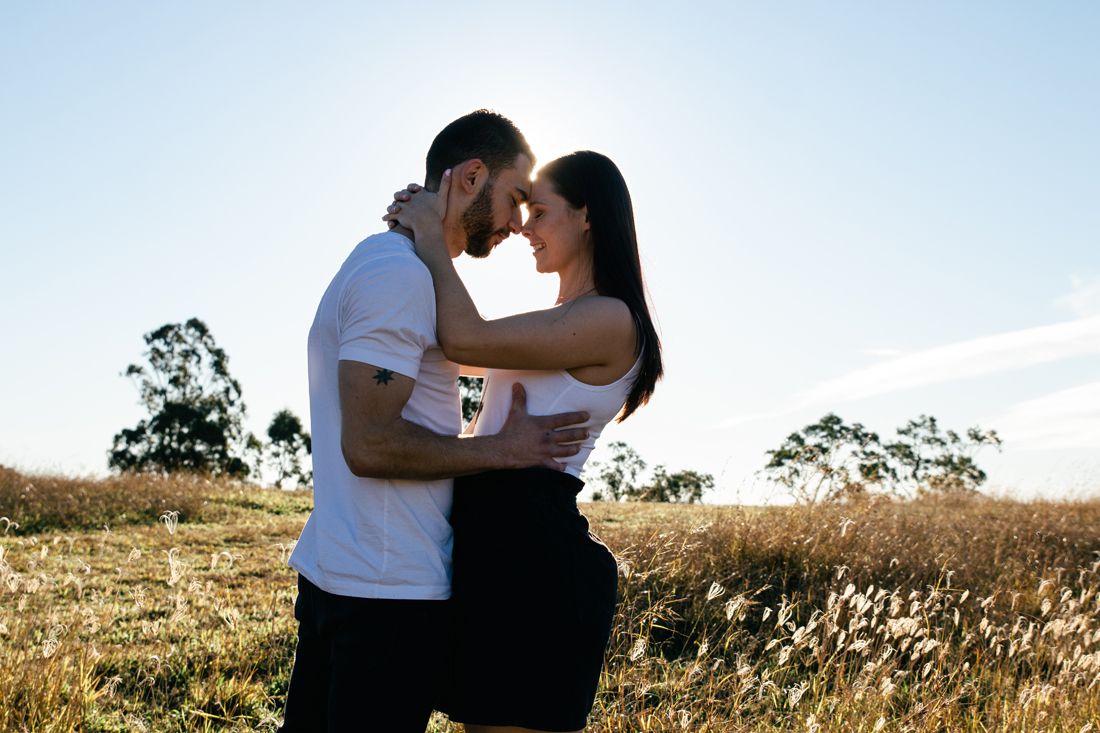 Emily Lawndry and Daniel Dore (Harriette Tait, The Feeling When Photographer/ PA Real Life)
"Daniel was a few grades below me, but he didn't mind and was always respectful about it," she said. "Sometimes, people would try and wind him up about his girlfriend being a higher grade than him. They'd ask, 'How do you feel?'"
"He was always lovely and would say something like, 'She's awesome!' – I loved the fact he was so humble about it."
Despite being fiercely competitive when it comes to martial arts, the couple are each other's biggest supporters.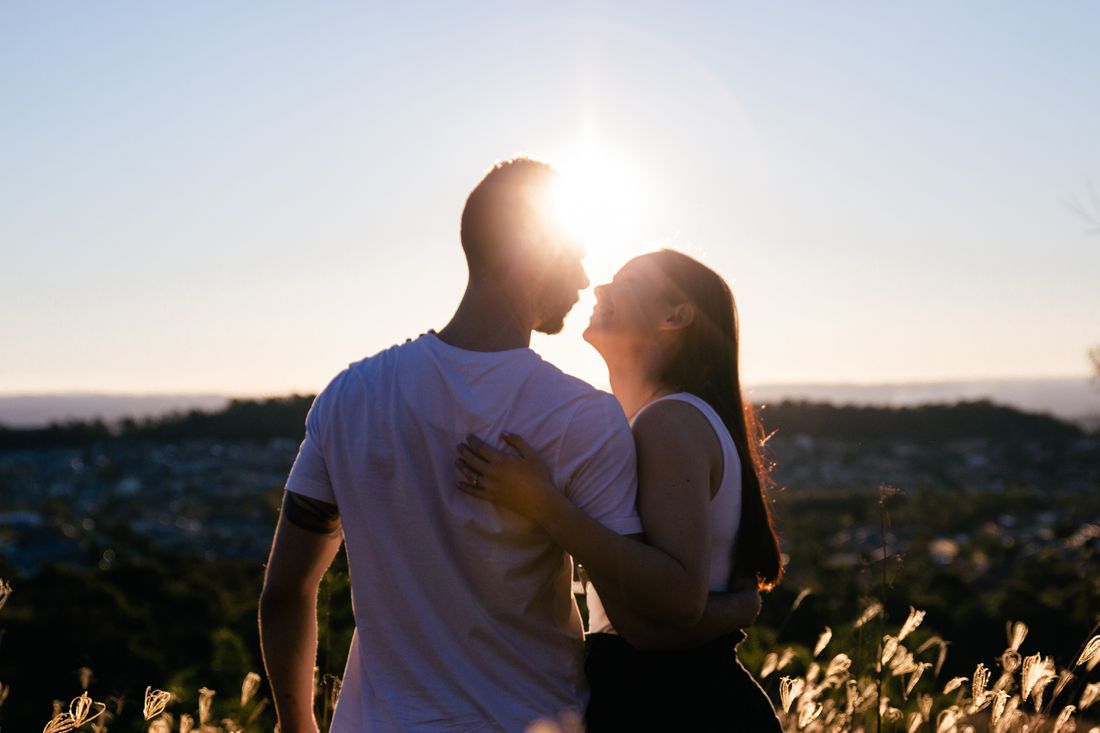 Emily Lawndry and Daniel Dore (Harriette Tait, The Feeling When Photographer/ PA Real Life)
Emily said:
"We're always cheering each other on. If I'm ever anxious or nervous before a competition or a grading, Daniel's there to comfort me and, likewise, I am for him."
But Emily's love for karate was born way before her romance with Daniel as, after rejecting the sport as a child, she became a devoted follower when she was 17 after becoming hooked on the movie The Next Karate Kid.
She was besotted with actress Hilary Swank's character Julie Pierce – a powerful young female, who was taught karate by her father.
"I just fell in love with the film," she said. "And I loved Hilary Swank's character – it really resonated with me."
"Seeing her train in karate made me want to learn how to keep fit in a different way and to learn how to protect myself."
So, just like Julie Pierce in the film, Emily began training with her dad David, 59, – who had been practicing karate for 10 years and, by then, had reached his first black belt.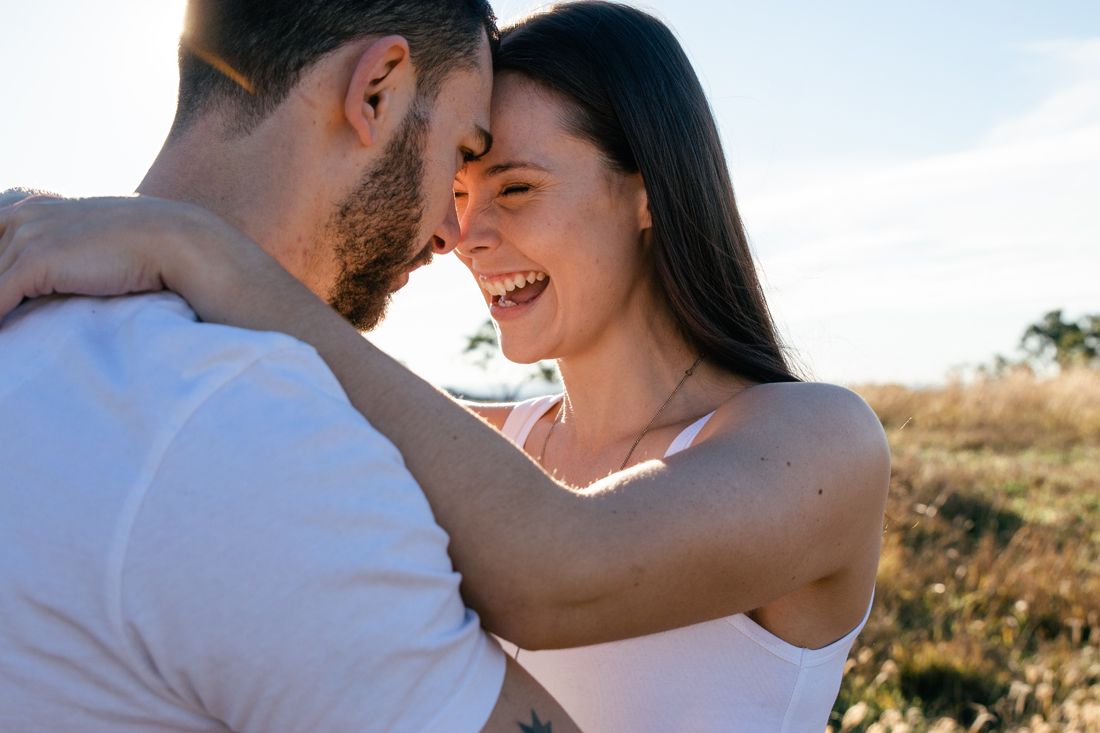 Emily Lawndry and Daniel Dore (Harriette Tait, The Feeling When Photographer/ PA Real Life)
"I loved going along with my dad to our local karate club," she said. "We were the best of training buddies."
Quickly, climbing the ranks, within a year, Emily achieved her blue belt and was training up to three times a week.
"I just loved karate straight away – not just the fitness side of it, but the mindfulness side of it, too," she said. "In training, we push ourselves hard, we practice different combinations and sequences – kind of like a dance, but with martial art moves."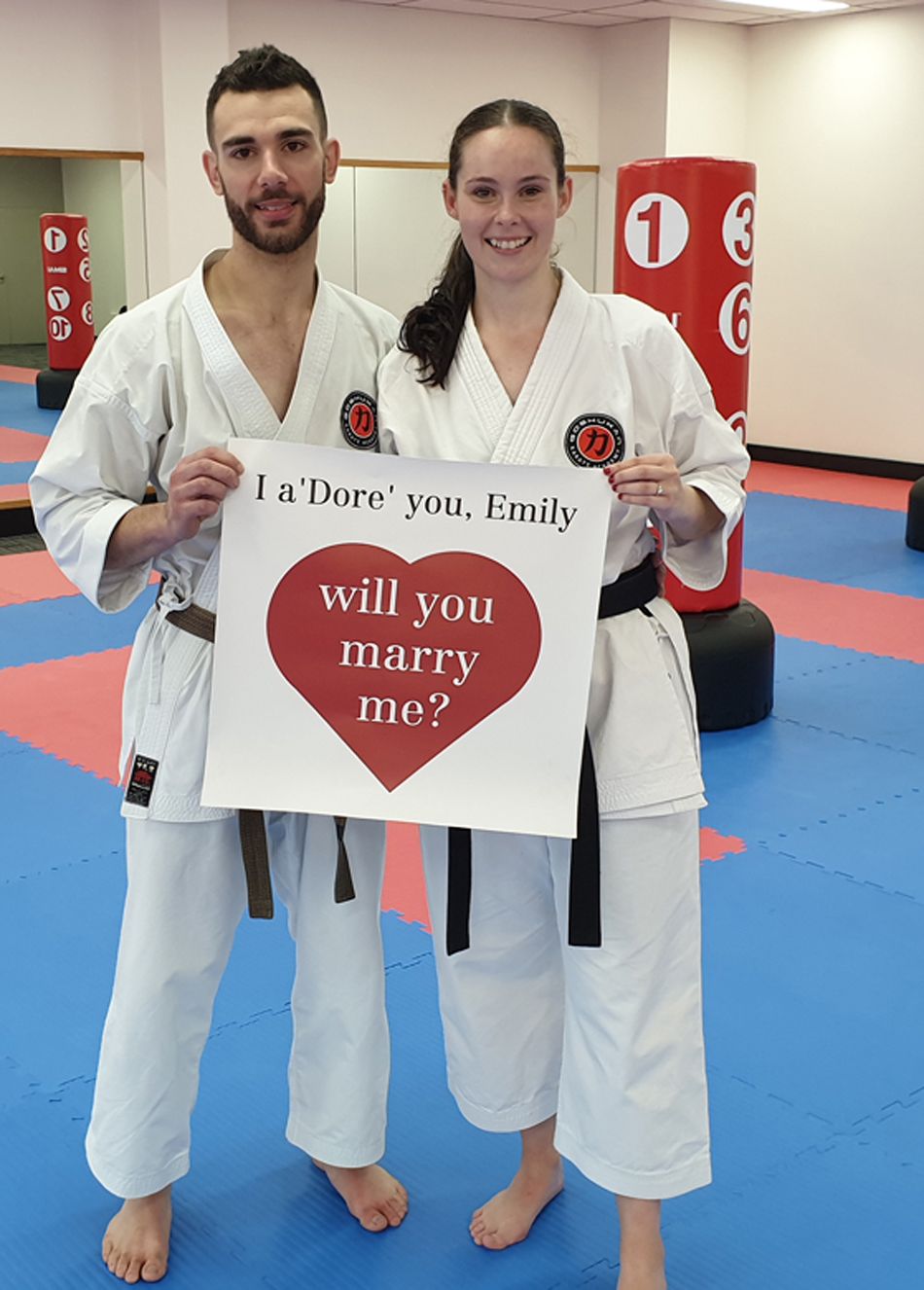 Emily Lawndry and Daniel Dore (Collect/ PA Real Life)
By 2013, Emily was taking part in the World Karate Championships, which were held in Sydney that year.
"I wasn't placed, but it was such an achievement to take part anyway," she said. "I don't want to sound like I'm blowing my own trumpet, but my dad said I had a bit of a natural ability at picking up karate quickly."
And two years later, at the next World Championships, this time held in London, Emily won a silver medal for her individual fight and a gold medal for her part in the Australian female fighting team.
"It was one of the best experiences of my life," she said.
In the years that followed, she went to a karate training camp in Japan once a year for one week and then competed in a tournament.
"The Japanese are at another level all together," she said. "They're born and bred to do karate – it can be quite challenging to keep up."
Then, finally, she made her hobby her job – becoming an instructor in 2018.
She said:
"It's the most rewarding job."
"I teach children from four years old up to adults. I love it and some of the kids feel like they're my own."
While karate training is taking place using the video calling app Zoom for now, because of the pandemic, Emily and Daniel have been practicing their moves together – becoming competitive as a result.
"When we train at home, we try and match each other or to be quicker than the other one," she said. "But it's all light-hearted and there's a bit of banter."
"I think it's very important for couples who share a love of sport to be kind to each other and support each other. Sharing a love of something like karate is a great way to bond."
And karate has certainly earned a special place in Daniel's heart.
He added:
"Karate teaches you self-defense, which enables you to feel confident within yourself which is brilliant."
"The friendships you make through karate are life-long and the shared passion with likeminded people is really great, but what's greatest of all is that I found Emily."