On April 24, singer Ariana Grande sent out a since-deleted tweet calling critics of her music "so lost," "unfulfilled," and "purposeless."
Roslyn Talusan, a 27-year-old writer, criticized Grande's tweet with one of her own, drawing the ire of Grande's fanbase to such an extreme degree that the star herself reached out to Talusan on Twitter.
---
In response to Grande's tweet, Talusan wrote back:
you fucking realize bloggers/writers are creators, right? just because we don't sing or dance shitty choreo or cu… https://t.co/cG39XCADUA

— roslyn talusan (@roslyn talusan) 1556132375.0
Talusan didn't hold back, digging into Grande in series of scathing tweets:
"ariana grande stop running your f***ing mouth like you're better than non-celebrities challenge"
"you would understand the necessity for culture critics if you had some you f***ing buzzard"
"for someone so desperately trying to emulate beyoncé, ariana actually has no idea how to "lift people up." all this platform and what does she use it for? to put down culture critics because they refuse to lick her a**."
"big words coming from a spoiled white girl from boca who pays people to write her music and design her costumes. b****a**"
Grande's most fervent fanbase, known as "Arianators," immediately swarmed Talusan on social media.
Before long, Grande's fans began hurling racist rhetoric and threats of violence at Talusan in an effort to bully her into submission.
you're all ugly https://t.co/hVfebaDiJB

— roslyn talusan (@roslyn talusan) 1556138698.0
https://t.co/KXPXaFTM14

— roslyn talusan (@roslyn talusan) 1556138958.0
https://t.co/hC21gak3vI

— roslyn talusan (@roslyn talusan) 1556150500.0
https://t.co/7YrXI4go4R

— roslyn talusan (@roslyn talusan) 1556173623.0
what is wrong with stans????? https://t.co/hHjI0eM4dg

— roslyn talusan (@roslyn talusan) 1556151972.0
Things became even worse for Talusan when fans discovered a March essay she wrote for Playboytitled "On Ariana Grande and the Politics of Ambiguity."
The piece broke down the ways in which Grande, a white woman, has utilized cultural appropriation to craft a profitable but disingenuous persona.

The craziest thing happening to me right now is the number of people telling me Ariana Grande is not white.

— Kimberly Nicole Foster (@Kimberly Nicole Foster) 1554675483.0
Grande's fans targeted Talusan in the most personal, terrifying ways.
When it was discovered she is a rape survivor, her own sexual assault was used against her.

so y'all agree you're abusive pieces of shit. got it https://t.co/nF9msxIOsQ

— roslyn talusan (@roslyn talusan) 1556156065.0
Another Grande fan doxed Talusan, releasing her home address in a public tweet.
@arianagrande stans still sending racist death threats and violence. https://t.co/qoVcKJlmCF

— roslyn talusan (@roslyn talusan) 1556227178.0
Talusan says she was incredibly surprised when Grande herself DM'd:

"I seriously thought I was hallucinating."

The conversation began pleasantly, with both sides apologizing for their own intense words online.
They spoke openly about their paths towards mental health, with Talusan listening as Grande shared about her PTSD:
"Grande kept DM'ing me to reassure me that she writes her songs and then about her PTSD. I made sure to validate her feelings, told her healing isn't linear, and recommended a book."
Things then took a "completely unsatisfactory" turn for Talusan, however, when she sent Grande screenshots of her fans behavior and asked that she "get them to stop."
Grande refused Talusan's request, victim-shaming and gaslighting her:
"they're just reacting with similar energy to what they've read honestly. Your tweets were hostile. they're upset and they're passionate"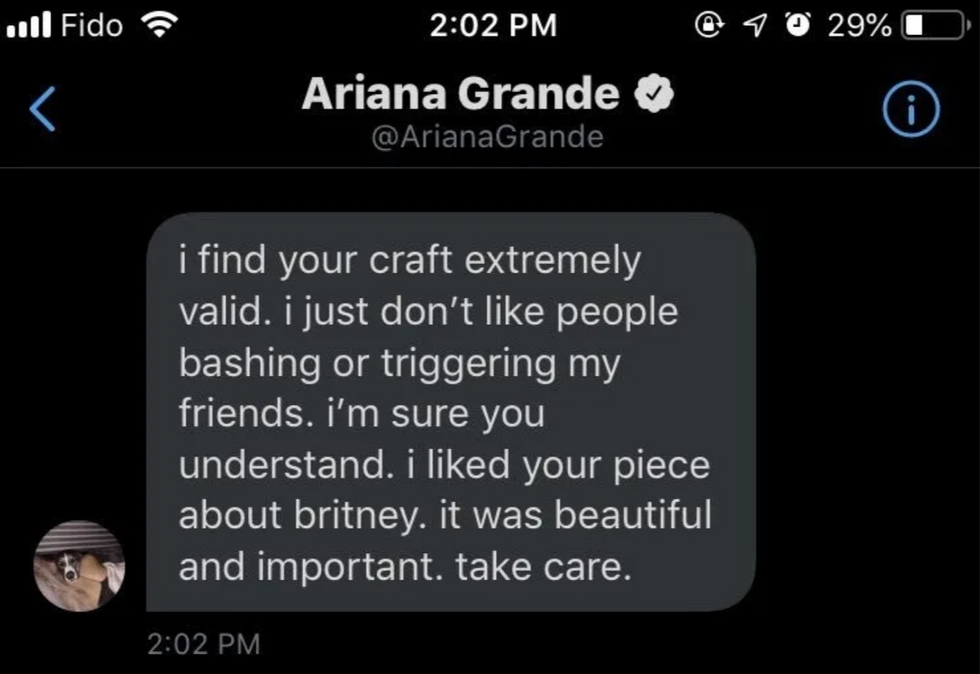 @rozzybox/Twitter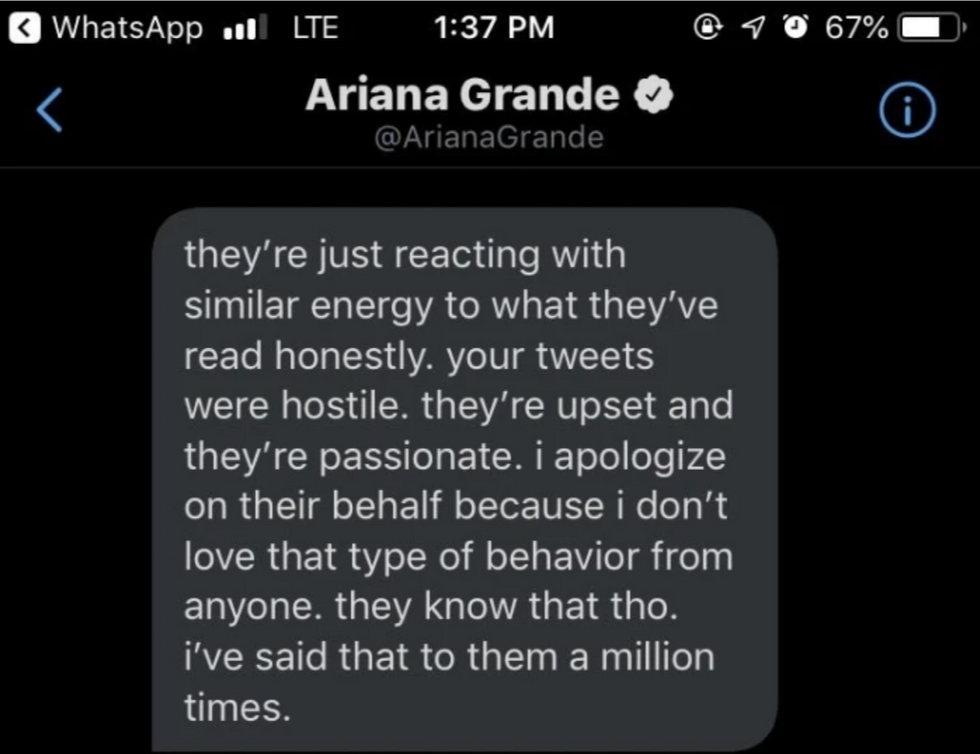 @rozzybox/Twitter
Talusan knows there are limits to what Grande is capable of, but feels she's abdicated her role as leader of the mob of fans who now systematically harass anyone who speaks negatively of her:

"I'm aware that Ariana Grande can't control all of her fans and followers. However, pretending like she has 0 influence over her stans is disingenuous and irresponsible."
@VICE When are we going to have a conversation about "stan culture" and how toxic the people are? When.

— Eve Hammond-Storey (@Eve Hammond-Storey) 1556561440.0
Talusan also wrote about the many celebrities, Grande included, who have lashed out against media criticisms recently, saying:

"What some celebrities seem to not realize is that no reasonable person would ever throw big, public tantrums when faced with constructive criticism. Working-class people get a performance review at their jobs on a yearly basis, and it's not a big deal."

"Imagine if we all went to the media whenever our boss passed us over for a promotion or a raise, or we didn't get an A in a class. No one deserves abuse, but constructive feedback is not abuse."
"Talusan's initial response to Grande's words is sharp but definitely not worthy of this reaction from the fans—esp… https://t.co/TP48oIqKpg

— roslyn talusan (@roslyn talusan) 1556466786.0
She also said that if Grande doesn't "denounce the racist, misogynist, transphobic, and otherwise violent harassment her stans have waged in her name," then she is "implicitly condoning it:"

"As more powerful and public figures react to honest and genuine critique by demanding silence and threatening violence, it seems as if celebrities consider themselves above human."