Freshman Rep. Alexandrio Ocasio-Cortez sparred with Fox New host Laura Ingraham Thursday evening after Ingraham corrected the grammar in one of Ocasio-Cortez's tweet.
---
It all started when Ocasio-Cortez responded to a tweet from Columbia University sharing a letter from the Knight Institute urging her not to block Twitter users based on their differing viewpoints.
The institute states that it's "unconstitutional" since her @AOC handle is considered a "public forum" according to the First Amendment, an argument President Trump has also faced in recent months.
However the President falls under slightly different guidelines due to his larger constituency and the Presidential Records Act.
Ocasio-Cortez responded by saying that she is within her rights to block users who harass her.
She also noted that of her 5.2 million followers, she's only blocked "less than 20 accounts," zero of which belonged to her constituents.
She added that nobody has "the right to force others to endure their harassment and abuse."
That's when Ingraham stepped in to respond with the pettiest of remarks, correcting Ocasio-Cortez's use of "less" to "fewer."
Ocasio-Cortez responded by using Ingraham as the perfect example of someone who she disagrees with and has yet to block on Twitter, calling Ingraham a "neo-Nazi fan favorite."

Ingraham was highly criticized back in May after she called out social media for censoring some "prominent voices" that just so happened to hold White supremacist viewpoints.
She also faced backlash for mocking Parkland shooting survivor and activist David Hogg after he was rejected from four California colleges back in March of 2018. Hogg had the last laugh, however, when he was admitted to Harvard later that year.
Both incidents resulted in calls for boycotts of Ingraham's show, as well as the loss of several advertisers. Fox News has continued to stand by Ingraham, however.
While there was a fair amount of abuse aimed at Ocasio-Cortez following her response to Ingraham, many applauded her for telling it like it is.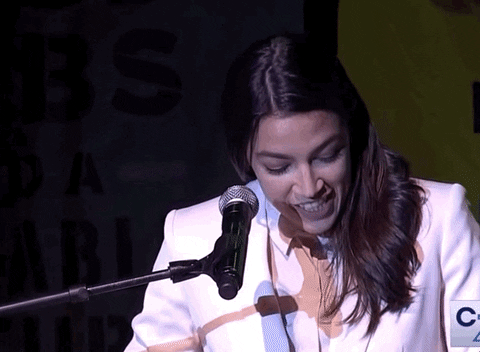 Giphy
********
Listen to the first two episodes of George Takei's podcast, 'Oh Myyy Pod!', where we explore the racially charged videos that have taken the internet by storm.
Be sure to subscribe here and never miss an episode.