The Netflix special Mighty Morphin Power Rangers: Once & Always will premiere worldwide on April 19, but our beloved original Pink Ranger will not be a part of the 30th anniversary reunion.

Amy Jo Johnson—who played Kimberly Hart, the first Pink Power Ranger in the series when it debuted back in 1993—took to Twitter to set the record straight on why she wouldn't be appearing in the special.
She tweeted:
"For the record I never said no..."
"I just didn't say yes to what was offered."
"But other fun stuff is in store!"
"Looking forward to watching my friends kick a**!"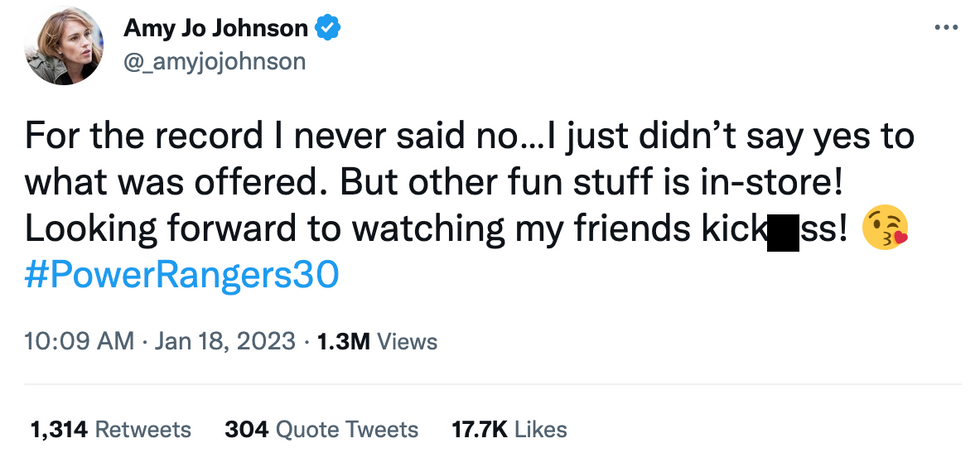 @_amyjojohnson/Twitter
Several fans responded to Johnson's tweet, thanking her for offering the clarification and also respecting her decision.
Many also questioned the point of a reunion without their Kimberly (who, for many, was also their first crush).

While Johnson won't be appearing in the special, many of her Power Rangers costars will be in the scripted special, and together they will face their greatest adventure.
Johnson's fellow rangers Walter Emanuel Jones, who played the original Black Ranger, Zack, and David Yost, the original Blue Power Ranger, Billy, will be a part of the reunion.
Starring alongside them will be season two rangers Steve Cardenas, the second Red Ranger, Rocky; Karan Ashley, second Yellow Ranger, Aisha; and Johnny Yong Bosch, who played the second Black Ranger, Adam.
But have no fear, there will be some Pink Ranger representation—Catherine Sutherland, the second Pink Ranger, Kat, from season 3, will also be appearing in the special out this Spring.
You can watch a behind-the-scenes look at the making of the 30th anniversary special below:
Mighty Morphin Power Rangers: Once & Always 30th Anniversary Special – Rangers Reunitedyoutu.be