New York Times writer Amanda Hess shared a bizarre photo of women in the middle of showering that appears to be an advertisement for shower caps, and people didn't know how to respond. But they still found a way.
---
In the ad, five semi-nude women stand next to each other, as if they're in a lineup, with their arms crossed. Each model is adorned with fashionable shower caps. Surely it can't be an advertisement for shower caps. Oh, but it is. And don't call them Shirley, unless one of them is a Shirley.
Hess asked for validation in her tweet, writing, "soooooooooo a shower cap?"
soooooooooo a shower cap? https://t.co/nEdiDPtA2R

— Amanda Hess (@Amanda Hess) 1513397640.0
The company touting the shower room headpiece is simply called, as if imparting a secret, "Shhhowercap," and it seems to cater to women who don't wash their hair on a daily basis. The website asks potential consumers, "Do you wash your hair everyday? Cool. Neither do we."
According to Shhhowercap's 2015 press release, founder Jacquelyn De Jesu referred to the line of products with the headline, "The Outdated Shower Cap (Finally) Gets a Much Needed Re-invention."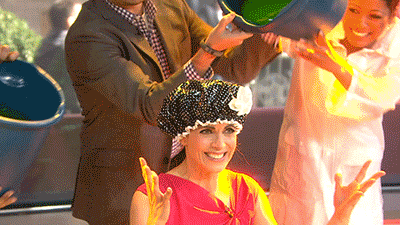 The website explains how the art director from Brooklyn, New York, came up with the idea for the shower caps.
Being the daughter of a hairdresser, De Jesu grew up knowing that she shouldn't shampoo every day. But, like most women her age, she didn't even THINK about wearing a shower cap. They were ugly, noisy, uncomfortable, smelly, and on top of all that -- didn't even work that well! However, both her mother and hairdresser told her she needed to start using one. This is a woman whose job was to prioritize beauty in things and chose even the most mundane of products based on their packaging.
Shhhowercap dares to re-invent the shower cap "that we all know.......and hate." It all started with a Google search for "cute shower cap," and when De Jesu wasn't pleased with the populating results, she decided to take matters into her own hands by producing a line of shower caps that not only looked cool but served a better function.
SHHHOWERCAP's patent pending design has a beautiful, turban inspired, modern silhouette. It is made from a premium nanotechnology (hydrophobic) fabric. This fabric is antibacterial, waterproof and water repellant, noise reducing, and machine washable in a cold cycle.
Twitter was skeptical about the product that dared to offer something beyond its practical purpose.
@amandahess This is a joke, right? How could this be real!?

— Lisa Tozzi (@Lisa Tozzi) 1513397925.0
@EmilyGould @amandahess @lisatozzi Wait. Gross person here, genuinely confused. I feel like the barrier for hairwas… https://t.co/Ph7VSKQQjE

— Katie Notopoulos (@Katie Notopoulos) 1513400159.0
Facetious much?
@amandahess It Will Change Your Life. 😳

— York Whitaker👩🏾‍💻 (@York Whitaker👩🏾‍💻) 1513397731.0
However, the reviews seem to be positive. One consumer named Amy, wrote, "This is the best thing I ever did for my hair and morning routine. It is amazing, I've had mine for 18 months, I use it 5 times a week and I don't even need dry shampoo anymore. I've given a few as gifts and several ladies close to me have one as well. They all swear by these now."
Another satisfied customer, Abigail, said, "Incredible product! So grateful that someone finally made a shower cap worth getting excited about. As an avid shampoo-abstainer, I am consistently grateful for the beautiful looks, soft feel, and stellar performance of this fabulous cap."
Some people just aren't buying it.
@amandahess @Nicole_Cliffe Looks like bullshhhit to me

— Elle W♀️ (@Elle W♀️) 1513403433.0
Why not just snatch from a local pharmacy?
@amandahess Honestly I don't know why but these are for whatever reason better than the shower caps I buy at cvs? I… https://t.co/h5jbHAQW8i

— Sarah Shanfield (@Sarah Shanfield) 1513412340.0
That price, though!
@amandahess But a $40 shower cap!

— Andrea (@Andrea) 1513443770.0
If it's such a fantastic fashion statement, why keep it a secret?
@amandahess Why the shhhh

— ClassicMo🍕 (@ClassicMo🍕) 1513402824.0
Please SHARE this with your friends and family.
H/T - shhhowercap, Twitter