Zac Efron
instantly gained admirers after bursting onto the Hollywood scene in the early 2000s as Troy Bolton in Disney's
High School Musical
film trilogy.
But long gone is the teen heartthrob persona fans associated him with as he went on to pursue other cinematic endeavors in movies like Dirty Grandpa (2016), The Greatest Showman (2017) and in Netflix's biographical crime drama as serial killer Ted Bundy in Extremely Wicked, Shockingly Evil and Vile (2019).
While his chiseled physique and sapphire blue eyes remained some of his more striking features, social media users did a double take as a recent photo of him looking beefed up on the set of his latest film made the rounds on the internet.

The 35-year-old is currently filming for his new movie, The Iron Claw, in which he plays one-time world champion wrestler, Kevin Von Erich of the Von Erich professional wrestling family from Texas.

Efron's impressive transformation for the role made him nearly unrecognizable.

Would you still recognize him?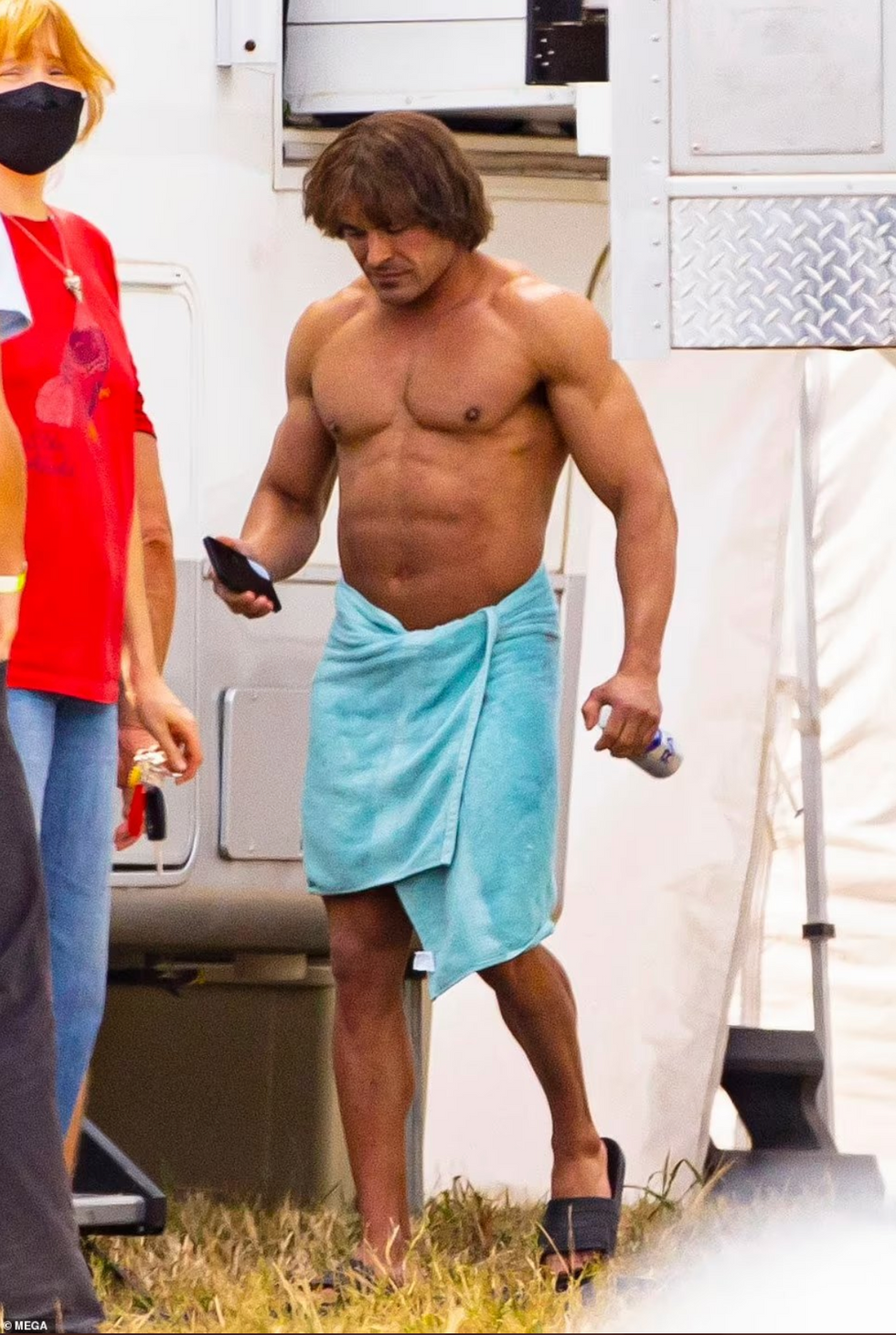 @HeelWillMahoney/Twitter
The photo of Efron sporting a bowl cut, shirtless, and wrapped in a towel while checking his phone, was taken from the Louisiana set.

And it had Twitter buzzing.
Those who remembered what Kevin Von Erich looked like compared notes.
The film is poised for drama as the real-life Von Erich family was mired in successive tragedies which led to a widespread myth that the family was cursed.
A wrestler himself, the family patriarch, Fritz Von Erich–whose real name was Jack Adkisson and adopted the stage surname to portray himself as a villainous German Nazi–died of cancer at the age of 68 in 1997.
Five of his six sons predeceased him.
His firstborn, Jack Jr. died from drowning in a puddle after an accidental electric shock at age six; David Von Erich died from enteritis at 25; and Mike, Chris, and Kerry Von Erich all committed suicide at 23, 21, and 33 years of age, respectively.
Effron plays the last surviving Von Erich son, Kevin, who is 65 today.
Some people thought Efron would've been better suited to portray Kerry Von Erich, who is being played by Jeremy Allen White.

White currently stars in the Hulu drama series, The Bear.

After the rigorous training he endured for 2017's Baywatch, Efron said he wanted to try a different apporach to training for his newest film.

He told Men's Health:

"That Baywatch look, I don't know if that's really attainable"

"There's just too little water in the skin. Like, it's fake; it looks CGI'd. And that required Lasix, powerful diuretics, to achieve."

"So I don't need to do that. I much prefer to have an extra, you know, 2 to 3 percent body fat."
He added:

"At one point, that was a dream of mine — what it would be like to not have to be in shape all the time? What if I just say, 'F--- it' and let myself go?"

"So I tried it, and I was successful. And for all the reasons I thought it would be incredible, I was just miserable. My body would not feel healthy; I just didn't feel alive. I felt bogged down and slow."
The Iron Claw is directed by Canadian film director, screenwriter and producer Sean Durkin.

There is currently no official release date.