A make-up artist who spent $17,295 on botched plastic surgery, saved the end of her nose after it froze and turned black – using blood-sucking LEECHES.
Mom-of-two Shari Manchon treated herself to a new nose for her 40th birthday in November 2017, only to develop 'polly beak,' a post-operative deformity, when the tip slowly collapses away from the cartilage, so it resembles a parrot's beak.
Panicking when she saw her nose in a changing room mirror, Shari, of Palm Beach, Florida, USA, turned to leech therapy as a last resort, saying:
"I was trying on a dress and looking in the mirror when, suddenly, I realized that the end of my nose had changed color completely."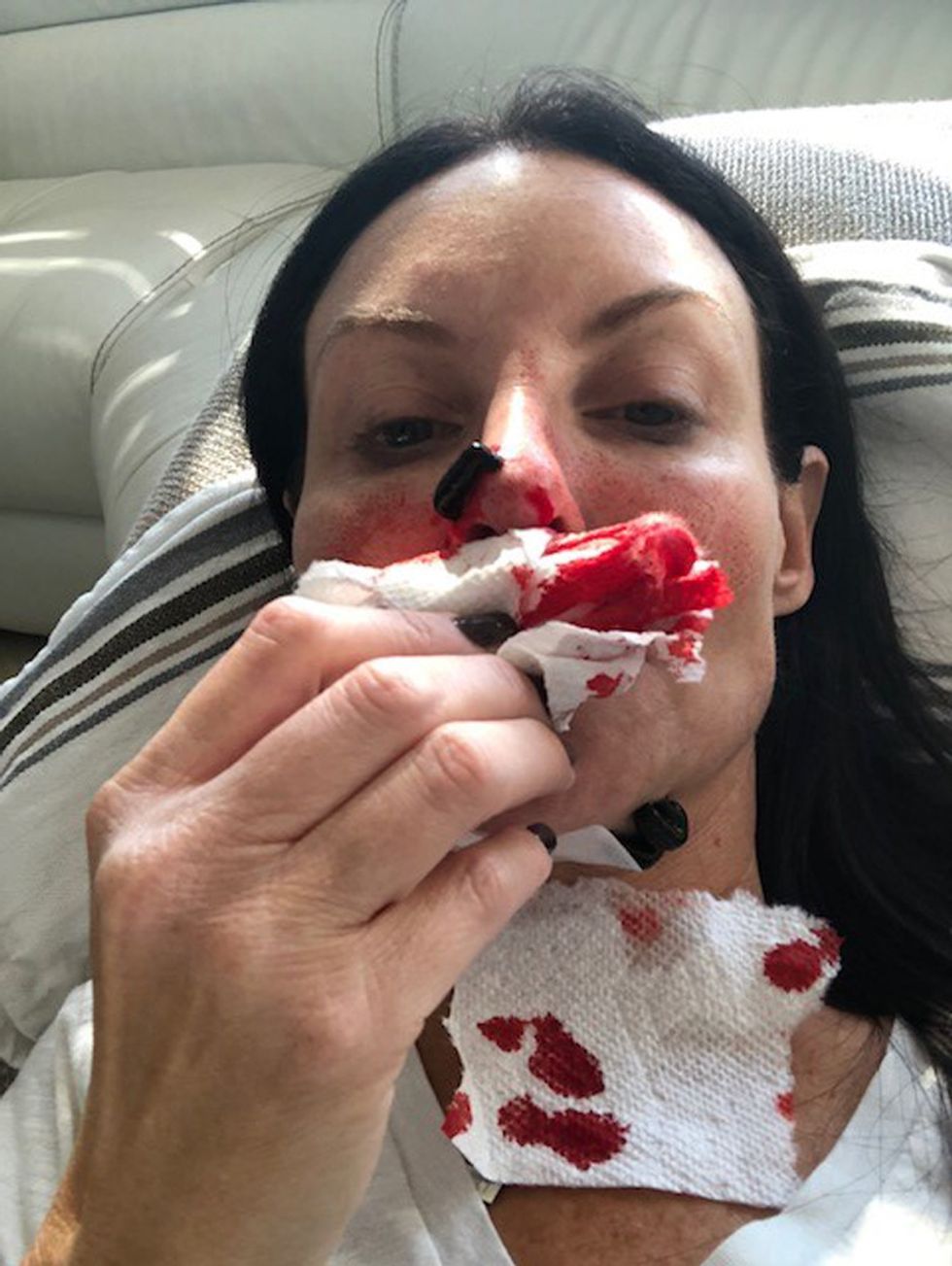 Shari during a leeching session (Collect/PA Real Life)
She continued:
"It went a very deep purple, almost black, which I later discovered was due to a lack of blood circulating"
---
Shari's troubles began when she treated herself to a new nose for her 40th birthday.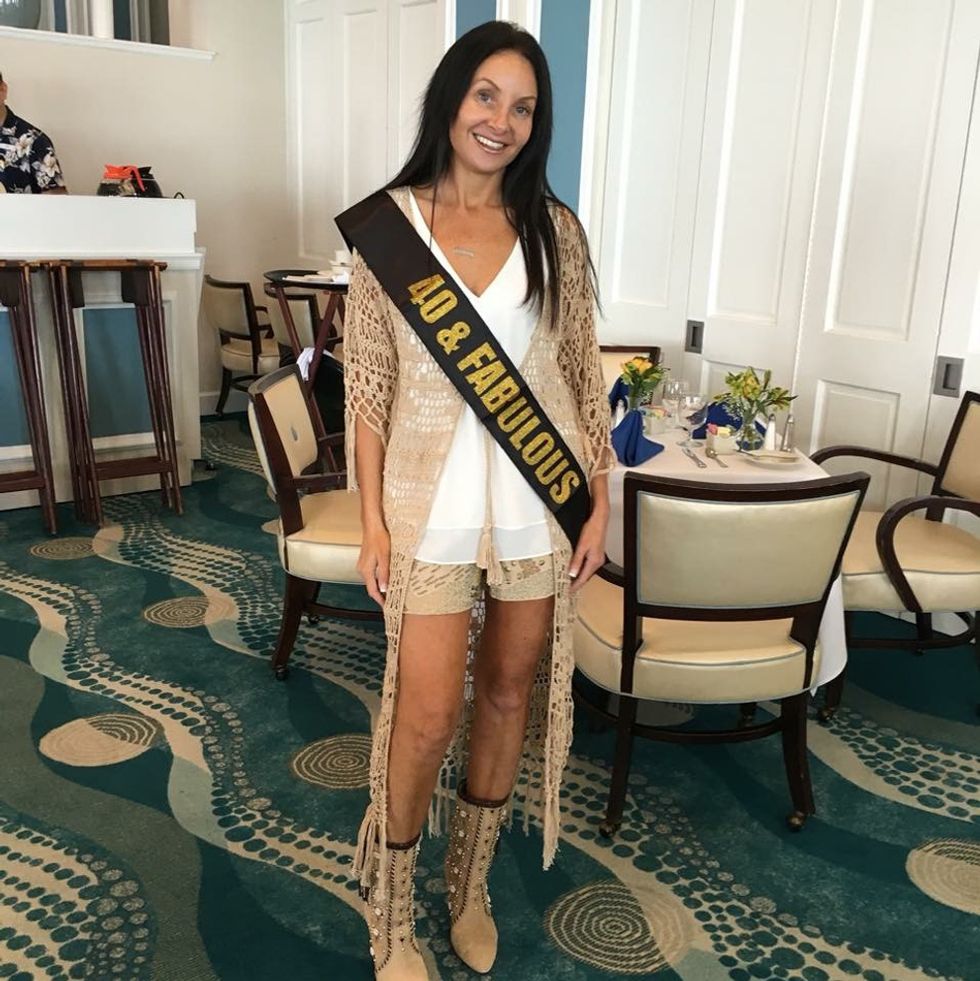 She treated herself to a new nose for her 40th birthday (Collect/PA Real Life)
She said:
"I didn't have the most attractive nose in the world and had wanted to get it done for a while."
But after being horrified by the results of her operation, which she claimed made her nose look "deformed," she then fell ill with a sinus infection, saying she was shocked by "the amount of gunk" coming out of her nose for several weeks.
"It was absolutely terrible," she recalled. "And I was too embarrassed by the whole ordeal to tell friends the real reason why I was ill."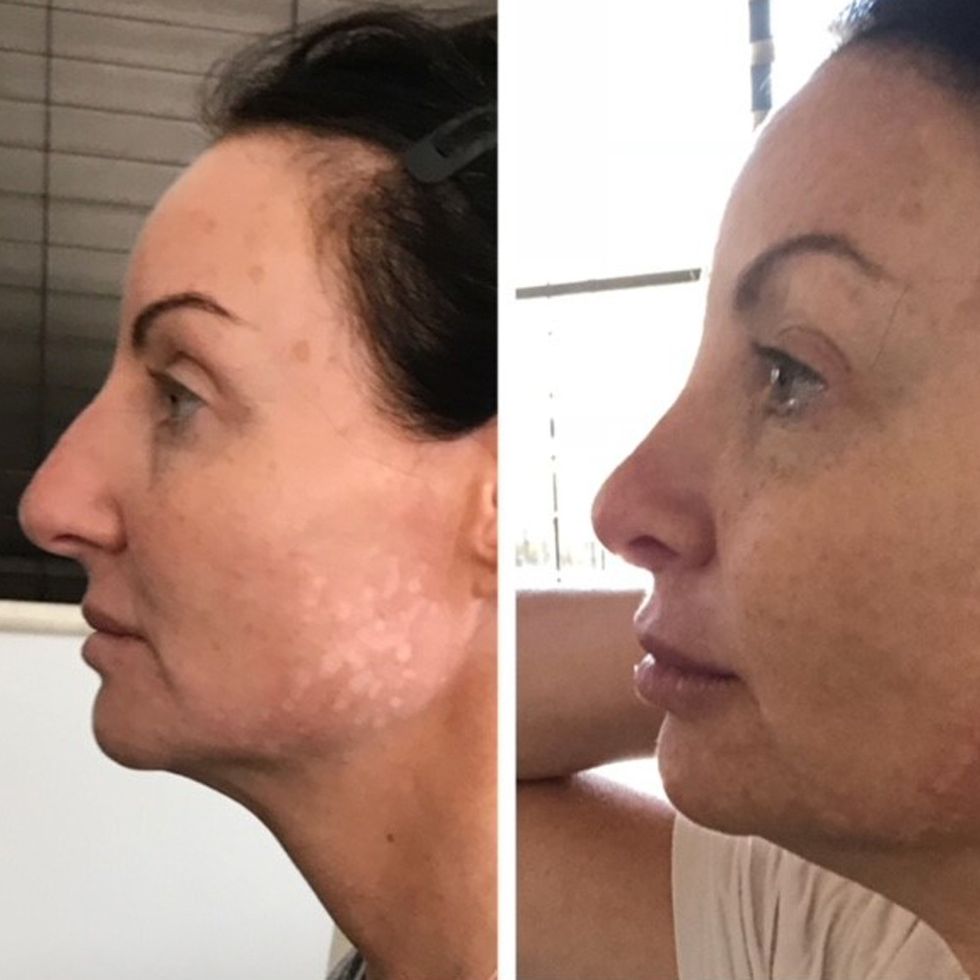 Shari's nose before and after her nose job (Collect/PA Real Life)
One month after her op, desperate to avoid her nose crumbling away in what she called a "Michael Jackson scenario," Shari, whose husband Ken, 50, is a doctor, was reluctant to return to the same surgeon.
Instead, she sought advice from one of the USA's most renowned plastic surgeons, Dr Donald Yoo, who works with Dr. Paul Nassif, star of the hit reality TV show Botched, traveling over 2,500 miles to his boutique clinic in Beverley Hills, California, expecting to shell out more money on additional surgery.
To her amazement, he suggested her best option would be to use leeches – more commonly associated with Medieval medicine – to kick-start the blood into circulating again.
Shari, who has daughters aged five and six, who she does not wish to name, said:
"When he first brought it up, I thought, 'There is no way I'm letting a blood-sucking leech anywhere near my body."
But Shari, who runs her own make-up reviewing business and frequently posts videos of herself trying new products online, was eventually swayed.
"My husband, who is a general practitioner, said that I might as well try it," she recalled.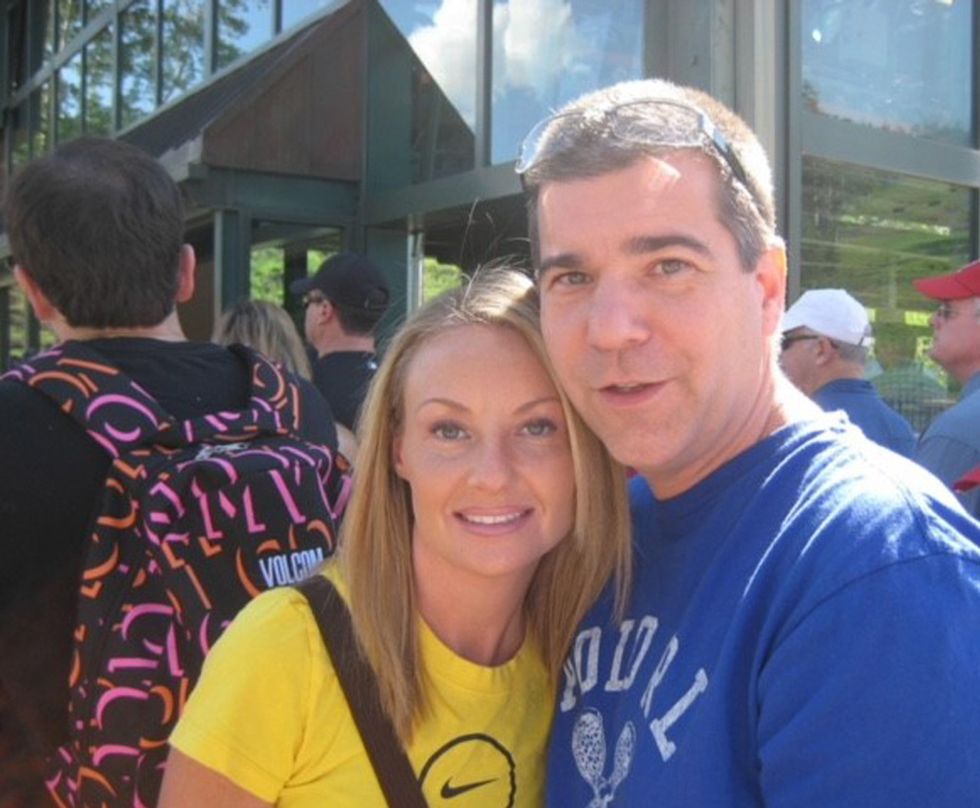 With GP husband Ken before her nose job (Collect/PA Real Life)
Shari continued:
"I also have a skin problem, which gives me little spots on my face. I've tried literally everything, including cosmetic tattooing, to fix it – so I thought, I might as well see if it helped that, too"
"Dr. Yoo said it was the only way they could do anything, because the nose was so damaged that any more invasive operations would only make it worse. 'Trust me,' he said – and I did."
Sent to Irina Brodsky hirudotherapist, a leech specialist, in Los Angeles, California, she had half an hour of therapy, costing $132 during which she lay, covered in her own blood, with several leeches writhing on her face.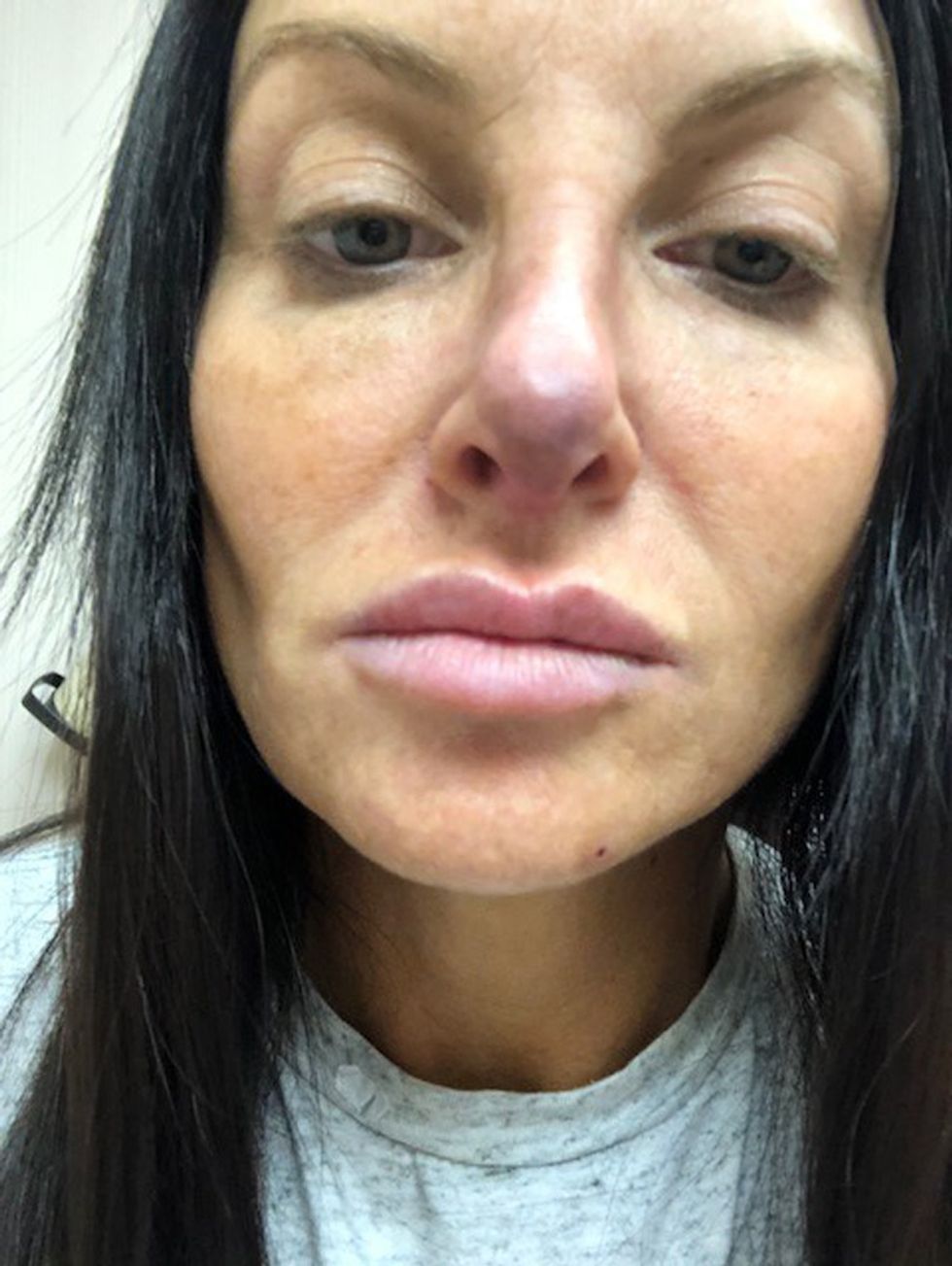 Shari's nose turned purple and felt ice cold (Collect/PA Real Life)
"I was nervous, but I thought to myself, 'You've got yourself into this situation girl, you're going to have to get yourself out of it somehow!'" she said.
"Irina was very nice and made me feel relaxed. I felt a tiny prick as the leeches attached themselves to my skin, but then it was fine."
"They start out small and then they grow and grow, as they start to effectively get drunk on your bad blood."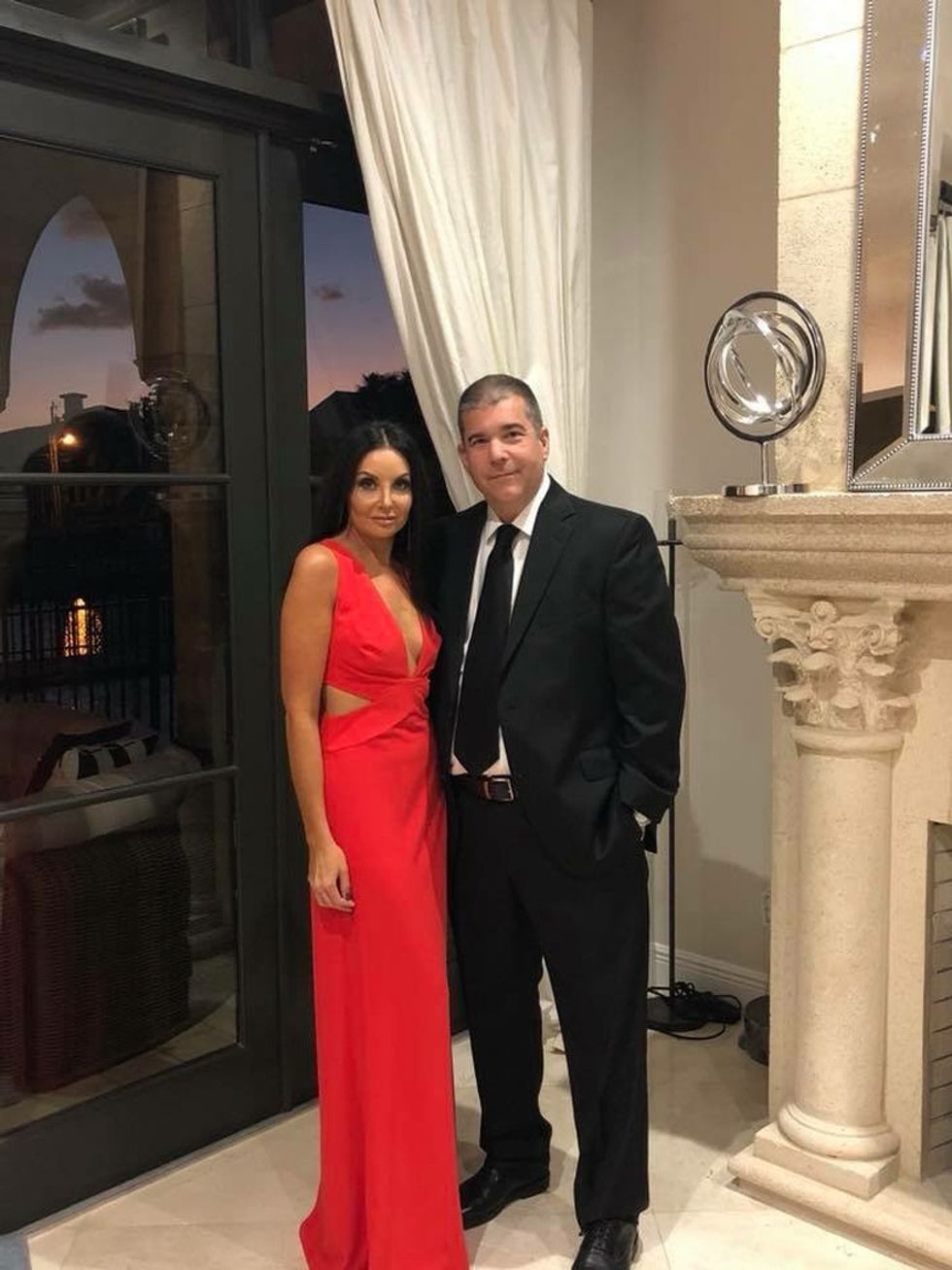 With husband Ken (Collect/PA Real Life)
She continued:
"Within a minute, I was completely calm. They seemed to have this property which made me feel very relaxed, very rested – it's amazing."
After three days, Shari's nose had returned to normal.
No longer discolored and cold, her blood circulation had been restored and her sinus infection had cleared.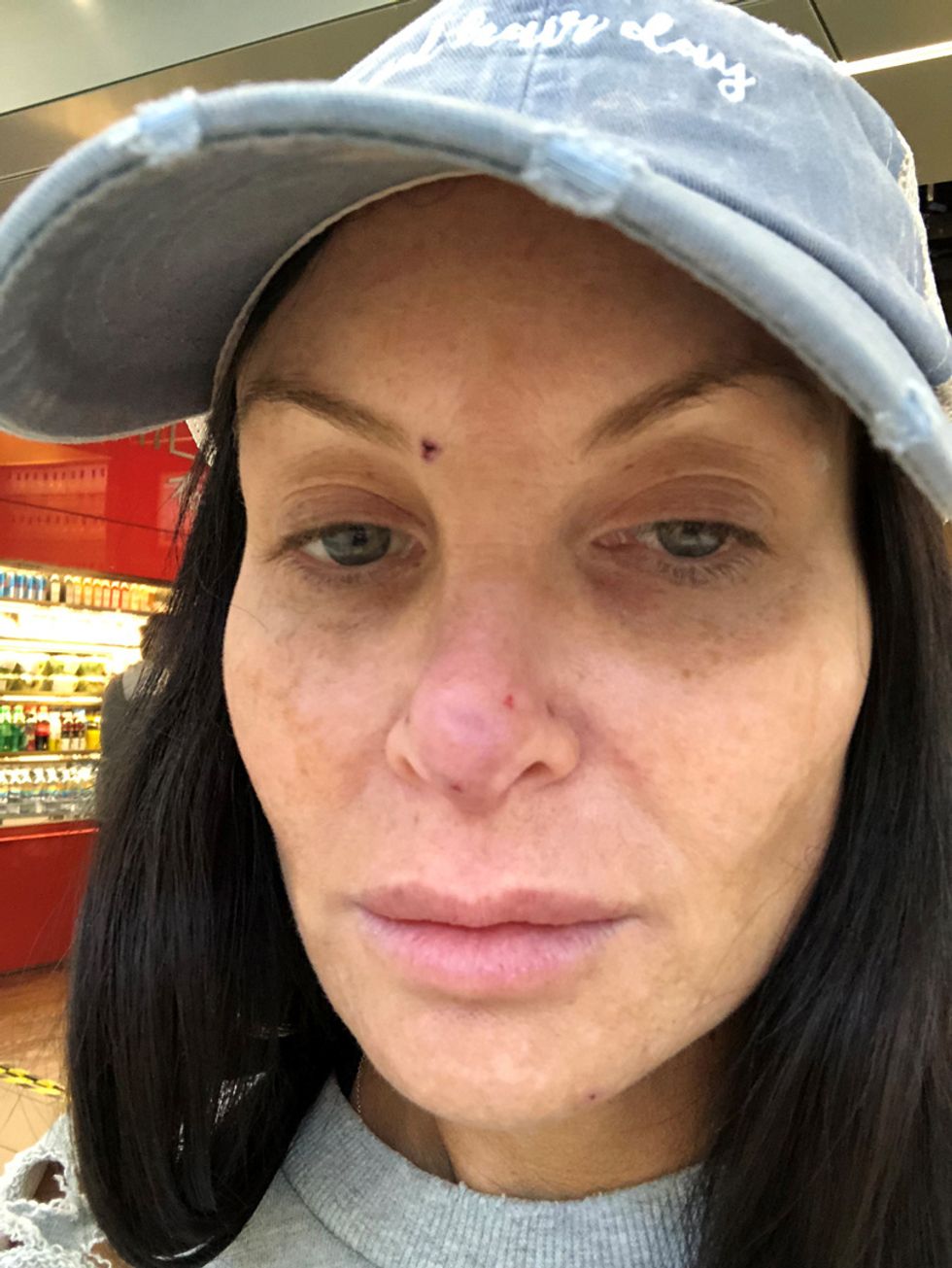 Leech bite marks in Shari's nose the morning after her treatment
(Collect/PA Real Life)
"All the old, bad blood which was stuck in there turning it black had been sucked out by the leeches, and clean fresh blood was flowing in its place."
Shari returned to Florida a few days later for her daughter's sixth birthday party – happy to show everyone her new nose.
"I had been really worried about it," continued Shari. "I was thinking that I may not be well enough to host a load of small children. But in the end it was completely fine – no one noticed a thing about my nose!"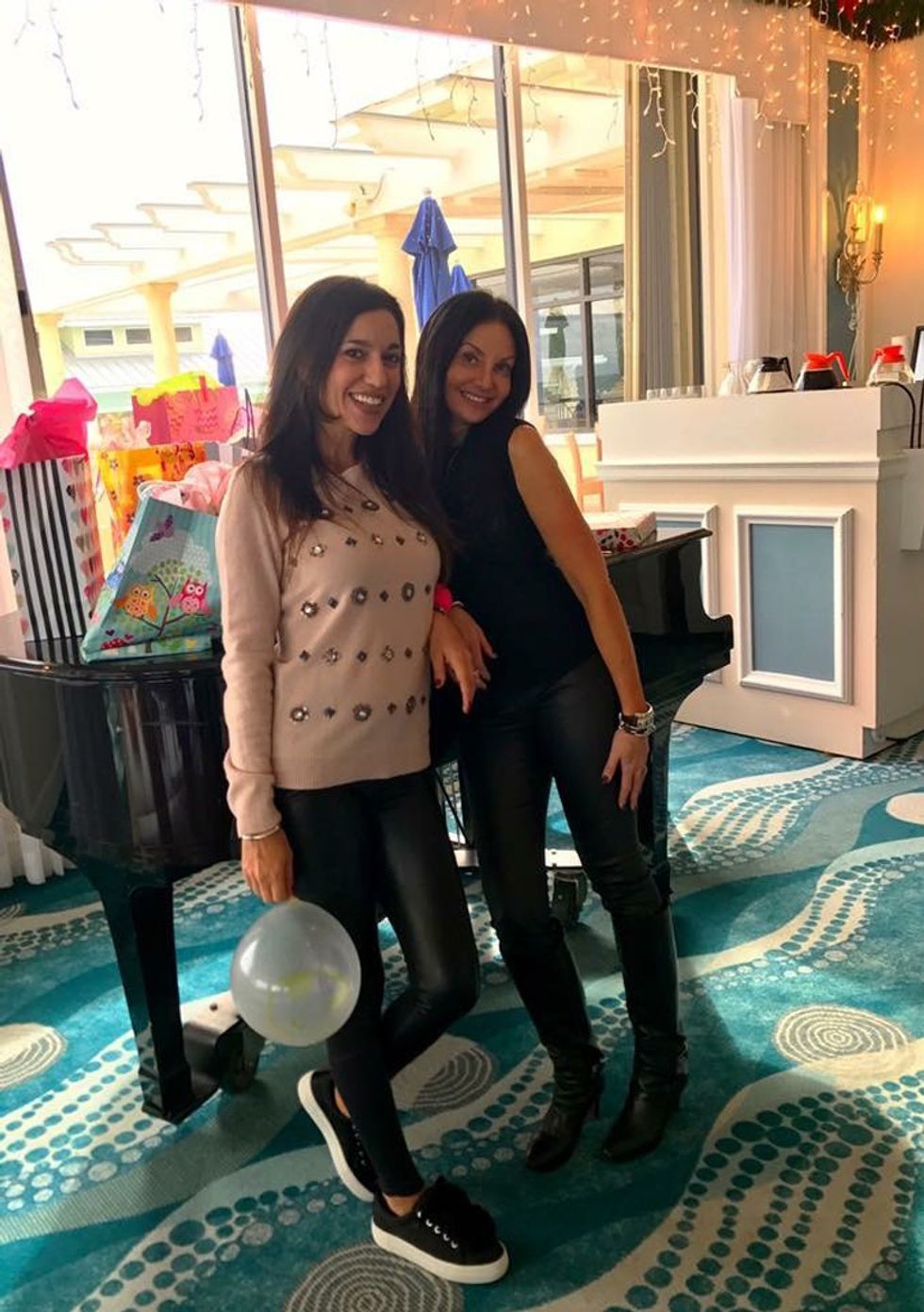 With friend Ana Santos at daughter's birthday party(Collect/PA Real Life)
Meanwhile, her daughters were thoroughly entertained by the video their mum had made of her treatment.
She laughed:
"They still love watching the video. They think it's the coolest thing ever!"
"They even went into school one day and told their teachers that Mummy had a bad nose job and got a few leeches to fix it. That was a little strange."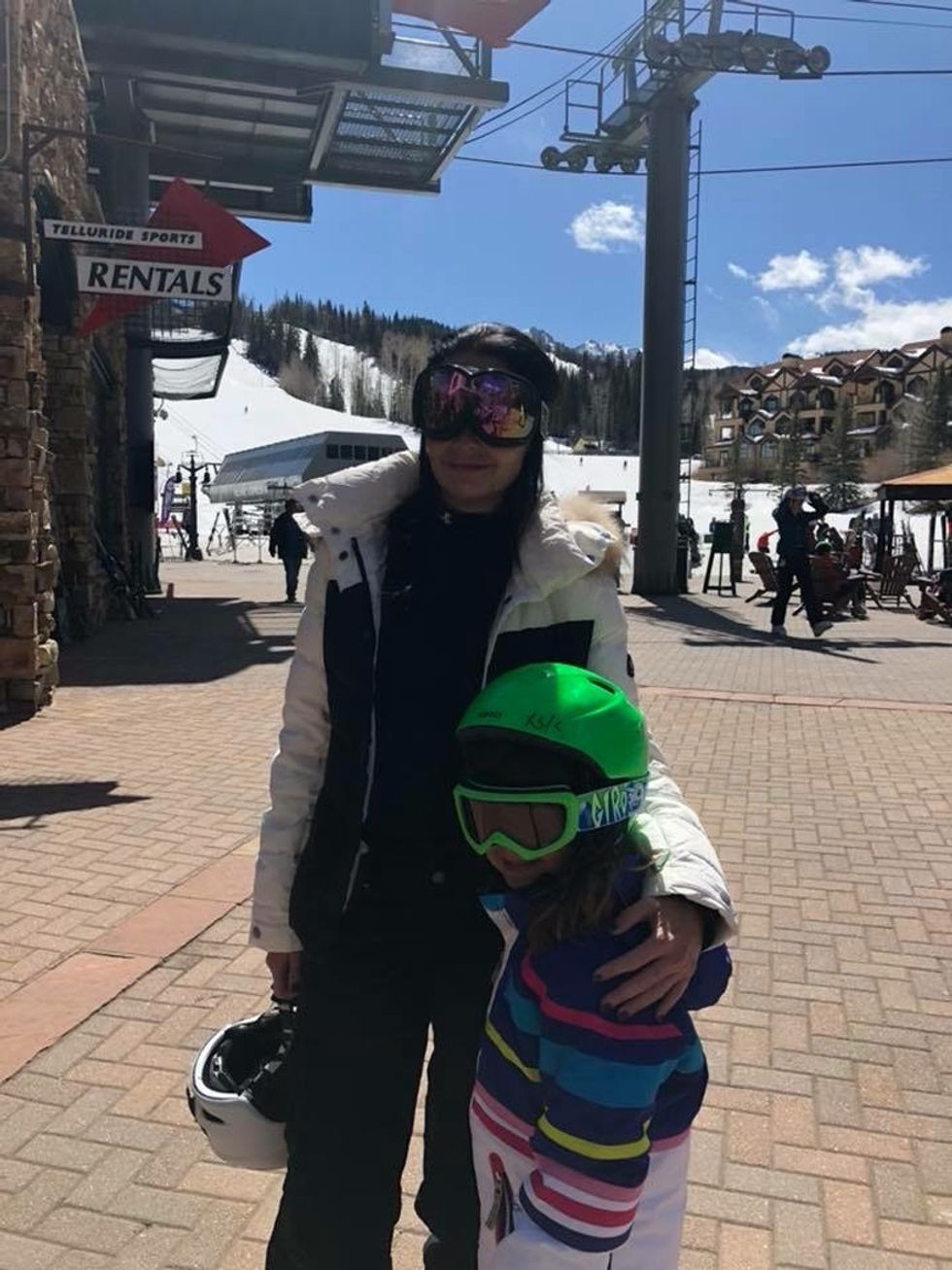 Skiing with her daughter (Collect/PA Real Life)
Shari still needs some reconstructive surgery, but says leeches were her "saviors" and that, without them, things could have been a lot worse.
And she wants to speak out and encourage anyone else with a similar problem to give leeches a chance.
"It has really changed the way I think about western medicine. I could have gone to another surgeon instead who probably could have done something but they would have made a lot of money out of me in the process."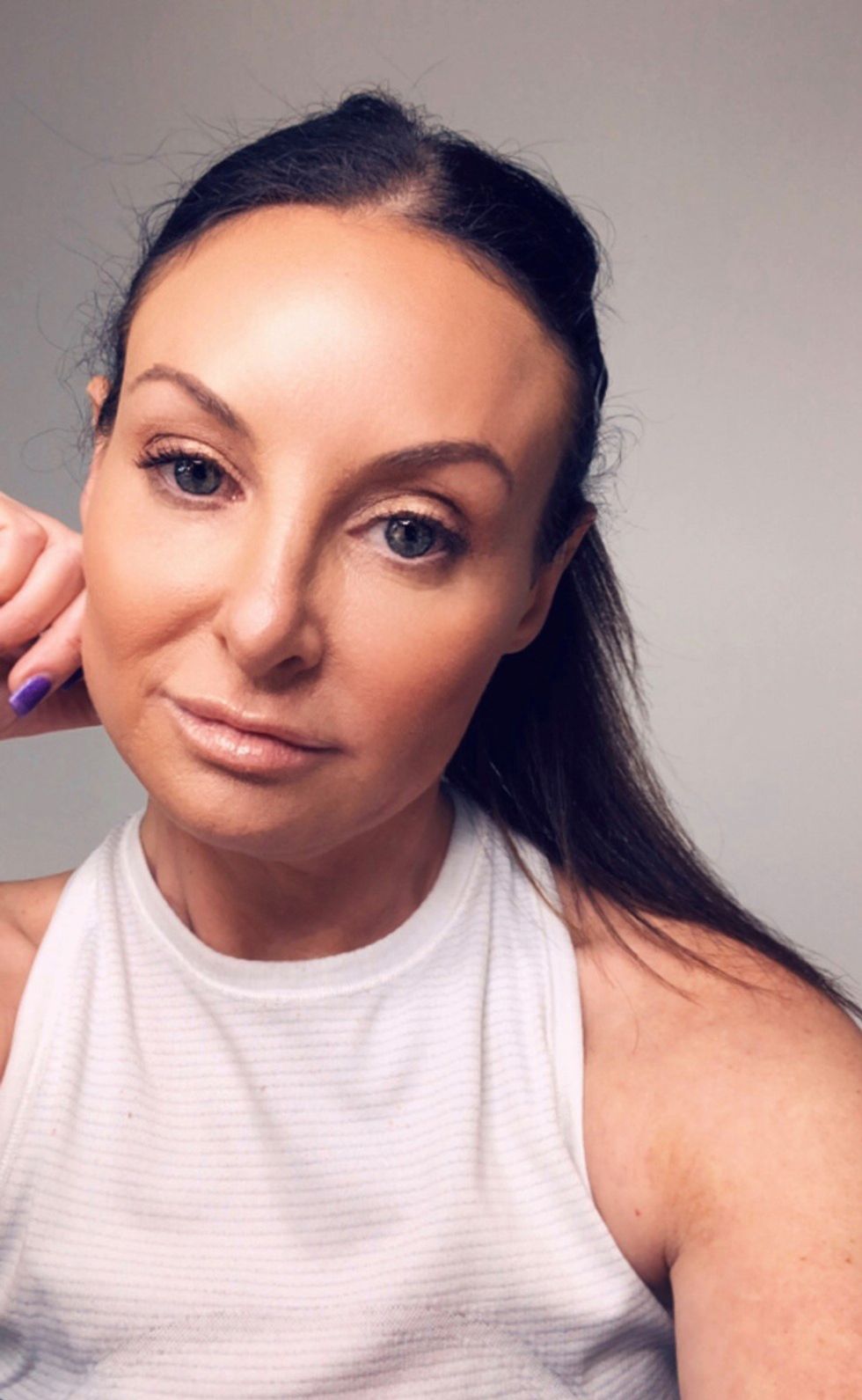 Shari in July 2018 (Collect/PA Real Life)
She added:
"Instead, going to see Irina and the leeches cost me just $132 – which compared to the $17,295 I spent on the nose job, is very good value!"
Her experience was so good that Shari now fully intends to return to Los Angeles in the near future.
She said:
"Apparently, leeches can be really good for tightening up the skin, so if you use them on your jaw line, it's like having a kind of mini face-lift."
"The model Miranda Kerr swears by them and uses them every week. If a supermodel can have leeches crawling all over her face, then so can I. I'm so grateful to those little guys for fixing me up."
A version of this article originally appeared on Press Association.