A group of women were enjoying a day at the beach when another woman came up to them to complain about them taking photos of each other. The random stranger said they looked like 'prostitutes' in their bikinis.
The video of this incident went viral on TikTok.
Posted by Allie Wright, it started with the woman mid monologue, so you hear her first say "like, prostitute stuff."
The first video—below—was uploaded with music, so it is difficult to hear the conversation.
@alwright27

PSA apparently taking pictures on the beach w your fam makes you prostitutes #karen #floridahype
The second upload—below— was without the music, which garnered even more views and likes.

@alwright27

Reply to @kiffthecoyote The worst part is we thought she was coming up to tell us we looked cute or something😂definitely took us by surprise
The random woman continued harassing the young women.

"You know what? You're going to put this on the internet or some sh*t, and someone is going to be stalking you."
Absolutely appalled, Wright and one of the other women said:
"We look like prostitutes for wearing swimsuits?"
"Everyone is wearing swimsuits on the beach."
The older woman countered they were posing in a sexual manner.
"You're doing these little sexy things. You weren't standing there."
"This is a family beach."
As if people cannot do what they please in a public space, especially a beach where bikinis and posing for photos is often part of the beauty of the visit.
The harasser tried to ask the women where they were from. They told her it was none of her business.
When they refused she promptly walked away.
Many people praised them for their response.

@rikkisnyder/TikTok

@kayceewithakay/TikTok

@32degreesbdub/TikTok

@handmadebybrooklyn/TikTok

@suki_ri_bobo/TikTok

@probablystonedrn/TikTok

@___sj21___/TikTok

@sydweather/TikTok

@katlynnshelby/TikTpk

@jestsweetnes/TikTok

@2120lorag/TikTok
Then there were a few ridiculous comments.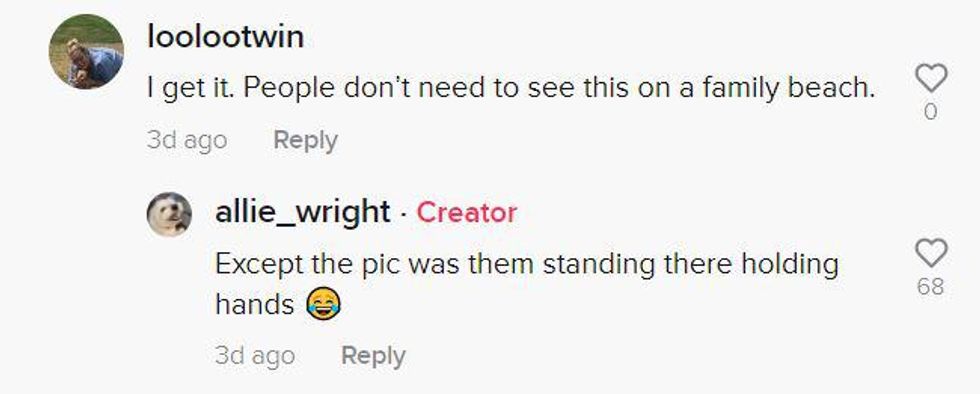 @loolootwin/TikTok; @alwright27/TikTok

@lizasmumm/TikTok; @gabriellahaddad5/TikTok
Which prompted a response from Allie Wright in another video.
She showed the photo they were taking, which was the two girls standing next to each other, feet in the water.
Nothing more.
The woman's attempt at insulting the young women was offensive for multiple reasons.
Clothing is not the determiner of moral character.
Women's bodies are not shameful.
And sex work is work. Using prostitute as an insult is sexist and ignorant.