An Associate Professor of History at George Washington University recently admitted that she has centered her life and professional career on the false claim that she was Black. In fact, she is White and Jewish.
Jessica A. Krug came clean about the lifelong lie in a public apology essay titled, "The Truth, and the Anti-Black Violence of My Lies," which she published on Medium.
Her critics noted her confession came just before her lies were exposed to avoid the fate of Rachel Dolezal...
...and in a way that she can earn sympathy and money by getting people to read her account on Medium.
Krug wrote:

"For the better part of my adult life, every move I've made, every relationship I've formed, has been rooted in the napalm toxic soil of lies."
And the truth-telling went on from there.
She outlined the specific, compounding identities she adopted.

"To an escalating degree over my adult life, I have eschewed my lived experience as a white Jewish child in suburban Kansas City under various assumed identities within a Blackness that I had no right to claim: first North African Blackness, then US rooted Blackness, then Caribbean rooted Bronx Blackness."
Krug continued by explaining the unjust benefits she received from those lies:

"I have not only claimed these identities as my own when I had absolutely no right to do so — when doing so is the very epitome of violence, of thievery and appropriation, of the myriad ways in which non-Black people continue to use and abuse Black identities and cultures — but I have formed intimate relationships with loving, compassionate people who have trusted and cared for me when I have deserved neither trust nor caring."
Krug, like many aggressors caught victimizing others, cited her own trauma and mental illness.

"But mental health issues can never, will never, neither explain nor justify, neither condone nor excuse, that, in spite of knowing and regularly critiquing any and every non-Black person who appropriates from Black people, my false identity was crafted entirely from the fabric of Black lives."
Krug used the terminology of critics of cultural appropriation which is what she did to an extreme degree.
"I am not a culture vulture. I am a culture leech."
Krug added a please for cancelation reminiscent of tearful pleas of televangelists like Jimmy Swaggert after getting exposed.
"I should absolutely be cancelled. No. I don't write in passive voice, ever, because I believe we must name power. So. You should absolutely cancel me, and I absolutely cancel myself."
The publication of Krug's misappropriation of a Black identity cast a serious cloud on the history of her professional career.

On her faculty bio page for George Washington Universtiy, Krug is described as an authority on topics that bear heavily on the identity she falsely purported to carry:
"Jessica A. Krug is a historian of politics, ideas, and cultural practices in Africa and the African Diaspora, with a particular interest in West Central Africa and maroon societies in the early modern period and Black transnational cultural studies."
When the Huffington Post reached out to George Washington University for comment, a spokesperson simply acknowledged awareness of Krug's apology and refused to comment on "personnel matters."
Krug's essay provoked a wide array of responses on Twitter.
Anger, of course, was the predominant emotion expressed.
Others felt that her apology was yet another installment in her problematic behavior.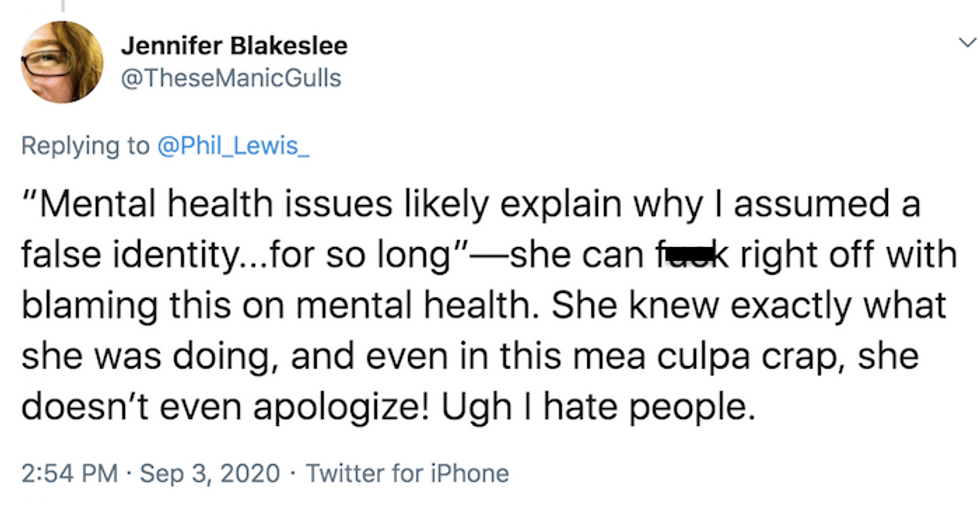 @TheseManicGulls/Twitter
While the Twitter verdict seemed very clear, only time will tell exactly what the nature of justice brought to Krug for her past actions will be.