Oscar-winning actress Viola Davis delivered a captivating speech on Saturday at the L.A. Women's March that gave voice to women who've been victimized of sexual assault.
"In the words of my fellow American Malcolm X, I'm gonna make it plain," Davis began her speech at the steps of City Hall in front of a crowd of over 600,000 people.
---
Davis joined the chorus of other women who've come forward to tell their stories that initiated the "Me Too" movement.
I am speaking today not just for the 'Me Toos, because I was a 'Me Too,' but when I raise my hand, I am aware of all the women who are still in silence.
The women who are faceless. The women who don't have the money and don't have the constitution and who don't have the confidence and who don't have the images in our media that gives them a sense of self-worth enough to break their silence that is rooted in the shame of assault and rooted in the stigma of assault.
Davis said that "We only move forward when it doesn't cost us anything," but then reminded us that change doesn't happen from being inactive. "I'm here today saying that no one and nothing can be great unless it costs you something."
"Every single day your job as an American citizen, is not just to fight for your rights,its to fight for the rights… https://t.co/UbZQ5nTzzO

— CODEPINK (@CODEPINK) 1516479492.0
Viola Davis just gave me so many chills that I am now frozen to death RIP #WomensMarch2018 https://t.co/6vgJcs9tVH

— Ash Crossan (@Ash Crossan) 1516479193.0
She listed the devastating statistics of abused women of color.
One out of every five women will be sexually assaulted or raped before she reaches the age of 18. That women of color, if they're raped or sexually assaulted before the age of 18, are 66-percent more likely to be raped or sexually assaulted again. Seventy percent of girls who are sexually trafficked are girls of color. They are coming out of the foster care system, they are coming out of poverty.
Then things got more personal as she shared her history as a victim of child abuse.

Listen, I am always introduced as an award-winning actor. But my testimony is one of poverty. My testimony is one of being sexually assaulted and very much seeing a childhood that was robbed from me. And I know that every single day, when I think of that, I know that the trauma of those events are still with me today. And that's what drives me to the voting booth. That's what allows me to listen to the women who are still in silence. That's what allows me to even be a citizen on this planet.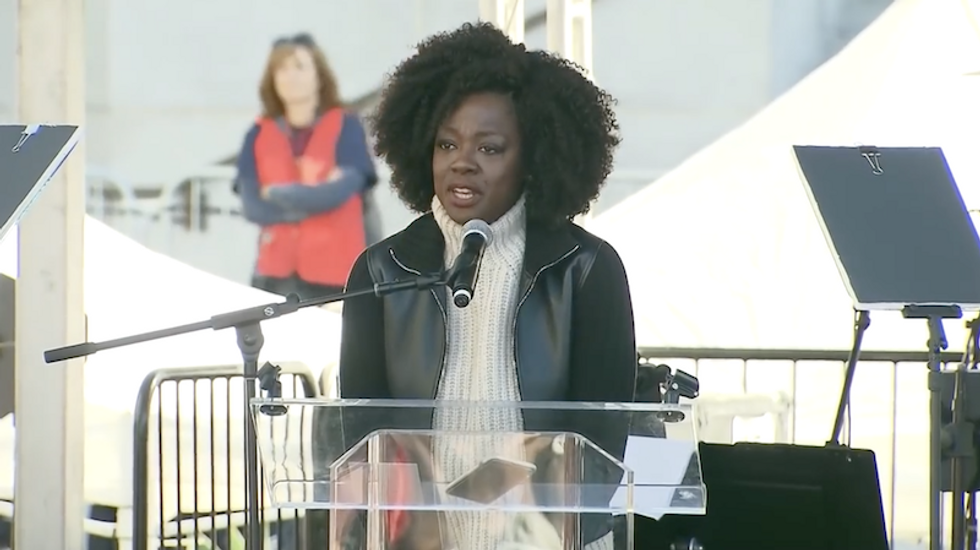 "I know that the trauma of those events are still with me today."(YouTube)
Davis concluded her speech by reminding us that as human beings, "We are here to connect. That we are here as 324 million people living on this earth. To know that everyday that we breathe and we live that we've gotta bring up every one with us."
My hope for the future is that we never go back. That it's not just about clapping your hands and screaming and shouting every time someone says something that sounds good. It's about keeping it rolling once you go home.
Davis's rousing speech made quite an impact on the crowd and on social media.
A clarion call to action in the service of humanity from the amazing @violadavis who remembers her past experience… https://t.co/woLalrMTjx

— Mira Sorvino (@Mira Sorvino) 1516493979.0
Viola Davis tore it up. https://t.co/wDAXqygBjB

— Schooley (@Schooley) 1516480352.0
Whenever the passionate actress speaks, people listen.

Tell em!!! Thank you @violadavis #WomensMarch2018 https://t.co/r5t6ZEOken

— Gabrielle Union (@Gabrielle Union) 1516483924.0
H/T - Twitter, LAtimes, CNN, YouTube, Cosmopolitan