A TikToker and podcaster named Emily, otherwise know as @your.big.sis.emi, posted a clip from her new podcast to TikTok in which she explains the time she decided not to have sex with a man. That same man tried to sue her for slander and ordered a cease and desist.
With nearly 250 thousand views, Emily explains how she woke up from her midday nap to be given the cease and desist:
"I released a teaser on TikTok of my podcast, which you should go listen to because it's out today!"
"It was a clip of me telling a story about the guy who tried to sue me because I wouldn't hook up with him."
"Less than 12 hours after that was posted I got served with a cease and desist."
"So I took it down and I went to talk to a lawyer and apparently it's not slander because nobody can tell who he is."
"And also, is it slander if it's true?"
In her story time video, Emily explains that the guy named Chad was currently studying as a lawyer. Emily and Chad matched on the dating app Tinder, so it was implied that she was going to his house to hook up. However, Emily says she never explicitly said she would have sex with him.
She continues to explain why she left:
"Once he removed his undergarments and I smelled the smell and saw the sight-and I was up wind and I still smelled the smell. Like I was standing up and I still smelled it, okay?"
"There [were] skid marks in his undies and he had not washed in a long time and he needed some new fruit of the looms."

"So when that was revealed to me, I did abort mission."
"A few days later he had pad someone to serve me with papers to, like, sue me for 'breaking a verbal contract.'"
"But it's okay, I fixed it because he had spent a bunch of the time telling me about how his dad's a lawyer."
"So I made an appointment with his dad and just told on him to his dad."
Apparently, Chad is now employed by his father as a lawyer.
Emily ended the video with telling him that he is 'musty' and 'lame' and that it's really time to move on, since this happened years ago at this point.
The over 700 comments were all laughing at Chad's ridiculous legal move. Many wanted to see him go down in court.
@eastern_seaboard/TikTok
@loved_nicole/TikTok

@cal_quasar/TikTok
@grymmsical/TikTok
@misslyssiloo/TikTok
@anxiousmathteacher/TikTok

@mamallama812/TikTok

@lel5780/TikTok

@madihearts/TikTok

@jzoluv/TikTok

@docwannabedevin/TikTok

@agirlhasnohandle/TikTOk
Someone suggested that she should make a complaint to the Bar Association but she decided against it, even if she felt he deserved it.
@theox_g/TikTok
Emily also posted a video showing the cease and desist letter that Chad sent, which is surprisingly lack luster. She said that it looks like a template you find on the internet.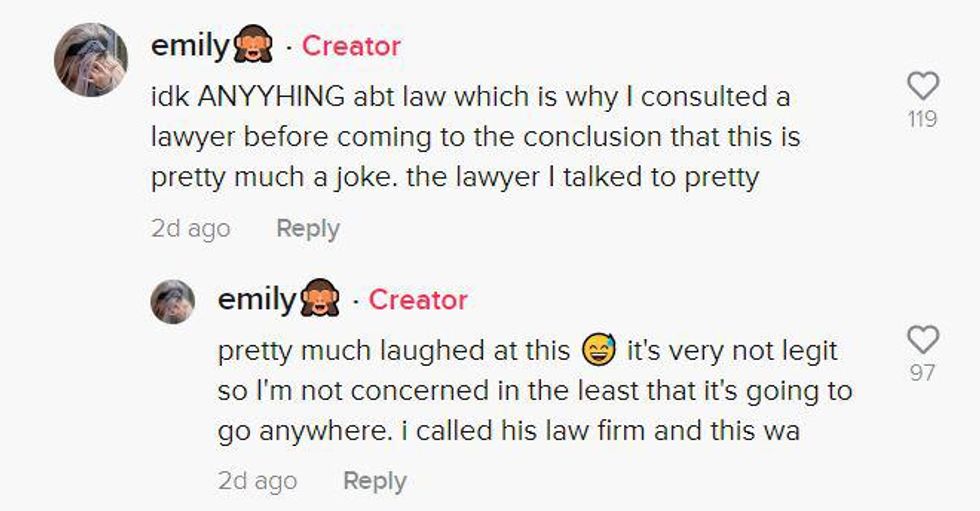 @your.big.sis.emi/TikTok

@your.big.sis.emi/TikTok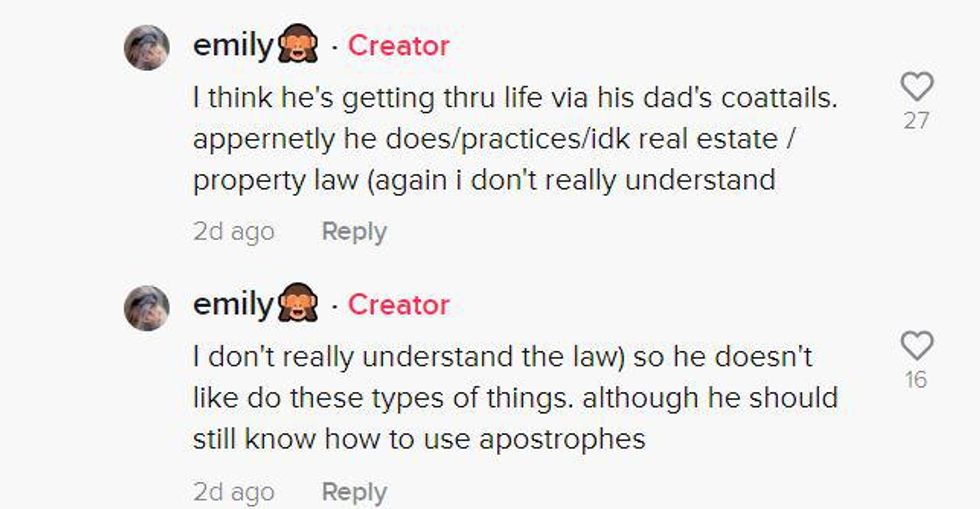 @your.big.sis.emi/TikTok
Luckily, nothing came of his legal threats and Emily's podcast, Been there Bestie, is still up and running.