A TikToker accidentally found romance at the gym during a weightlifting incident and the video has gone viral reaching 7.4 million views.
TikTok user fitby.ash, also known as Ashley, shares her workout routines and fun athletic fits on her Instagram and TikTok. She had just shared that she was taking a spontaneous beach vacation and traveling by flight. In the next video, she shared an embarrassing moment, in a completely new gym to her.
The video started by saying:
"I am so embarrassed that this just happened."
Then we saw Ashley at the smith machine, where she was working on squats on top of a short platform. Slowly but surely, the platform slid from under her as she failed to lift herself.
Luckily her night in shining armor was there to catch her fall and help her to her feet.
Ashley captioned the video with:
"I'm on vacation btw HAHAHAHHA."
She probably didn't think it was so funny at the time, but she did laugh and no one got hurt.
But now, all the TikTokers in the comments section are romanticizing her vacation life and hoping the two of them go on a date.

@belamelina/TikTok

@afghanfairy/TikTok

@ericamoliver/TikTok

@glmrontherox33/TikTok

@misstoridanielle/TikTok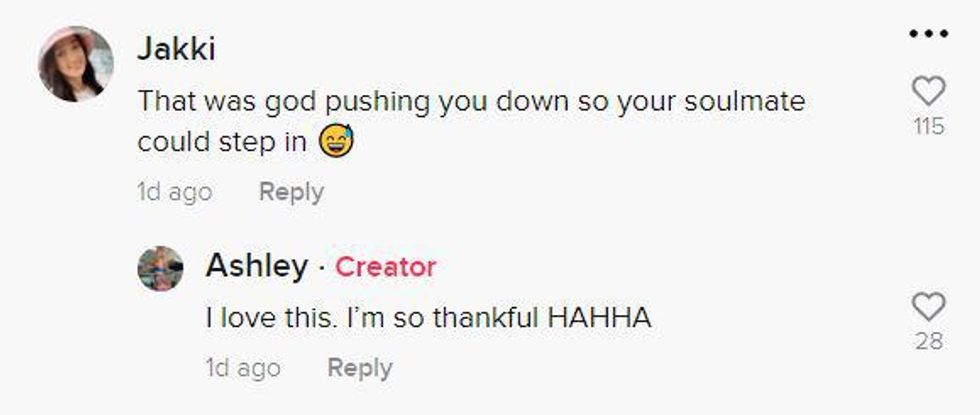 @oheyitsjaxki/TikTok

@laurenraffa0/TikTok
The comments also revealed that our mystery man is also a TikToker by the name of Preston Pelfrey.

@gymshark/TikTok; @fitby.ash/TikTok
Next we see the two of them at the gym together. This time Prestron is spotting Ashley from the get go.
We also see them in the car together briefly.
And finally, the two are on a date together outside the gym.

@thelydiahuth/TikTok

@zara.tahir/TikTok

@antarajohen/TikTok

@man1cp1x1edreamg1rl/TikTok

@ivanmilkovich/TikTok

@camillarden/TikTok
Sadly, Ashley was on a vacation and was soon back home away from Preston. It's unclear if the two will remain together or if that was the end of their TikToker love affair.