They're back, and bringing new friends. Well, maybe it's a friend. We aren't sure.
---
The new trailer for Pixar's Toy Story 4 just dropped and among the familiar faces of Woody, Buzz Lightyear and Slinky, there is a new face, Forky. From what we can tell, Forky appears to be a craft project gone wrong ala Pinterest fails.
In the trailer, the other toys seem to be floating along in harmony until Forky freaks out and realizes he doesn't belong. According to the blurb sent out with the trailer:
"Woody has always been confident about his place in the world and that his priority is taking care of his kid, whether that's Andy or Bonnie. But when Bonnie adds a reluctant new toy called 'Forky' to her room, a road trip adventure alongside old and new friends will show Woody how big the world can be for a toy."
Toy Story 4 | Official Teaser Trailer youtu.be
But in a disturbing piece of new information, Tom Hanks, who voices Woody the Cowboy, recently did an interview with the BBC's "The Chris Evans Breakfast Show where he discussed the incredibly emotional ending. Hanks had this to say about recording the final scene:
"The way you record 'Toy Story,' you're in a room with the team that has created it. When I went in for my last day of recording, I wanted to have my back to them, because usually you're facing him so you can look right up and you can talk about it. But I didn't want to see them and I wanted to pretend they couldn't see me. When I realized what they were going for, I realized, 'Oh, this is a moment in history."
People are freaking out that Woody could die..
Tom Hanks has spoken about recording the emotional ending for Toy Story 4. https://t.co/uNFAdQS3Jg

— IGN (@IGN)1541143920.0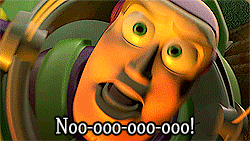 media.giphy.com
@IGN I bet Woody dies... https://t.co/R3tnyVIdsH

— ENZOtaki (@ENZOtaki)1541154307.0
@IGN If somebody little brat breaks Woody or Buzz I'm gonna lose it 😭 https://t.co/UIoLW1ydom

— Tayshaun82🏳️‍🌈 (@Tayshaun82🏳️‍🌈)1542034675.0
@IGN I straight out that this was a typo because I cannot imagine crying more than I did at the end of TS3! My hear… https://t.co/B2CwFnldhn

— G Aguilar (@G Aguilar)1542037343.0
@IGN @TheRealSixTuber Goodbye https://t.co/1DoeM3W9Pu

— Wolfman Gordon Paul (@Wolfman Gordon Paul)1541186195.0
Okay, we can't even go there right now. So until summer we are simply going to focus on Forky.
media.giphy.com
It's going to be okay. Just breath and think about Forky.
Forky is my spirit animal/spork. #ToyStory4 https://t.co/oZAjYgeXNS

— Brian Truitt (@Brian Truitt)1542030233.0
Forky is cute, right? Right? People seem to think so.
@briantruitt All this time I thought I was a "Jesse"..... reality... I'm a "Forky".

— Star (@Star)1542040674.0
@briantruitt I just realized that I am arts and craft toy in a world full of prepackaged toys. I think this movie i… https://t.co/bNMv7HLn80

— Chunky And Friends (@Chunky And Friends)1542031362.0
Already, it's proving to be a very controversial character.
@consequence This is cute and a fitting song....BUT someone needs to inform Disney this is a spork not a fork!! https://t.co/nGGGhDaate

— Paul Hunz Langsholt (@Paul Hunz Langsholt)1542033274.0
@consequence "Sporky" would have been apropos 😉

— Jacque Gonzales (@Jacque Gonzales)1542031550.0
@consequence But...isn't he a spork???

— miss malayah (@miss malayah)1542033033.0
@briantruitt looks more like a spork to me!

— Robert Myers (@Robert Myers)1542034554.0
@briantruitt Sporky?

— Dan Magnolia (@Dan Magnolia)1542031795.0
It's going to be a long wait until summer.
H/T: Independent, WRAL