Taylor Swift spoke out about the fan who died before her show in Brazil due to the extreme heat the area has been experiencing.
Ahead of Swift's concert in Rio de Janeiro on Friday, 23-year-old Ana Clara Benevides fainted and was treated at the stadium before she was sent to Salgado Filho Municipal Hospital, where she later died. The cause of death was cardiorespiratory arrest.
Swift took to Instagram to share her heartbreak regarding the tragic event.

She wrote on her Instagram stories:
"I can't believe I'm writing these words but it is with a shattered heart that I say we lost a fan earlier tonight before my show."
"I can't even tell you how devastated I am by this. There's very little information I have other than the fact that she was so incredibly beautiful and far too young."
The singer continued:
"I'm not going to be able to speak about this from stage because I feel overwhelmed by grief when I even try to talk about it."
"I want to say now I feel this loss deeply and my broken heart goes out to her family and friends. This is the last thing I ever thought would happen when we decided to bring this tour to Brazil."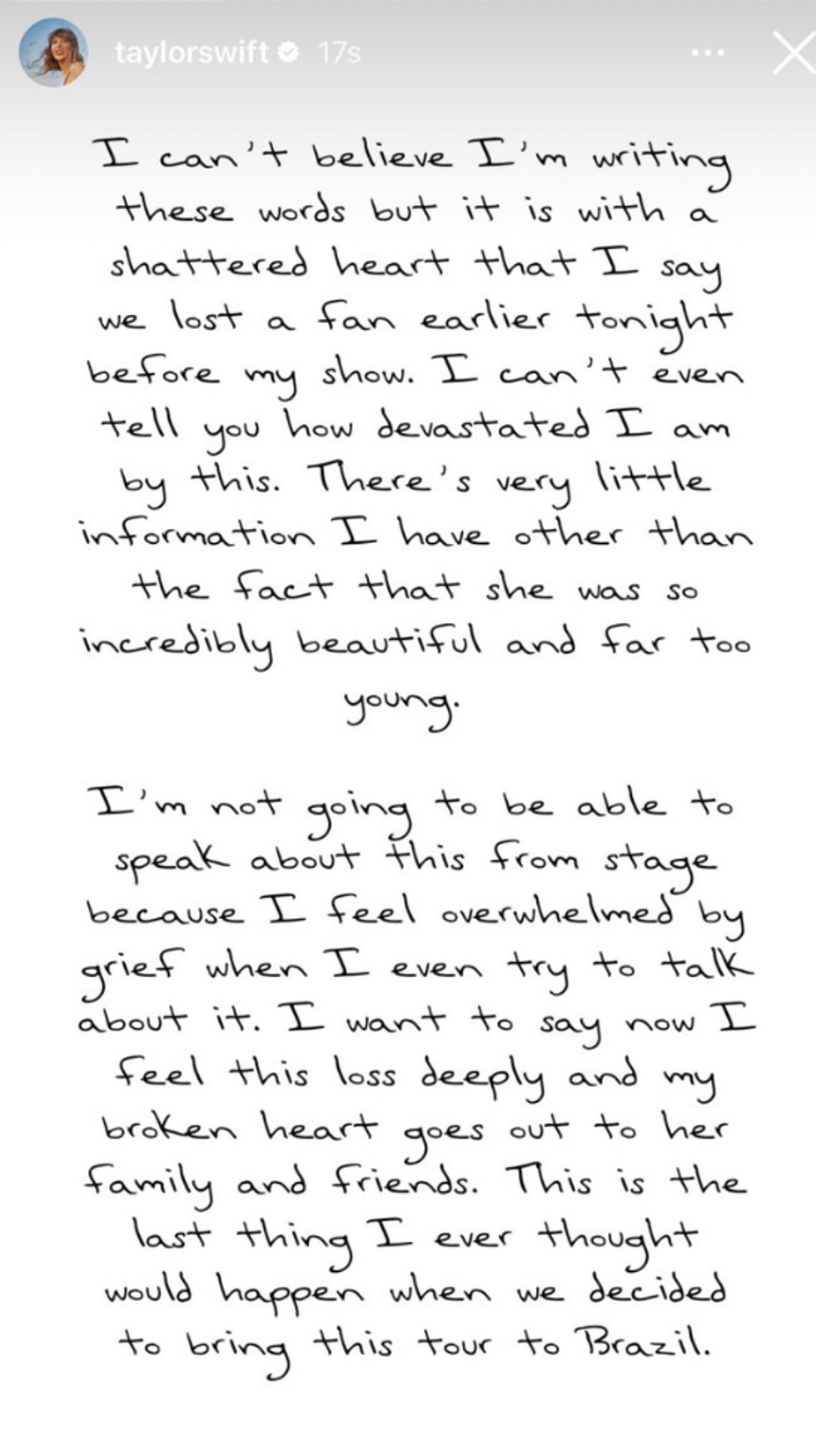 @taylorswift/Instagram
The heat index in Rio reached 58.5ºC (137ºF) last week, the highest ever recorded. Folha De S.Pauloreported that around 1,000 fans fainted at the concert, in addition to several experiencing nausea and severe dehydration.
Several videos have been making the rounds on social media, showing Swift stopping her concert to help some fans get water.
People online appreciated Swift's heartfelt message and echoed her heartbreak.
Others demanded justice, claiming Benevides' death was a result of negligence by the production company.
Truly a sad situation all the way around. We hope appropriate measures will be put in place to ensure nothing like this happens again.