Tag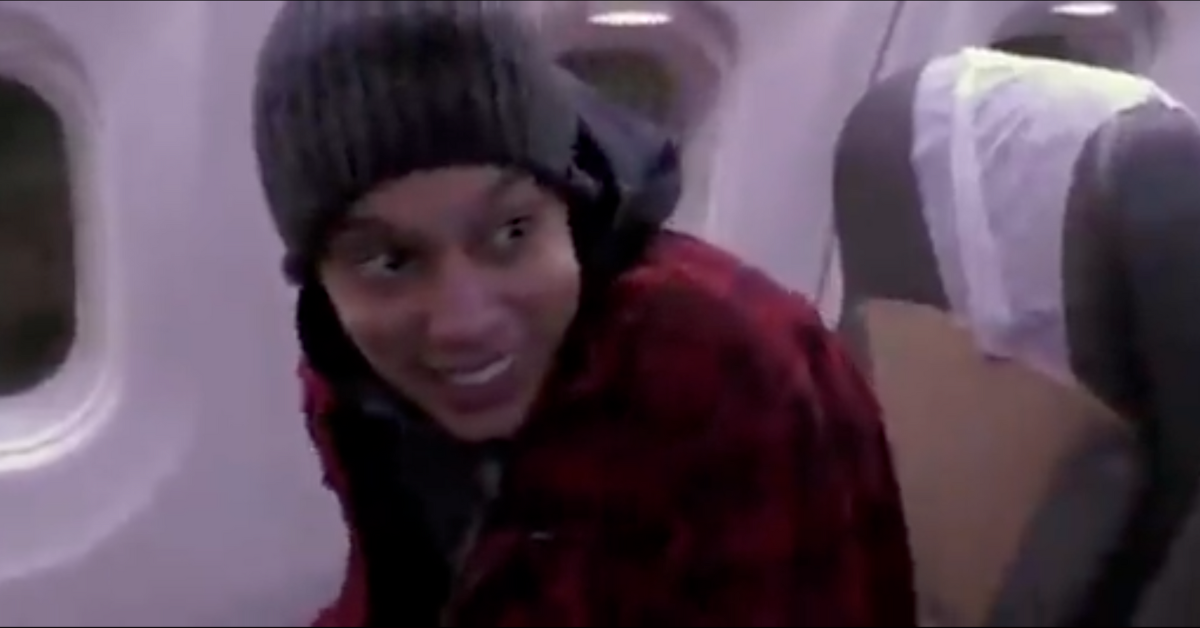 @Phil_Lewis/Twitter
A viral video shows the moment basketball player Brittney Griner was told she would be flying home to the United States after the Biden administration secured her release in a prisoner exchange with Russia, freeing her from the penal colony she'd been sent to after she was sentenced to nine years on smuggling charges.
The video shows Griner smiling after an interviewer, speaking with a translator, informed her she would be returned to the U.S.
Griner did not know where she was going at first but appeared noticeably relieved when the interviewer said she was "flying back home."
"To the U.S.?" she asked, to which the interviewer replied:
"To the U.S. Everything will be fine."
You can see the video below.

Griner, a professional basketball player for the Phoenix Mercury of the Women's National Basketball Association (WNBA), was detained by Russian customs after cartridges containing less than an ounce of hashish oil for personal use were found in her luggage.
American officials expressed concern Russia was using her as leverage in response to the Western sanctions imposed against Russia for its invasion of Ukraine. News outlets reported over the summer the American government offered to swap Griner and Paul Whelan for Viktor Bout, a convicted Russian arms trafficker.
Whelan is often referred to as a Marine, however Whelan was a Marine Corps reservist who had been dishonorably discharged in 2008 after committing a series of crimes at the time of his arrest in Russia.
Ultimately, Russia agreed to swap Griner for Bout, an entrepreneur and former Soviet military translator who reportedly used his multiple air transport companies to smuggle weapons since the collapse of the Soviet Union from Eastern Europe to Africa and the Middle East during the 1990s and early 2000s.
In 2011, Bout was convicted by a jury in a Manhattan federal court of conspiracy to kill U.S. citizens and officials, delivery of anti-aircraft missiles, and providing aid to a terrorist organization, and was sentenced to 25 years' imprisonment of which he served 11 years at the time of his release.
These facts have enraged right-wingers who suggested Griner deserved to stay in Russia and Democratic President Joe Biden should have prioritized securing the release of Whelan and Marc Fogel, a teacher who was arrested and later sentenced for trying to enter Russia with about half an ounce of medical marijuana he had been prescribed in the U.S. for chronic pain.
But the video of Griner's happy moment sparked an outpouring of support on social media.
Griner arrived in the U.S. on Friday, December 9, after ten months in Russian captivity.

The plane transporting her landed at the U.S. Army's Joint Base San Antonio-Fort Sam Houston and she was then taken to the Brooke Army Medical Center, the facility confirmed in a statement.
The facility said the U.S. government "is focused on ensuring that Brittney Griner and her family's well-being are prioritized and that all assistance available be offered in an appropriate manner."
President Biden confirmed he'd spoken with Griner during an appearance alongside Cherelle Griner, Griner's wife. He said Griner "will soon be back in the arms of her loved ones—and she should have been there all along."