Tag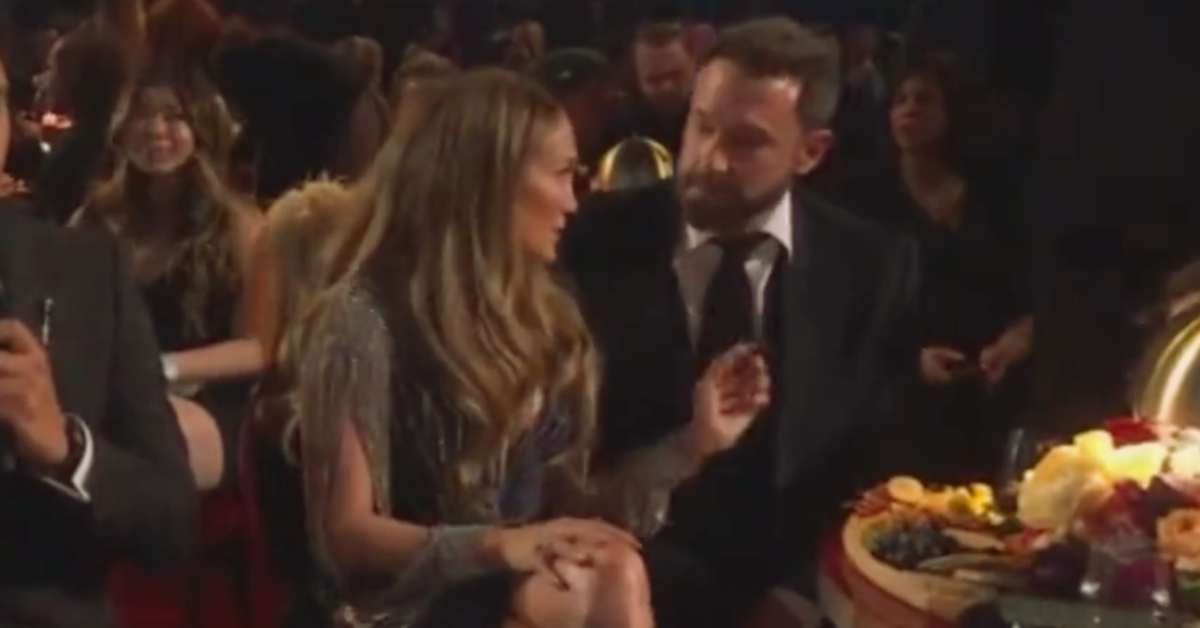 2023 Grammy Awards/CBS
The star of the internet's new favorite meme is now at the center of another debate: What did J.Lo say?
If you recall, Ben Affleck attended the Grammys with his wife Jennifer Lopez and appeared to be miserable every time he was captured on camera.
While Affleck's bored expression quickly made the rounds on social media, another moment of the night caught viewers' attention and became a new obsession.
During the event, Trevor Noah brought a bit to the audience near Bennifer (does that still work 20 years later?), and as he moved away from the couple, Lopez and Affleck had a brief—but seemingly unpleasant—conversation.
Unbeknownst to them, however, they were still in view of the camera, giving everyone at home—and subsequently everyone on the internet—a glimpse of their whisper spat.
\u201cThe most emotion Ben has showed all night\u2026 and now I\u2019m curious. \ud83e\udd14#GRAMMYs #BenAffleck #JenniferLopez\u201d

— Skyler Caruso (@Skyler Caruso) 1675652903
The Twitterverse took to the platform summoning lip readers everywhere to shed light on the topic of conversation.
Well, The Daily Mail took matters into their own hands and commissioned a professional lip reader who shared that the following conversation took place:
"J.Lo: 'Stop. Look more friendly. Look motivated.'"
"Ben: 'I might.'"
See what you think.
\u201cLip reader reveals what was said during the tense exchange between Jennifer Lopez and Ben Affleck that was caught on camera during The Grammys.\u201d

— Mike Sington (@Mike Sington) 1675773939
We can definitely see that.
Viewers weighed in on the new information.
Many were sympathetic toward Ben, who was likely out of his element as an introvert at such an energetic and interactive event.
Others noted that these kinds of quick quarrels occur all the time with any couple.
Aww, I feel for Ben. He doesn't love these kind of events - I totally understand being an introvert at the Grammys. I'd far rather be home with a good book.
— Chapps (@chapps) February 7, 2023
They had a tense moment. The producers didn't have to set this up like that. Stuff happens and we witnessed a human reaction in an awkward moment for both of them.
— Yee Tee (@YeeTee50) February 7, 2023
Bruh. This is normal couples stuff. He's clearly not comfortable but it's a big deal for her. This is a normal interaction in this scenario if you ask me even tho you didn't. 🤷🏻♀️
— HobGob (@jazmin_desu) February 7, 2023
What is everyones obsession with Ben at the Grammys. He looked as bored as my husband would have been.
Not sure I believe the lip reader BTW
— Enna Oj (@EnnaOj0) February 7, 2023
Of course, others had their own theories.
Ben: can we go now
Jennifer: stop it, you know we can't leave.
Ben: fine then.
— D3wayne (@d3wayne) February 8, 2023
Looks like she says "you're drunk!" And then "you're not supposed to drink"
— Dawn Easterbrook (@peachkeen66) February 7, 2023
I think he said something like, "I'm gonna act silly or say something silly..or interrupt him.." and she was like, "no way bro.. just sit there and play the role"
— I (@jcsbts) February 7, 2023
Whatever the spat was about, it didn't seem to be a big deal as Lopez later took to Instagram to share:
"Always the best night with my love, my husband."
We're glad to know love won in the end.